All
From Tank to Flame
Burner manufacturer expands offerings to full suite of B20-rated components
It's a story as old as the heating oil industry itself. After decades of growth, a multigenerational family business expands its offerings through innovation, diversification and strategic acquisitions that position the company for continued success. Only this time we're not talking about a heating oil delivery business expanding into HVAC service and buying out a propane dealer.

Over the past few years, one of the heating oil industry's longest-operating equipment manufacturers has reinvented itself as a driving force in the transition to low-carbon renewable liquid heating fuels. And they have done so by looking both inside and beyond their core product, the heating oil burner.

"Our whole focus has shifted from being a little burner manufacturer in the Midwest to becoming a complete supplier of components from tank to flame," said Craig Butler, product manager at R.W. Beckett Corporation, in an interview last month. If this transition was starting to take shape when Oil & Energy spoke with Butler in March 2019 for the article, "More Than Just Burners," it is now well underway.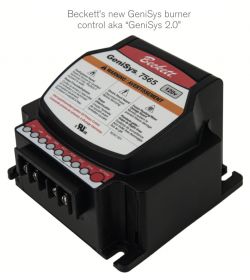 Since then, Beckett has had all of its burner parts UL listed for biodiesel blends up to B20, introduced a new burner rated for blends of up to 95% renewable diesel (R95), and completed successful acquisitions of igniter manufacturer Fida and nozzle manufacturer Delavan as well as Westwood Products, makers of the Tigerloop de-aerators and fuel filters among other key parts.

While these purchases have enabled Beckett to enhance its manufacturing capabilities and component offerings, there was yet another motivation behind them. In the cases of both Delavan and Westwood; the acquisitions helped "maintain continuity of supply" for important burner parts.

"We wanted to make sure these products didn't just go away," Butler explained. "We didn't want to see the whole industry disrupted because a major supplier closed its doors. In that sense, these acquisitions have been huge not only for our company, but for the industry as a whole."

Of course, they've also been in line with consumer demand for low-carbon products. For example, Tigerlooop de-aerators are B100 compatible. Likewise, Beckett's new app-enabled GeniSys burner control has been developed to work with the highest possible blends of renewable fuels, including both B100 and R100.

It's all part of the company's ongoing efforts to "lead the pack" as the industry transitions to renewable liquid heating fuels. And while organizations like ASTM, UL and NORA are working diligently to finalize standards for these fuel products, Beckett is right there with them. "We are positioning ourselves so that when those standards are out, our products will be rated as rapidly as possible," Butler said.

Meanwhile, Beckett advises heating oil delivery and service providers to continue exercising best practices in terms of fuel handling and product selection across the supply chain. "Customers who are doing biodiesel right are successful as long as their components are properly selected and their fuel is properly additized," Butler said.

Reinforcing that point, Butler noted that using blends above B20 does not
void any of Beckett's existing product warranties. Indeed, the company's latest products have been built to address some of the issues commonly associated with lower-carbon fuels.

For example, "Burning B100 or R100 creates issues for cad cells because lower-carbon fuels yield a flame that is less bright," said Butler. "But our new GeniSys control has been developed to look not only at brightness of the flame but also other aspects."

This is just one example of the biofuel-compatible products Beckett plans to showcase during the 2022 trade show season. Look for additional details — and maybe even a new product announcement — in upcoming issues of Oil & Energy.
Related Posts
Posted on October 6, 2023
Posted on October 6, 2023
Posted on September 13, 2023
Join Our Email List For Updates!
Enter your email to receive important news and article updates.