2023 Rate Card & Media Kit
Oil & Energy is the most informative and interesting magazine for full-service heating oil and propane retailers. As these marketers adapt to changes in the marketplace and the regulatory spheres, they look to Oil & Energy for cutting-edge ideas and expert advice from the industry's best minds Oil & Energy Magazine, a leading authority on Oilheat, Propane, Diesel, Biofuels, HVAC, Hedging, Tank Monitoring, Energy Efficiency, and more, delivering 48 pages of essential coverage every month. We offer six advertisement venues: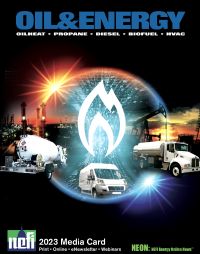 Oil & Energy Online, expanding coverage across the whole world of energy, with bonus content in a dynamic blog and photo gallery
@Oil&Energy, the magazine's monthly e-newsletter gives readers their first look at what's coming up next
National Energy & Fuels Institute Membership Guide – one of the heating oil and propane marketer's most trusted resources, distributed annually and kept within close reach by the industry's decision makers
NEFI.com – the official website of the National Energy & Fuels Institute, mobile-responsive and better than ever
NEON – distributed weekly, the NEFI Energy Online Newsletter includes updates from Capitol Hill, regulatory developments, and need-to-know industry news
When you advertise in Oil & Energy, you support NEFI, a leading advocate for the retail fuel industry.
Click here to download the 2023 Oil & Energy Rate Card and Editorial Calendar.
Please contact us today to set up your 2023 advertising schedule for print and online.
Our Sales & Marketing Coordinator is:
Join Our Email List For Updates!
Enter your email to receive important news and article updates.