All
More Than Just Burners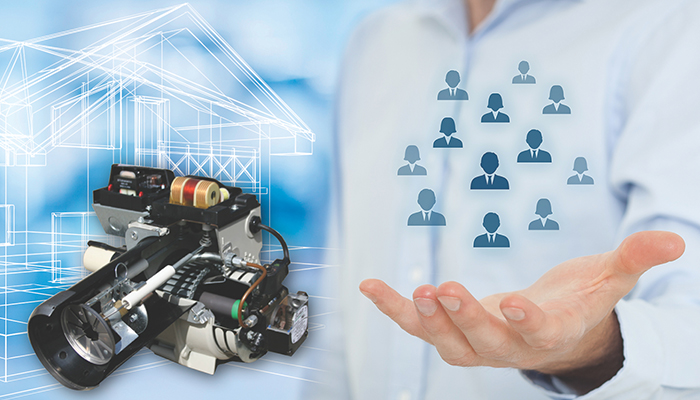 The burner is more than just a burner.
A typical oil burner might be comprised of air tube, blower wheel, electrical box, connector tube, coupling, escutcheon plate, flange gasket, fuel pump, burner head, igniter, inlet air scoop, housing assembly, motor, nozzle, nozzle line electrode head assembly, stop screw, splined nut, and air adjustment dial, among other pieces.
But the burner is more than the sum of its parts.
As the nucleus of residential and commercial heating equipment, a burner interacts directly or indirectly with numerous other system components as it converts energy to heat — fuel to comfort. To complete this vital task, a burner depends on a pump, circulator, controls, etc., not to mention the boiler or furnace itself, the fuel going in, and the tank that stores it.
In a sense, the burner is all those things and more.
The modern burner is a product of many decades' worth of toil and innovation by dedicated, hardworking professionals. Craig Butler is a product manager with R.W. Beckett Corp. For him, the most important and integral part of the fuel-burning process is, always has been, and always will be the customer — be it the Pittsburgh home that burns oil to get through a tough winter, or the Philadelphia business that burns oil to stay open throughout the season. Like any experienced manager, Butler recognizes, "Heating solutions that are dependable and affordable will give us the best chance to retain oil heating customers."
Reinventing the Tune-Up
One of the main causes of customer frustration in any home-service business are equipment issues, particularly repeat issues. Recognizing this, in 2004 R.W. Beckett Corp. entered "the control side of the business," with the introduction of the Beckett HeatManager Control. Five years later, the company significantly expanded its control line with the GeniSys® Oil Primary Control and the AquaSmart® boiler control.
"We deliberately designed these controls to be programmable," Butler recalls. "This gave technicians the ability to not only fine-tune the heating system, as one would with general maintenance, but to also fine-tune its operating characteristics, such as the runtime of the burner and circulator cycling. It gave them the ability to adjust system performance for operating efficiency."
And not only that.
By offering on-board diagnostics, Beckett's burner controls empowered service technicians to more closely monitor system performance and identify possible issues before they presented bigger problems. In effect, intelligent burner controls like the GeniSys and others reinvented the system tune-up. No longer was a technician's ability to pinpoint and diagnose equipment issues limited by sight, sound or experience. Hence, burner controls helped improve not just heating systems' efficiency, but heating businesses' efficiency as well.
Changing Standards
Of course, the push for higher efficiencies didn't stop there. Energy efficiency continues to remain a concern among home and business owners, heating system manufacturers, industry associations, policymakers, and seemingly just about anyone who has ever touched a thermostat. For Beckett, though, that's nothing new.
Having walked the halls of Beckett's Ohio headquarters for three years (since re-locating from his previous post of 14 years as Mid-Atlantic Sales Engineer), Butler quips, "We have literally a museum of high-tech heating equipment going back to 1937," the year the company was founded. "We continue to develop and refine our products to meet new efficiency requirements," he adds, pointing out that the next standard for warm-air furnace efficiency is scheduled to take effect in 2021. "We are on top of all that, working with our partners and coming up with solutions," Butler says, "but we have to work together as an industry, because, again, once a customer is fed up, whether it's because of repeated service issues or increased costs, it's tough to keep them."
Returning to the company's history, Butler says, "We've seen a lot of things come and go over the past 82 years. The reality is, installation costs and operating expenses often determine whether things survive in the residential market." For example, solar products: "A few years ago, when I was a sales engineer, thermal solar systems were gaining popularity," Butler remembers. "There was some success, but when the tax credits went away so did the sales."
Looking forward, Butler doubts the same will hold true for alternative fuels. "We recognize that they're here to stay," he says. "However, the challenges they can present need to be addressed by all parties. Our customers need safe and reliable solutions."
A Holistic Outlook
Just as the burner works with various other system components to turn fuel to comfort, Butler and his colleagues at R.W. Beckett Corp. continue to work with the National Oilheat Research Alliance and other trade associations in efforts to reach some of those "safe and reliable solutions." Likewise, the company continues to look within and without for answers to the questions on many fuel-delivery business leaders' minds.
"Every time a customer gets a delivery, you can't dispatch a tech to go out and fine-tune the burner. What's the solution going to be, a self-tuning burner, a burner that monitors itself? Again," he says, "we are excited to work with anyone" who can help move the heating oil industry forward and help dealers retain customers, if not increase their share of the market. After all, it's the customers who remain the most important part of the fuel-burning process.
Related Posts
Posted on October 6, 2023
Posted on October 6, 2023
Posted on September 13, 2023
Join Our Email List For Updates!
Enter your email to receive important news and article updates.