All
Revisiting Brayton Point
by Ed Burke and Kelly Burke, Dennis K. Burke Inc.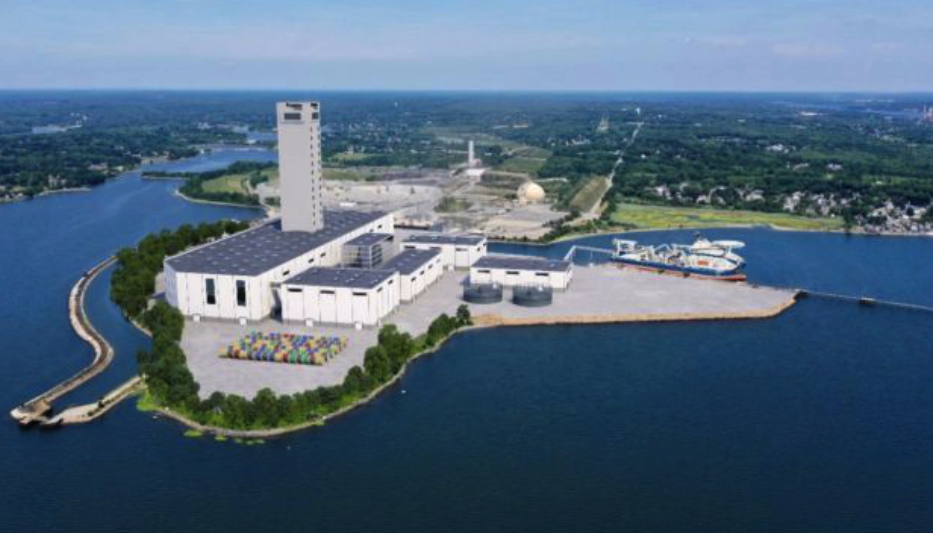 Offshore wind brings new life to closed coal plant site
Decommissioned in 2017, Brayton Point was the largest coal-fired generating station in New England and the last in Massachusetts. Last month, state and local officials gathered with stakeholders and community leaders on the 306-acre site in Somerset.

They announced a contractual agreement for the sale of 47 acres to an Italian company called Prysmian Group, which plans to build a state-of-the-art manufacturing facility for subsea transmission cables at Brayton Point. Once completed, it will be the first piece of the U.S. offshore wind supply chain to be located in Massachusetts.

The commitment could help establish Massachusetts as an offshore wind energy hub.

Brayton Point Power Station
The Brayton Point power station began operations in 1963 and provided power to about 1.5 million homes in the region. It could burn approximately 40,000 tons of coal in three days, and fresh supplies from Colombia, Kentucky and Colorado were brought in by barge every four days.

Unable to reach a deal with the regional grid, Brayton Point's new owners closed the 1,500-megawatt coal plant in 2017. Existing connections to high voltage transmission lines made the site ideal for use as an offshore connection point.

Prysmian & Avangrid
Prysmian Group will use the site to manufacture underwater cables that will bring power generated by several planned offshore wind projects to the electrical grid.

The deal to build the cable manufacturing plant at Brayton Point represents an eventual investment by Prysmian of up to $300 million, according to a company official. It also will lead to the creation of as many as 250 high-paying jobs in Somerset.

Connecticut-based Avangrid Renewables has said it will invest as much as $900 million in the Prysmian cable endeavor. Avangrid enticed Prysmian to open a facility in Massachusetts by promising to use it to supply both Commonwealth Wind and another Avangrid project off the Connecticut coast called Park City Wind.

Offshore Wind Projects
Located about 13 nautical miles southwest of Martha's Vineyard, Vineyard Wind is set to be the first large-scale offshore wind farm in the country. It was approved by the Biden administration last year. The project will consist of up to 84 wind turbines and is expected to produce enough energy to power more than 400,000 homes (see "Wind Ho!" from May 2021).

Connecticut-based Avangrid is a joint partner with Copenhagen Infrastructure Partners on Vineyard Wind. They were approved by the Massachusetts Department of Public Works for 800 megawatts in 2019, making this the nation's first commercial scale wind project.

The Commonwealth Wind project, located about 20 nautical miles south of Nantucket, won state approval last December for a power purchase agreement for just over 1,200 megawatts of electricity, which will be sent to a site on Cape Cod. The first cables made in the new Prysmian factory are expected to be used for the Commonwealth Wind project.

Other planned offshore wind projects include Park City Wind, which will provide power to the grid in Connecticut, and Mayflower Wind, which is about 25 nautical miles south of Martha's Vineyard. Mayflower was awarded 400 megawatts and had previously secured state approval for an 800-megawatt power purchase agreement.

Making a Connection
"One of the biggest challenges we will all face as we go forward from here is figuring out how to get the generation to where it needs to go," Massachusetts Governor Charlie Baker said while speaking at the old Brayton site.  

The Mayflower project will use Brayton Point as one of two onshore connection points for its marine wind turbines. It will bring power generated by the new 400-megawatt wind farm ashore at Brayton Point, where it will feed into the regional electric grid, using much the same connection that the coal-fired power plant used when it was operating. Mayflower will also build a new converter station at Brayton Point to convert the power coming from the wind farm for use on the power grid.


Onshore Development
The announcement is big news for businesses in and around Somerset. The wind industry aims to have a major regional impact in terms of employment and opportunities for small businesses to become part of a larger supply chain.

Avangrid said it is investing millions of dollars in training for Massachusetts residents to qualify for the jobs coming with the onshore development.

Mayflower Wind said its proposal is accompanied by an economic development package that includes commitments to spend more than $42 million promoting onshore development. They have discussed plans to establish an operations and maintenance facility at Fall River's Borden & Remington Corp. industrial site and also have a preliminary agreement with Gladding-Hearn Shipbuilding in Somerset to build a crew-transfer vessel.

Additionally, the cable manufacturing facility and converter station are likely to provide Somerset property tax revenues that have been missing since the coal plant shut down.

Ed and Kelly Burke are respectively Chairman of the Board and Senior Marketing Manager at fuel distributor Dennis K. Burke Inc. They can be reached at 617-884-7800 or ed.burke@burkeoil.com and kelly.burke@burkeoil.com.
Related Posts
Join Our Email List For Updates!
Enter your email to receive important news and article updates.