All
New Additions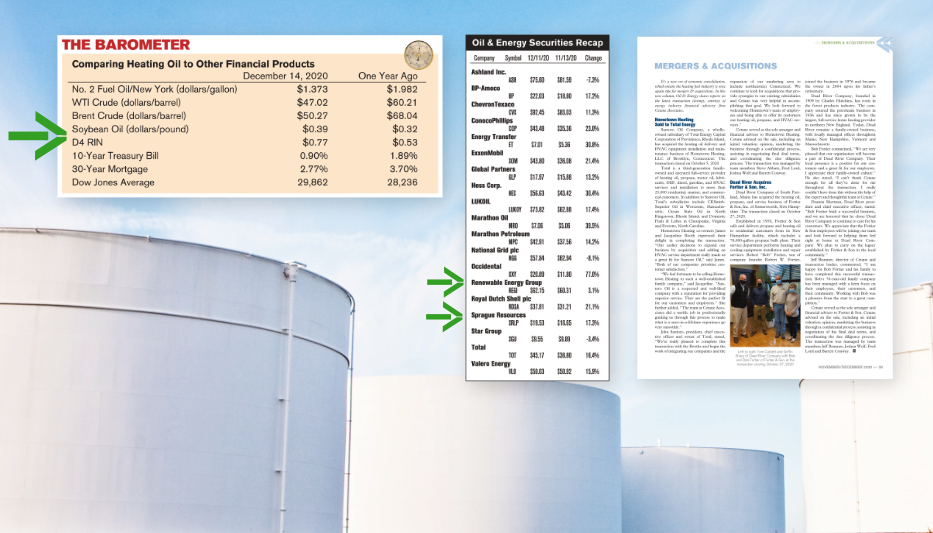 An overview of all that's new at Oil & Energy in 2021

Although we've temporarily postponed Oil & Energy's rebranding, there are several minor yet notable changes to report for 2021. In the interest of editorial transparency, here are some quick notes on all the new additions to your most trusted source for liquid heating fuel industry news and insights.

Biofuels in the Barometer – Each month, on page 3 of Oil & Energy, "The Barometer" compares the price of heating oil with that of other financial products. Beginning with this edition, the Barometer will now include two biofuel figures of importance to liquid heating fuel industry stakeholders: the price of soybean oil and that of D4 Renewable Identification Number (RIN) credits. This is in keeping with the heating oil industry's planned transition to renewable liquid heating fuel and should provide meaningful context for readers who are curious about related market movements.

Mergers & Acquisitions – There's no denying that the energy industry is going through some major transitions, and while some business owners are dealing with these changes by getting out while they still can, many others are expanding through mergers and acquisitions. To keep up with these developments, Oil & Energy has added a new "Mergers & Acquisitions" section to our printed publication. The first edition appears in the November/December 2020 issue, and the second on page 35 of the current issue. In months with fewer transactions to report, these announcements may instead be included in the Profiles or Industry News section (as was the case in previous issues).

Updates to the Securities Recap – On August 24, 2020, it was announced that the New York Stock Exchange listing for Exxon Mobile Corp. would no longer be included in the Dow Jones Industrial Average. This was seen as representative of a larger global economic shift from commodities to technology. Oil & Energy isn't going that far, but in order to better reflect the interests of our readership we have added some familiar names from the heating oil, diesel and biofuel spaces to our own monthly Securities Recap printed on page 46 of each issue.

More to Come? As our readers' businesses evolve, so too does our coverage. No matter what else changes, you can rest assured that Oil & Energy will always do our best to keep you well informed on important updates to this publication, and that this will always be your magazine.
Missing this Content? All of the sections mentioned above are exclusive to the print edition of Oil & Energy. Our 48-page magazine is published in print 10 times annually (monthly from March to October, with combined editions for November/December and January/February). See what else you've been missing by subscribing today.
Related Posts
Posted on October 10, 2023
Posted on October 10, 2023
Posted on October 6, 2023
Posted on October 6, 2023
Join Our Email List For Updates!
Enter your email to receive important news and article updates.