All
Biofine Announces New Plant Site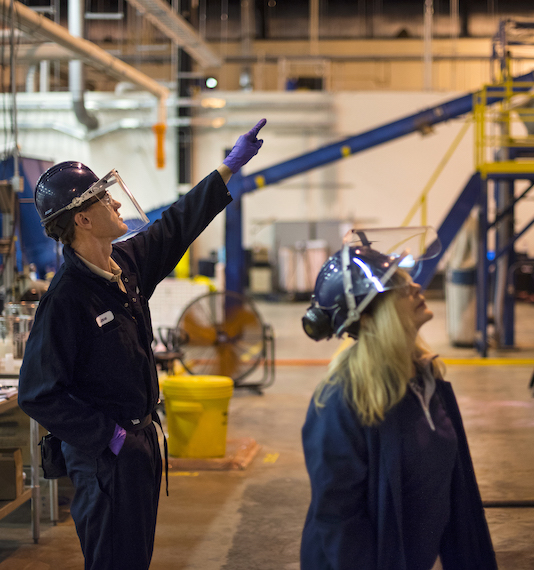 Company locates biorefinery for zero emission heating oil in Lincoln, Maine

Biofine Developments Northeast Inc. (BDNE) of Maine, the Town of Lincoln, Maine and the Lincoln Lakes Innovation Corporation (LLIC) announced that a tentative agreement has been reached for BDNE to locate its multi-phase biofuels refinery development on the former mill site in the Town of Lincoln.

"We are very pleased and genuinely excited about launching our industrial scale refinery project in Lincoln," stated BDNE founder and CEO, Steve Fitzpatrick. "We have received the most constructive and productive response from the Town of Lincoln.  We believe our project will be an engine for economic growth in the community, and we're excited to be a part of it."
 
BDNE plans to build at least two phases of its biorefinery development at Lincoln's mill.  BDNE's technology utilizes waste wood products and other cellulosic waste to produce ethyl levulinate, a green drop-in substitute for home heating fuel. Co-products of the process include all-natural specialty chemicals used in food and fragrance production, as well as biochar for industrial use.

BDNE's technology has been supported by many State of Maine agencies and enterprises, including a grant from Maine Technology Institute and technical development support from the University of Maine Forest Bioproducts Research Institute for commercialization of BDNE's patented process.

"The Town of Lincoln envisions many new tenants at the Lincoln mill, all of whom will promote the town's greater prosperity.  BDNE is an ideal anchor for this site repurposing, and a great catalyst for a range of upgrades and improvements at the mill," according to Town Manager Rick Bronson.

"Our conversations with Biofine have been very exciting," says LLIC chair, Jay Hardy.  "In Lincoln we see this development as a big part of reinvigorating the local economy, and making productive use of all of Maine's great resources."

Heather Johnson, commissioner of the Maine Department of Economic and Community Development, commented: "The Maine Department of Economic & Community Development is excited to see Biofine advancing its biofuels project, which will help to diversify Maine's forest industry and provide additional markets for low-grade wood residuals. This is a great step forward for the development of Maine's bioeconomy and renewable biofuels industry. This project relies on the sustainable use of Maine's natural resources but also leverages existing industrial assets in the Town of Lincoln. Projects like this will continue to revitalize rural Maine and ensure the continued sustainable growth of Maine's forest industry."

"Today's announcement of Biofine's new production facility in Lincoln is tremendous news!" said Charlie Summer, president and CEO of the Maine Energy Marketers Associaiton. "EL represents yet another step towards Maine's energy future. From coal to low sulfur heating oil and now the promise of EL, Maine's liquid fuel retailers continue to embrace advances in technology to ensure that Mainers have access to proven, reliable, and affordable home and business heating solutions. The Maine Energy Marketers Association will continue to work with Biofine and policy makers to make certain that the production of this local, renewable, carbon-neutral heating fuel is available throughout our state as soon as possible."

BDNE has previously announced its agreement with Sprague Resources LP (NYSE: SRLP) for marketing and distribution of biofuel. BDNE has retained Treadwell Franklin Infrastructure Capital (TFIC) of Yarmouth ME, for development services and financing.  TFIC is currently readying project financing packages for lenders and investors.

The agreement among BDNE, LLIC and Town of Lincoln remains subject to final execution of definitive documentation and contract approval by the parties.

About BDNE:
Biofine Developments Northeast is a privately wholly owned developer of biorefinery projects utilizing technology and processes developed by Biofine Technologies Inc, based in Brookline, Massachusetts. BDNE is focused on establishing a biorefinery industry in Maine in order to leverage the ongoing collaborative R&D work at the University of Maine, and the State of Maine's unique combination of industrial infrastructure and abundant wood-based biomass resource.
Related Posts
Posted on October 10, 2023
Posted on October 10, 2023
Posted on October 6, 2023
Posted on October 6, 2023
Join Our Email List For Updates!
Enter your email to receive important news and article updates.