All
Women in Energy Hosts Inspiring Evening in NYC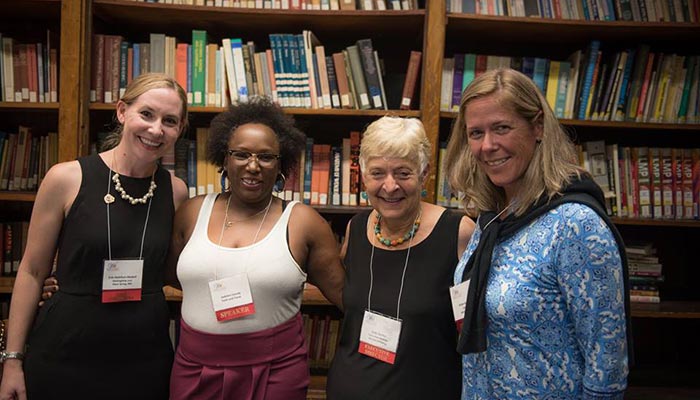 Left to right: Women in Energy Vice President Erin Holohan-Haskell, Tools and Tiaras Founder/Director Judaline Cassidy, Women in Energy Executive Director Judy Garber and Oil Heat Institute of Rhode Island Executive Director Roberta Fagan.
The Women in Energy association held a special summer event on August 14 at the General Society of Mechanics & Tradesmen building in the heart of Midtown Manhattan.
Founded in 1785, the General Society of Mechanics & Tradesmen supports New York City's oldest technical school and second oldest library. The historic building served as an ideal backdrop for guest speaker Judaline Cassidy, tradeswoman and Founder/Director of Tools and Tiaras, to share her experience forging a path for women in the plumbing industry.
At her first attempt to join the local plumbers' union in 1994, Cassidy said, she was told to "go home and do the dishes." Nevertheless, she stayed the course and eventually became the first female elected to the Examining Board of UA Local Union No. 1 – The Plumbers of New York City. Her message of ambition, determination, and sisterhood resonated among the Women in Energy members and supporters in attendance.
"Attendees kept telling me how much they enjoyed the evening," said Judy Garber, Executive Director of Women in Energy. "They were thrilled with the program and the opportunity to get to know one another afterwards. This event was a huge success."
Women in Energy's next event will be a "Ladies Who Lead" seminar held October 11 from 1:00 p.m. to 4:00 p.m. at the Portsmouth Harbor Events & Confernece Center. For details and registration, visit wewomeninenergy.com.
The association also announced that PriMedia, Inc. has become the first Premium Contributor for Women in Energy. "We wholeheartedly support Women in Energy," said PriMedia founder and President Rich Rutigliano. "We have seen, firsthand, the talent, dedication and capabilities of the women in our industry, both as clients and as important members of our company. We applaud the group's mission to advance opportunities for women," he continued, "and we know that Women in Energy will be a powerful force directing the future of our industry."
Related Posts
Posted on February 16, 2023
Join Our Email List For Updates!
Enter your email to receive important news and article updates.