All
"Whatever Is Wasteful Should Be Made Productive"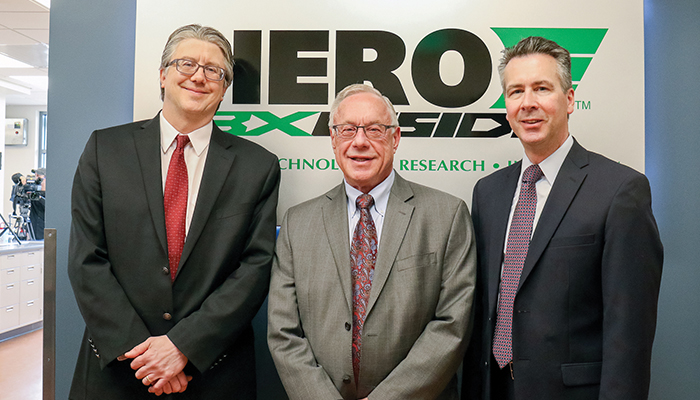 Left to right: Dr. Martin Kociolek, Director, School of Science, Penn State Behrend; Mr. Black; Dr. Ralph Ford, Chancellor, Penn State Behrend.
HERO BX Founder & CEO Pat Black shares the principles and practices at the heart of his biodiesel business
Each year, May 1 marks May Day, an occasion for countries across the globe to recognize and celebrate the efforts of those laborers who help drive success and innovation in industry.
Indeed, the spirit of innovation was in the air on Tuesday, May 1, 2018, at Knowledge Park on the campus of Penn State Erie, for it was there that HERO BX Founder & CEO Samuel P. "Pat" Black, III, his colleagues in industry and academia, and members of the press gathered to celebrate the launch of the biodiesel company's new research and development laboratory.
Following the ribbon-cutting ceremony, Oil & Energy reached out to Mr. Black to discuss the mission of the lab and the company, as well as his reflections on the industry's evolution over the past decade and vision for the future. Read that interview below and see more in the June edition of Oil & Energy.
O&E: Congratulations on the opening of HERO BX's new research lab at Penn State Erie, The Behrend College! How did this partnership with Penn State come about? And what was going through your mind the moment you cut the ribbon?
PB: My heart is with Erie and also with Penn State – I am a true blue & white! I graduated from Penn State in 1964 and support the efforts of the University in a number of ways.
I've always felt that all learners — who truly want one — deserve a world-class opportunity and if I can use some of our resources to help make that a reality, I will.
The Sam & Irene Black School of Business, named after my parents' commitment to learning through the Black Family Foundation, was ranked by both US News & World Report and the Princeton Review, graduating many of the top students in the nation each year.
I wanted to take that same concept and apply it to biodiesel research and an industry partnership with the University. Don't let the smaller size of the campus fool you; Penn State Erie is premier for engineering and sciences and is the shining star of the University System. Great things happen there and I'm excited to be on campus in the midst of all of the activity.
May 1st was a special day and I was humbled, proud and eager to get the testing started when we cut the ribbon. We will waste no time.
How does the new facility fit in with your vision for HERO BX?
Like any other industry, the biodiesel industry will have to diversify to survive. I chose to invest in our own research and development to ensure that survival.
HERO BX is expanding our national footprint in further effort to solidify quality as the driver for fuel offerings across the United States.
HERO BX recently announced a toll manufacturing partnership for Iowa Renewable Energy in Washington, Iowa, as part of our growth strategy. This strategic alignment will bring total annual production over 100 million gallons and open up new markets in that part of the country.
We imagine that the research done at the new lab will pave the way for additional opportunities like Iowa and beyond, all with the emphasis on quality and cleaner energy.
We've heard that the lab will focus its attention on reduction of sulfur relative to feedstock, as well as using different kinds of feedstock to produce biodiesel. What more can you tell us about these research activities and their relevance to the Northeast's deliverable fuels industry?
Research of this nature gives HERO BX more options of potential feedstocks, and in turn, the ability to purchase less expensive feedstocks as needed and to be more responsive to shortages, etc.
Ultimately, this will have a positive impact for HERO BX on the cost of the finished product and finally to the end user.
The true essence of research and development is to be ahead of the curve, as well as be nimble as the biodiesel industry grows and faces new challenges.
HERO BX was one of the first companies to invest in multi-feedstock technology and finding ways to produce quality biofuel from high FFA like poultry grease and used cooking oil. How have these processes evolved over the last decade, and how have the company's early investments paid off?
Early investments in multi-feedstock technology have paid off over the last 10 years as HERO BX is an industry leader in this regard, a pioneer in commercial production of multi-feedstock biodiesel.
Employees have also gained a tremendous amount of knowledge and expertise, allowing HERO BX to continue to progress and be responsive to a changing environment – always working to adjust and advance.
Equipment changes over the years have been minor, moreover, learning to adjust things like addition of water or acid, temperature and retention times. The foresight to know when and how to change process settings based on incoming feedstock is critical.
Experience is just as valuable as the equipment itself.
Energy infrastructure has long been an area of concern for the Northeast, particularly with regards to fuel supplies during peak demand seasons. In what ways do you see HERO BX's Northeast operations affecting that paradigm, now and in the future?
As the largest scale biodiesel producer in the Northeast, HERO BX has found that the initial investment in the Erie plant has paid dividends.
The Pennsylvania location organically allows service to 1/3 of the US population, a geography rich in diesel and heating oil demand.
For a decade, HERO BX has supplied marketers from the Mid-Atlantic to Maine, largely at the wholesale level. In 2016, HERO BX invested downstream in terminal infrastructure engineered to blend Bioheat® fuel at North Hampton, NH — a terrific success, so much so that HERO BX expects to mimic the model as opportunities arise.
Coming into view over the horizon is an increase in Northeast heating oil marketers taking matters into their own hands by investing in infrastructure to handle biodiesel at company operated bulk storage facilities.
This move to expanding infrastructure enables HERO BX to join forces as supply partners.
With growing interest for biodiesel from petroleum marketers, combined with state initiatives calling for renewable energy in the region, the future of HERO BX will include additional production capacity.
You're an accomplished businessman and philanthropist, with a number of different companies and organizations in your portfolio. What inspired you to try your hand at the biodiesel market in the first place, and what are some of your personal observations about the way this market has matured over the last 13 years?
I was first attracted to the industry as it takes waste and turns it into energy. Mother Nature finishes what she sets out to do – she recycles everything. And as a businessman, I understand the importance of seeing things through. Whatever is wasteful should be made productive.
Not only does the biodiesel do just that, it also supports our farmers by giving them a new and profitable market.
The energy return of biodiesel keeps me focused on what we are doing, how to refine our processes even more and our growth strategy as I know that producing biodiesel gives back more than it takes.
Find out more about HERO BX by visiting them online at HEROBX.com.
Related Posts
Posted on October 11, 2023
Posted on October 10, 2023
Posted on October 10, 2023
Posted on October 10, 2023
Join Our Email List For Updates!
Enter your email to receive important news and article updates.