All
Upgrade Your Operations with Innovative New Equipment and Devices
by Rich Morahan, Richard Morahan Associates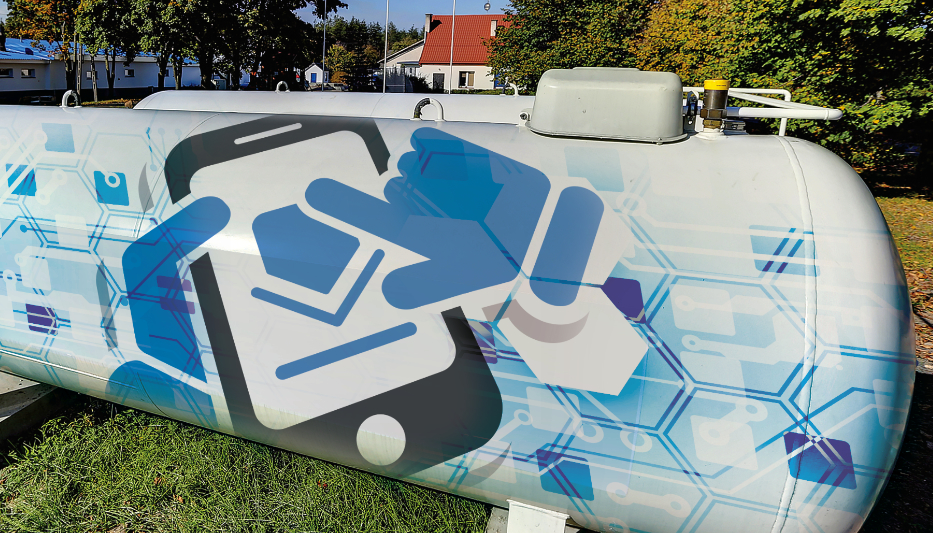 Add safety, convenience, accuracy and value to your propane systems.
Propane is a mature industry, and the basic delivery, storage and transmittal systems are relatively unchanged, with gradual enhancements over the years. But the propane equipment and supplies market aren't static, as the rollout of various levels of tank monitor and tank lock and security devices over the last decade can attest.
Keep in mind, virtually all propane specs are defined by industry regulatory or production requirements. There are, however, areas where you have some choices for equipment and supplies.
Here are a few innovative new products that might provide additional value to you or your customers, from distributors Bergquist, Holland, OH; Ray Murray, Lee, MA; and Rego, Elon, NC. Other distributors and manufacturers offer similar products that address various industry challenges. It's easy to reorder from a catalog or the internet and run your business as in the past. To deal with an uncertain future, however, operators would benefit from frequent conversations with distributors suppliers, to stay on top of cost-effective, environmentally friendly ways to deliver fuel.

Three New Products from Bergquist
Prodogi Ultrasonic Gas Meter
Prodigi's sonar meter provides all of the features of a standard tank monitor but measures propane volume without requiring moving mechanical components, operating without moving parts that wear out or require maintenance.
It also employs a stop-motor valve that enables remote shut off. There is no need to shut off onsite for service or to suspend service, or to lock up a tank against unauthorized fill ups to a delinquent customer. The device transmits data to Otus (Cavagna's asset management program), which records and stores historical data and closes the shutoff if necessary.
Kosan Dual Second Stage Regulator
The Kosan DSS7 series regulators are direct action, dual second stage pressure regulators, normally used for domestic or small commercial applications. Installations can be individual or in gas grids, and can be directly assembled to a meter configuration for LP gas or other non-corrosive preliminarily treated stable gas. 
Key Features: This safety is activated when the outlet pressure decreases or increases due to low regulator outlet pressure (out of gas situations) or blockage in the regulator valve seat (overpressure), preventing gas from flowing either downstream or through the vent when activated.
The device can only be manually reset by a qualified technician. It will not allow large volumes of gas to be released like traditional relief valves, preventing a release until the source container can be shut off.
The latest regulators from Kosan provide both under-pressure and over-pressure protection as per UL-144 standard. In addition to their existing product line, they offer these regulator models with capacities ranging from 800K to 1.4MIL BTUs/hr.
CGH Belgium Flexible Non-Metallic Pipe
CGH's pipe installs easily – crimp, cut and bury. A single-wall flexible reinforced thermoplastic pipe provides flow comparable to larger steel pipes. For both commercial and agricultural installations, advanced polymers and Aramid fiber braid ensure corrosion resistance, strength and extended lifetime. The pipe is delivered on a disposable reel for simple joint-free installation.

From Ray Murray, Inc.
Shovel Barrier
Anyone digging on a property for any reason can damage the buried gas lines. At the very least, a broken gas line will cause an emergency, costly repairs and the expense of losing gas, after which the gas line still remains unprotected. A leaking underground gas line also may go undetected for a long time, causing a considerable reoccurring expense.
Shovel Barrier protects against gas line damage. It provides three-in-one functionality: direct protection, a warning labeling, and a locatable wire. It is a cost-effective and simple way of adding a layer protection to underground utility lines.
The barrier's synthetic properties make for long-lasting protection against excavation by hand tools. Shovel Barrier adds the needed time for recognition of the gas line being hit before causing a leak, and provides additional peace of mind for property owners utilizing gas powered appliances and equipment.
Mopeka Sonar Tank Monitor
Nothing provides accurate gas levels more accurate than sonar. Sonar is a time-tested technology provided in advanced military applications and used every day all over the world in scientific and commercial applications.
Mopeka Products' sonar sensors can measure within +/–1% of the actual tank level—far exceeding current 20-year-old mechanical gauge technology. These monitors are not reliant on mechanical tank gauges that can wear out or fail over time.
The Mopeka Pro Plus and TD40 sensors do not penetrate the tank, making them inherently safer than traditional gauges, and are able to operate in any environment. The sensors work on a global SIM chip that operates on the 4GLTE, M1 and NB-IoT networks.

From RegO
RegO® Ready-To-Go™ LPG Tank MultiValve®
The RegO Ready-To-Go Tank MultiValve enables testing and repair in the field without excessive gas loss or tank evacuation.
Most conventional tank valves are not field-repairable. RegO's exclusive field-repairable tank valves provide users easy access to repair the valve stem packing without any disruption of service or the added cost of evacuating the tank. Jobs that used to take hours now take minutes.
RegO MultiValves contain UL-listed, factory installed and tested Presto-Tap fittings that provide a quick and easy, cost-effective method of performing a system leak test that can reduce emissions by up to 90%
These products illustrate the ongoing innovation of propane equipment and supply manufacturers. In the last decade, tank monitors and tank locks have impacted propane marketing. Thes products could very well do the same. Your distributors or suppliers can be more than just order-takers. Let them know what you need. They will likely deliver it.
Rich Morahan writes frequently about security and marketing for the propane and other industries, including information management, petroleum distribution and self-storage. You can contact him at 617-240-0372 or rmwriteg@gmail.com or visit www.rmorahan.com.
Related Posts
Join Our Email List For Updates!
Enter your email to receive important news and article updates.