All
Turning Up the HEAT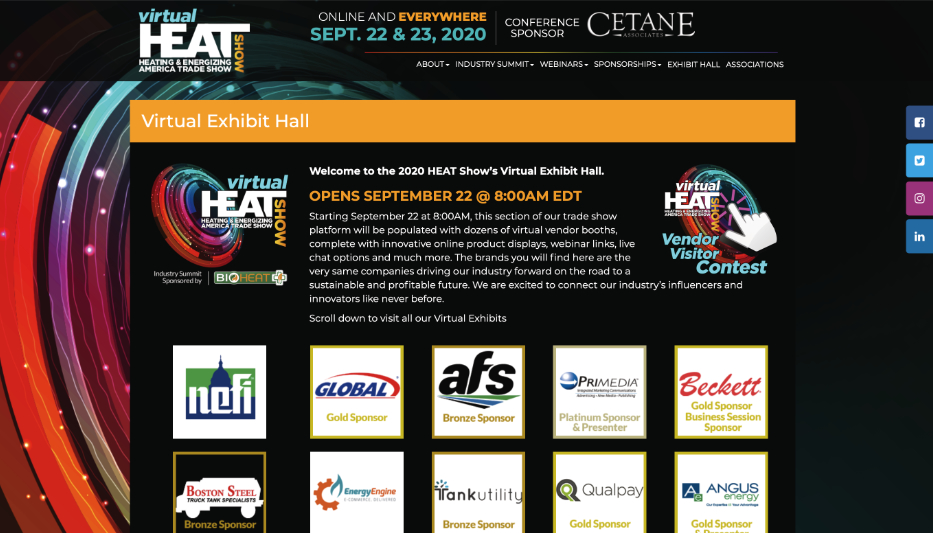 Oil & Energy's sneak peek at the 2020 Virtual HEAT Show, online and everywhere Sept. 22-23
On September 22-23, heating and energy professionals from across the country will come together for the first ever Virtual HEAT Show. This free online event will take place in real time, with live webinars beginning on Tuesday and Wednesday at 9AM and a Virtual Exhibit Hall open to attendees through both days. Attendee, exhibitor, and sponsor registration have been streamlined for easy access, and are available at VirtualHEATShow.com.

With the event just one month away, Oil & Energy met with Virtual HEAT Show organizers for a behind-the-scenes look at the new online trade show platform, which has been custom-built for the liquid heating fuel industry and is fully accessible from any computer, tablet or smartphone. Here, we preview the Virtual Exhibit Hall and Webinar Sessions leading up to the National Liquid Heating Fuel Summit at 1PM on Wednesday, September 23.

For additional details or to further discuss exhibitor and sponsor options, please contact Jessica Levaggi at 617-804-2222 or events@nefi.com, or Liz Hill at 516-222-2041 or lhill@primediany.com.


Virtual Exhibit Hall
At press time, dozens of exhibitors have already begun building their virtual vendor booths for this year's event.

As with a conventional trade show, the 2020 HEAT Show's Virtual Exhibit Hall gives exhibitors the option to include product displays, brochures, sell sheets, and other promotional assets in their booths. Also like years past, the exhibitors represent almost every aspect of the liquid heating fuel industry: wholesalers, equipment manufacturers, trade associations, tank monitors, fuel additives, marketing agencies, software developers, payment processors, management consultants, hedgers, financial advisors, and other companies that support the trade.

That said, the Virtual Exhibit Hall also offers many advantages over conventional trade show floors. For one, vendors can easily include video demonstrations of their products and services in their booths, which can then be viewed on demand. Likewise, previously recorded webcasts can be streamed on demand and brochures can be downloaded for future reference. Exhibitors and attendees will no doubt miss the opportunity to shake hands and meet in person, but virtual booths can also include videoconference links for face-to-face interactions, along with web, email and phone links that won't get lost in a perpetual sea of business cards and handouts.

Beyond these enhancements, each virtual booth will also include a link to the Virtual HEAT Show's Vendor Visitor Contest. Once an attendee visits a booth, a countdown begins; after 60 seconds, a link will appear to enter the contest. Each booth has a unique link that can only be accessed once per visitor. Attendees will need to visit 20 or more booths to be eligible to win gift cards and other valuable prizes, and the winners' names will be posted in the Virtual Exhibit Hall on Wednesday after the National Liquid Heating Fuel Summit. Exhibitors interested in sponsoring giveaways should contact NEFI Events Coordinator Jessica Levaggi for details.

"Exhibitors have found our registration and booth set-up process very easy to navigate, and we are excited to open our Virtual Exhibit Hall to the public on Tuesday, September 22," Levaggi says.

Webinar Sessions
In the absence of in-person meetings, the heating fuel industry has embraced videoconferencing platforms like Zoom, Webex Meet and Microsoft Teams as means of discussing important business and association matters face-to-face. Likewise, with training facilities and classrooms closed, industry professionals have turned to online webinars to keep them up to date on the latest technological developments, business strategies and legislative/regulatory issues.

Starting at 9AM on Tuesday, September 22 and Wednesday, September 23, the Virtual HEAT Show will present a series of live 40-minute webinars spread across six educational tracks: NextGen, Women in Energy, Technical Service/Technology, Business, Biofuels, and Regulatory Compliance. These free webinar sessions will give attendees the opportunity to hear and see industry insiders and thought leaders sharing insights on their fields of expertise.

The complete schedule, with session times, descriptions and presenter bios, is online at VirtualHEATShow.com/webinars and will be featured in the September issue of Oil & Energy. In the meantime, here are some potential highlights:

Tuesday, September 22
Women in Energy Sessions
How to Communicate and Create Your Net-Zero Message
NEFI Government Relations Update
DOT Clearinghouse Changes
Understanding the RFS and a Biofuels Pathway for the Industry
And More!

Wednesday, September 23
Making a Resilient Move Into the "New Normal"
Surprise Changes in Business Evaluation
Don't Buy New Tech Without These Best Practices
A Q&A Session on Delivery Optimization
Managing B20 and Owning Success
And More, All Leading Up to the Industry Summit at 1PM
 
After registering for the event, attendees will be able to access unique links to sign up in advance for each webinar. The webinars will be presented via videoconferencing platforms like those mentioned earlier and will conclude with live Q&A sessions. This will give presenters and attendees the ability to exchange ideas just as they would in a conventional presentation setting. Webinars can also be recorded with the videos then posted in the Virtual Exhibit Hall booth and/or shared in future communications.

"The educational tracks were one of the most successful aspects of the 2019 HEAT Show, and this year's Virtual HEAT Show will continue that success," says Connecticut Energy Marketers Association Vice President David Chu, one of the event's organizers. "I strongly encourage everyone in attendance to participate in these live webinars, which promise to be most engaging and informative."

National Liquid Heating Fuel Summit
The 2020 Virtual HEAT Show will culminate with the National Liquid Heating Fuel Summit at 1PM on Wednesday, September 23. Like the event's live webinars, the summit will take place via videoconference. The summit will feature the premiere of the industry's "Net-Zero 2050 Roadmap," developed in coordination between industry task forces and the Kearney management consulting group. Task force leaders will help spearhead the summit, presenting their respective groups' work in a cohesive format supported by sharable documents.

The "Net-Zero 2050 Roadmap" is being finalized as this issue goes to print and will remain embargoed until its public debut on September 23. Thus, Oil & Energy cannot reveal any details about the planning document at this time; however, some elements of it may be included in the September issue, which will be distributed in conjunction with the Virtual HEAT Show. Additional information on the summit can be found at VirtualHEATShow.com/industry-summit.

"Since last year's summit, I have been thoroughly impressed with the work of each our industry task forces in mapping out a plan to achieve the goals of the Providence Resolution," says NEFI President & CEO Sean Cota. "With work on the Net-Zero 2050 Roadmap coming to a close, our industry's essential Main Street family businesses will soon be able to take the next steps toward a sustainable and profitable future."

The Virtual HEAT Show begins September 22, with webinars starting at 9AM and continuing through 2:40PM. Day two begins September 23, with webinars starting at 9AM and continuing through 12:40PM. The National Liquid Heating Fuel Summit takes place September 23 at 1PM. The entire event will be online at VirtualHEATShow.com. Free registration is required to access the Virtual Exhibit Hall, Webinar Sessions and National Liquid Heating Fuel Summit. To register, visit VirtualHEATShow.com/register.
Related Posts
Posted on August 11, 2023
Posted on August 10, 2023
Posted on August 10, 2023
Posted on August 10, 2023
Join Our Email List For Updates!
Enter your email to receive important news and article updates.