All
They're Making Fuel from Wood Waste in Maine
by By Ed Burke, Chairman, Dennis K. Burke Inc.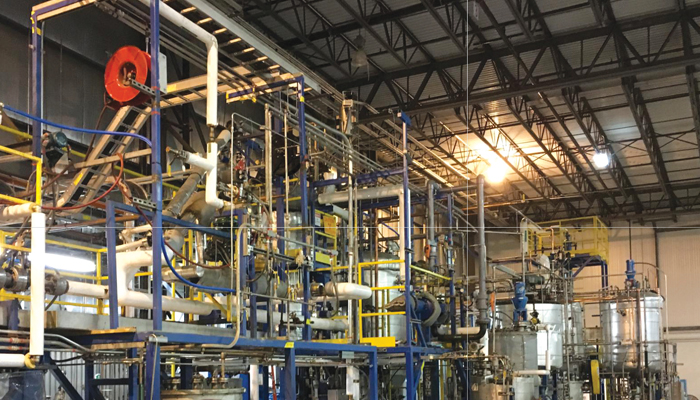 Converting wood waste into biofuels could soon breathe new life into some of Maine's old mill towns. Wood-based biofuels can have over 100 percent lower greenhouse gas emissions compared to traditional diesel fuel, and help support other uses for wood products in the state.


Creating a Cleaner Crude Oil from Wood Biomass
A student's unexpected discovery led the University of Maine's Forest Bioproducts Research Institute pilot plant to begin exploring the unique wood-waste-to-fuel process. Taking sawdust, old cardboard boxes, logging residues, such as wood pulp, or any wood biomass, they convert it into crude oil with heat and pressure rather than with the use of chemicals.

Since 2012, the Forest Bioproducts Research Institute, located next to the reclaimed Old Town Mill, has been operating a fee-for-service pilot plant where any new startup company or even a large corporation can try new ideas and collect engineering data.

The director of the Forest Bioproducts Research Institute, Hemant Pendse, has been with the University of Maine for 40 years. He spoke with the News Center in Maine, which first reported the breakthrough. According to Pendse, the crude oil being produced from the plant doesn't contain sulfur, making it cleaner than other crude oils.

Pendse explains that undergraduate students were experimenting with salt and high temperatures when they found that a particular kind of mixed-salt produced crude oil vapors. Using a process developed by Massachusetts company Biofine Technology LLC, wood pulp is turned into acid before it is turned into salt, which produces the crude oil when introduced to high temperatures.

"First, we do an intermediate process, we call it acids and we turn it into a dry salt powder," Pendse explained to News Center. "From the dry salt powder, we are making premium crude oil, which can be processed just like any oil refinery and make gasoline, diesel and jet fuel."

The current production amounts are small, about one-ton a day when the plant is running, but it's the engineering data that the private sector is interested in. The patented intellectual property is there for interested companies to scale-up their research.

According to Pendse, the crude oil being produced from the lab is cleaner than the oil that comes from Saudi Arabia, because it doesn't contain sulfur. Right now, the United States Air Force is testing the fuel specifications to see if military and commercial aviation can use the Maine-made refined jet fuel as a sustainable option, rather than relying on fossil-based fuel.

The News Center in Maine reports that the technology could also potentially boost The Pine Tree State's economy. The advancement could benefit running mills and potentially create new jobs with the reopening of closed mills, or with new plants moving into the area. That's not only mill worker positions, but chemical engineers too.

"Some old pulp mills like Old Town that have the infrastructure, they have the wood yard, and they have the power plants," Pendse explains to News Center. "Can we add this extra revenue generating stream and show, that on a commercial scale, that it is feasible and that we can actually meet the specifications of the private sector? Then I think a lot of new doors will open."

The Renewable Fuel Standard requires biofuels to be blended into transportation fuel in increasing amounts each year, escalating to 36 billion gallons by 2022, according to the U.S. Department of Energy. The University of Maine's program could qualify as an advanced biofuel because it is derived from cellulose.


Producing Bio-Based Chemicals from Wood Biomass
Biofine Developments Northeast has received a $750,000 award from the Maine Technology Institute to support the development of the first large-scale bio-refinery in Bucksport, Maine. MTI's Emerging Technology Challenge for Maine's Forest Resources announced the award in April. Consistent with all MTI awards, Biofine must put up a one-to-one match to the challenge grant.

According to information released by Maine Technology Institute, the facility will deploy Biofine's technology, which converts woody biomass into the chemical intermediate levulinic acid, to produce a new renewable heating oil substitute known as ethyl levulinate. Maine residents could see more efficient heating oil without converting or modifying their burners.

Biofine Developments is based in Bangor and is the exclusive licensee of technology from Biofine Technology LLC. The company has worked extensively over the last two years, testing and developing the product with Dead River Company in preparation for commercial application. Additionally, Biofine plans to work with consultants Treadwell Franklin-Sewall and the University of Maine at Orono for technical operations. The goal of MTI's Emerging Technology Challenge for Maine's Forest Resources is to help diversify and build more resilience into Maine's forest industry. Its aim is to attract emerging technology companies to the forest resource sector and support those that are already developing new products. "The technology from Biofine allows the flexibility to convert wood waste into either acids for the UMO process or feedstock for bio-based chemicals and fuel substitutes, depending on how the markets develop," says Dr. Stephen Fitzpatrick, inventor of the Biofine technology and CEO of Biofine Developments.

Maine Technology Institute estimates that Maine's forest industry contributes about $8.5 billion annually to the state's economy, with the potential to grow to $12 billion by 2025.
Related Posts
Posted on October 10, 2023
Posted on October 10, 2023
Posted on October 6, 2023
Posted on October 6, 2023
Join Our Email List For Updates!
Enter your email to receive important news and article updates.