All
Technology for the Customer
by John MacKenna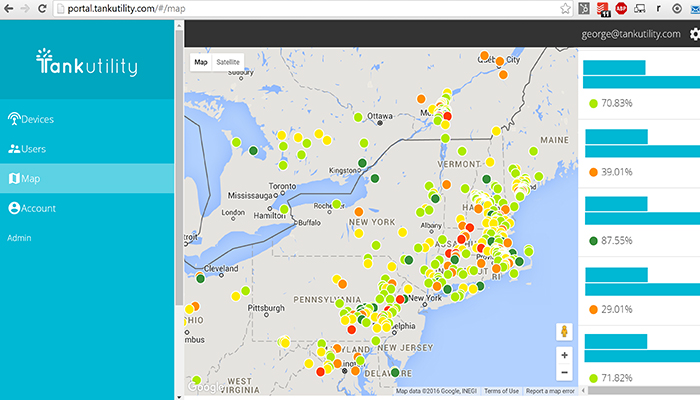 A tank monitoring startup launched in 2014 by an energy management engineer who had endured a disastrous propane run-out is gaining momentum after a significant new infusion of investor funding.
Tank Utility Inc., of Boston, received a major boost this summer, when several companies and "strategic angels" provided a combined total of $2.2 million in seed funding. One of the investors is Generac Power Systems, a leading maker of home backup generators and other engine-powered products. Generac becomes a minority shareholder in Tank Utility, and the companies intend to collaborate on products.
"These funds will further Tank Utility's mission of making truck-delivered energy as efficient and customer-friendly as modern web retail services," the startup wrote in a press release.
Tank Utility and Generac plan to collaborate on the development of an "elegant app-based solution" to monitor propane fuel tank levels, according to an announcement by Generac Holdings. "The solution will interface directly with Generac's existing MobileLink™ monitoring platform to enable Generac customers utilizing liquid propane-powered home standby generators to better manage fuel levels," Generac stated in a press release.
"Working with Tank Utility allows Generac to provide our customers who use propane to power their home standby generators clear visibility to real-time fuel level data and generator run time before the tank needs to be refilled," said Aaron Jagdfeld, Generac's President and Chief Executive Officer. "We've been very impressed with the Tank Utility team and are excited to both invest in their future potential growth and bring a product to our customers that satisfies a need in our monitoring solutions platform."
In addition to Generac's support, Tank Utility received seed funding from Energy Foundry and Blue Fog Capital. Energy Foundry describes itself as an investor in "today's most promising energy innovators." "More than 30 percent of households in the Midwest rely on propane for heat, and Tank Utility's solution brings a new level of visibility to energy consumers and their suppliers," stated Sara Hochman, Managing Director of Energy Foundry, in announcing the investment. Energy Foundry's participation and presence in Chicago will help Tank Utility expand further into the Midwest market, which is the largest propane-consuming region in the U.S., the announcement states.
Another prominent investor in the second round of funding is Blue Fog Capital, which specializes in companies offering software as a service (SaaS) enabled by hardware. "The delivered fuels industry is a large, overlooked space in which the Tank Utility team can bring about major change," said Harris Brody, a partner at Blue Fog. "The company's approach to improving operating efficiency and cutting costs for fuel deliverers while at the same time increasing customer satisfaction is a win-win-win scenario. Marry this with a great consumer value-proposition and the team's depth in leading-edge energy monitoring technology and you have all the ingredients to capture a commanding position in this market."
Tank Utility CEO Amos Epstein said the company has been humbled by the response from its customers. "Since our launch, we have heard countless stories about how our service has prevented major damage to homes, helped keep businesses running, and saved tons of time and money," he stated in announcing the new funding. "With this infusion of capital we are thrilled to be able to accelerate our growth and provide an even higher level of service."
Epstein co-founded Tank Utility with Nicholas Mashburn. It was Mashburn who got the idea for Tank Utility after experiencing a devastating propane run-out in 2014 in his New Hampshire cabin. Some pipes became frozen, and the home suffered water damage. After the mishap, he decided to develop a propane tank monitor that leveraged technology built into some propane tank gauges and transmitted tank level information via Wi-Fi.
Into the Marketer Channel
The device was originally conceived for propane tanks with sales targeted at consumers, but the scope has expanded. Over the last 18 months, the company has added monitors for oil tanks and now sells both Wi-Fi- and cellular-enabled monitors for both fuel types. The company has also diversified its sales strategy to target energy marketers, and sales in the marketer channel recently surpassed direct-to-consumer sales, according to Epstein.
"The Wi-Fi tank monitor was perfect for the consumer market, but we got so much interest from the industry and fuel distributors that it compelled us to build a cellular version that does not require the consumer's Wi-Fi," Epstein explained. "The cellular version has slightly easier setup, and it allows our fuel dealer customers to literally deploy 30 monitors in a day without even interacting with the customer."
Tank Utility presents data in different formats for consumers and marketers. For consumers, there is an app available for iPhones, Androids and larger devices that reports on fill levels and daily consumption and correlates usage with local degree-day data. Consumers can select a target tank level and set an alert.
A supplier also has the option of enabling their customers to view the current price and minimum delivery size and place orders through the app. "That dramatically increases convenience for the customer," Epstein said. Tank Utility can also offer a prepayment option on customer orders.
For a marketer client, Tank Utility provides secure, cloud-based software where a user can track their entire portfolio of monitored tanks. They can create a profile for each tank, set and assign custom alerts, and apply searchable tags such as pool, restaurant or vacation home. They can also view lists of delivery requests and completed deliveries and see which customers are using the Tank Utility app.
The marketer interface offers live, sortable reports using self-selected criteria, including time to next fill and burn rate. Users can also view accounts on a map that uses color-coding based on dealer-selected criteria and enables drill-down into each account. Tank Utility reports NPS scores that are comparable to companies with some of the highest NPS scores such as Apple and the highly regarded insurer USAA Insurance.
Rising Expectations
Some marketers have expressed concern that the daily data would make customers into penny pinchers, but the Tank Utility founders predict a much more satisfying outcome. They both worked for EnerNOC, which provides demand response for utility companies, and their experience tells them a marketer who provides energy management tools builds stronger relationships. "We are bringing tools and technologies from the utility space to a market that can really benefit from it," Mashburn said.
Epstein says that Tank Utility would like to serve fuel delivery companies the way Opower serves utilities. "Opower has made a great business of helping consumers understand their energy bills and usage," he said. "What they have done for utilities is engender better relationships so customers are not surprised, and they are more willing to pay quickly. The relationship lasts, and consumers save money and change behaviors. The customer might use less energy, but the company gets more years out of the relationship."
He said that companies like Amazon, Nest and Opower are setting the tone for what the consumer wants. "As this market deploys more technology, there is an advantage to being one of the early adopters. This kind of technology will become a standard that consumers will demand. As the consumer base gets younger and the housing inventory turns over, people want to understand their energy usage. When you equip them with the tools, that makes you the trusted partner."
Mashburn said Tank Utility tracks Net Promoter Scores (NPS) for itself and its fuel dealer customers. NPS gauges a user's willingness to recommend a product, and Tank Utility's scores indicate that users have good sentiment towards their suppliers because of the Tank Utility product. Tank Utility reports NPS scores that are comparable to companies with some of the highest NPS scores such as Apple and the highly regarded insurer USAA Insurance.
Support for Product Development
In addition to the new seed funding, Tank Utility has enjoyed direct support from venture capital investor Bolt, which specializes in startups at the intersection of hardware and software. Since early 2015, Tank Utility has been headquartered at Bolt's Boston facility, which supports hardware launches with office space, conference rooms, expert staff and a prototyping space. Bolt Boston is outfitted with specialized equipment such as a versatile temperature-testing environment that enables Tank Utility to test its monitors in extreme heat and cold.
"Bolt is a perfect partner for a business likes ours," said Epstein. "They have a team of engineers as part of their staff, and they have experience with products like the Roomba vacuum cleaner that has shipped to tens of millions of buyers. They have the know-how to take a device like ours and make it better and build it more economically."
Bolt's support is helping Tank Utility to accelerate through the startup stage. "We don't have to wait for cash to come in the front door," Epstein said. "We have additional ways of funding that help us to develop more quickly and respond to the customer in a more agile way."
Since introducing its first products in 2015, Tank Utility has already grown its staff to 10, including Software developers and salespeople. Manufacturing is done in Massachusetts by a contract manufacturing firm.
Related Posts
Posted on August 11, 2023
Posted on August 11, 2023
Posted on August 11, 2023
Posted on August 11, 2023
Join Our Email List For Updates!
Enter your email to receive important news and article updates.