All
Sweet Success!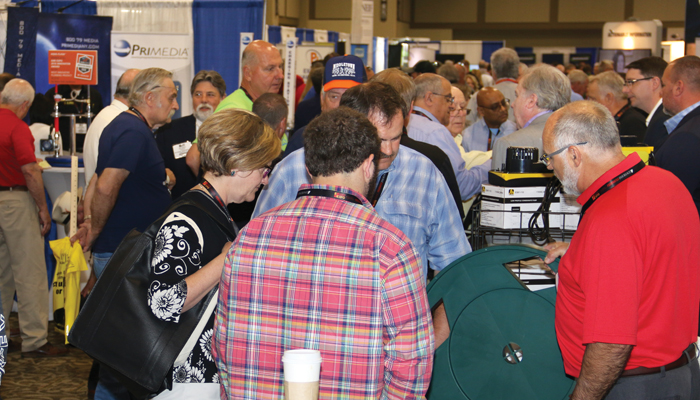 The 2019 Eastern Energy Expo was held Sunday, May 19 through Wednesday May 22 at the Hershey Lodge and Convention Center in Hershey, Pennsylvania. According to exit numbers, this year's event attracted more than 3,200 attendees, 250-plus exhibitors and over 25 sponsors.
Known as "the sweetest place on Earth," for its inextricable ties to chocolate maker The Hershey Company, Hershey previously hosted the 2017 Eastern Energy Expo. This year, additional portions of the show were held at The Hotel Hershey, about four miles away from the Hershey Lodge and Convention Center. A free shuttle ran continuously throughout the event, transporting attendees between venues as needed.
Now in its fourth year, the Eastern Energy Expo is a combined event co-organized by the Fuel Merchants Association of New Jersey Atlantic Region Energy Expo, Oil & Energy Service Professionals, and the Pennsylvania Petroleum Association. This year's event once again ran in conjunction with the Women in Energy Conference. Also in its fourth year, the 2019 Women in Energy Conference kicked off prior to the EEE welcome reception on Sunday, May 19 and continued through Monday, May 20. New for 2019, EEE welcomed Expo Partner the National Biodiesel Board to hold its XBX Exploring Biodiesel Seminars on May 20 at The Hershey Hotel. Scheduled presenters included NBB Petroleum Liaison Paul Nazzaro and Steve Howell, a fellow with ASTM International and the American Oil Chemists' Society.
The keynote presentation for EEE 2019 was titled "FutureFuel: What the heating fuel industry needs to do now to keep it viable in the future." Presenters from the National Oilheat Research Alliance discussed climate policy, as well as its potential impact on the heating fuel industry, and pushed for industry-wide adoption of a zero-carbon liquid fuel in the years ahead. The keynote speaker for this year's Women in Energy Conference was Tracey C. Jones, a renowned leadership expert and author whose previous appearances include CBS, ABC and Fox News. Jones's presentation, "SPARK: Igniting the Greatness Within," is based on her upcoming book, which contains her doctoral research on the theory of motivation. The Women in Energy keynote took place Sunday, the EEE keynote Tuesday. Both were delivered before near-capacity crowds in the Hershey Lodge and Convention Center's Magnolia Room.
As a media partner for the 2019 Eastern Energy Expo, Oil & Energy was in attendance through the event's duration. Look for our coverage to continue in the months ahead and save the date for the 2020 Eastern Energy Expo, scheduled for May 17 through May 20 at Mohegan Sun in Uncasville, Connecticut.
Related Posts
Join Our Email List For Updates!
Enter your email to receive important news and article updates.