All
Service Calls in the Era of Social Distancing
by Richard Rutigliano, President, PriMedia, Inc.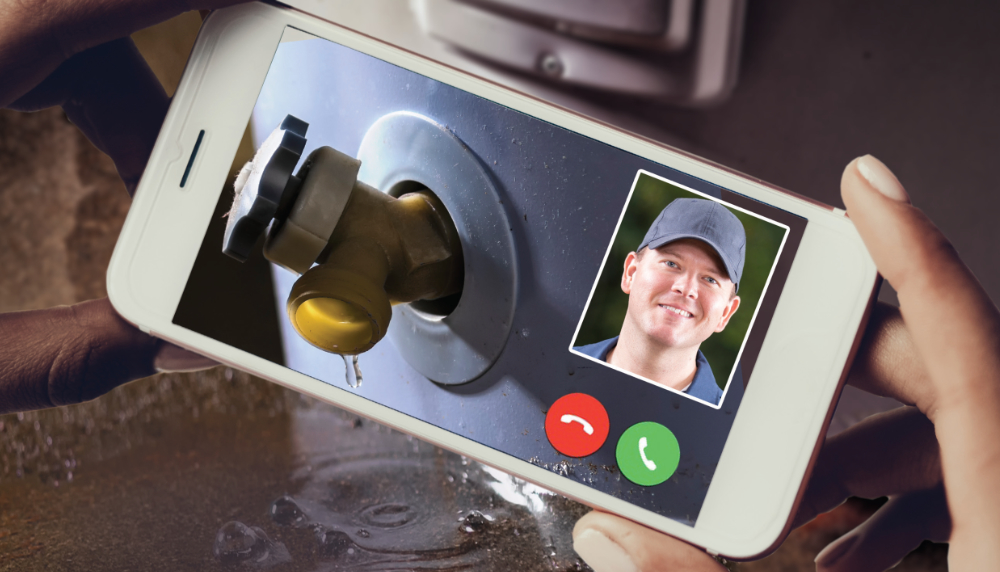 New platform enables techs to enter a customer's home without leaving the office
The on-site service you provide is vital to your business. Service calls are not simply a revenue stream; they feed sales of new equipment and service agreements. Most importantly, in some respects, they are often your only face-to-face interactions with customers, building relationships and trust. In the coronavirus era, however, service calls could also pose a serious risk to your staff and your customers.

You are, we are sure, following the safety guidelines outlined by the CDC, your state government, and NEFI (visit NEFI.com/coronavirus). The safest service calls, though, are those where time on-site is minimized or you do not enter the home at all. Video chat and conferencing apps like Facetime, Zoom and Skype enable remote service calls that will significantly reduce your on-premises service time.

A few years ago, remote service would be an option for only a small percentage of your customers. Even a few months back, a good number of you might be concerned that not enough of your account holders would be able to use the video service. But as the pandemic spread, so did downloads of these services as a way for the homebound to feel less isolated.

Zoom recorded nearly 27 million downloads in March 2020 compared to 2.1 million in January, and Skype reported 59 million daily active users across iOS and Android. Statista reported that 43 percent of U.S. seniors had socialized virtually during the coronavirus. That statistic was fairly even across age groups, ranging from 39 percent of 55- to 64-year-olds to 45 percent of 30- to 44-year-olds.

From virtual holiday celebrations and visits with children and grandchildren to remote medical care and (of course) business meetings, video conferencing has become the norm in the era of social distancing.

Video Service Calls
Consider how many service calls are remedied with standard diagnostic and troubleshooting procedures or a relatively simple adjustment. By utilizing these popular video chat and video conferencing apps, your service manager or technician can initiate a "service call," view the equipment, and walk the property owner through these steps.

PriMedia developed the MyTec platform for energy companies to manage these calls on a company-wide scale with a custom-branded customer interface. The Remote Service application can be installed on any website, and accessed and managed from tablets, smartphones, computers or any other connected device. The customer interface includes download links to the video conferencing apps of your choice, working on both iOS and Android systems.

Your customers complete a simple form with their information and a description of the problem, and can upload images or videos (up to about 10 seconds) of the issue. They also schedule their service call, noting the videoconferencing app they wish to use.

During the call, your technician can ask the customer to show specific parts of the system, go close-up for equipment readings, and take additional pictures. Then, the homeowner can be walked through the standard troubleshooting process. As you know, many issues are resolved at this point. For more complex issues, you are already ahead of the game – you know the problem, plus you can pull or order any needed parts and schedule appointments knowing how urgent each issue is and how long it will take to complete. When your technician walks into the home (masked and gloved, of course), the diagnostics have been completed and the right parts are on-hand, cutting significant time from each service call.

The admin dashboard keeps your company in complete control of the process. Your team can review all requests, confirm or reschedule the appointments, and pull reports as needed. The system protects against overbooking by limiting the amount of requests per hour, and appointment dates and time periods can be blocked out as needed. The entire application can be turned off and on from your dashboard as well.

Beyond Social Distancing
The usefulness of MyTec goes well beyond the immediate health crisis and social distancing mandates. Consider the benefits of utilizing remote service calls for after-hours emergencies, in severe winters and heatwaves (if you offer air conditioning services), and during storms or floods that force road closings.

You can even use the platforms for virtual sales consultations, rather than sending a representative to a home where the owner may or may not have remembered the appointment. Chances are, once you start seeing how Remote Service Calls streamline your service department's daily activities, the system will become your service gateway for all requests.

For months your company has put itself on the front lines, walking into homes where people may or may not be ill. Thank you for continuing to work while the rest of the world is sheltering. PriMedia is proud to have developed a means to help make your lives safer and easier. The MyTec platform can be added to any website and has an expedited modification timeline so your custom-branded digital service center can be up and running quickly.

PriMedia has been developing custom marketing plans, websites and business applications for the energy industry for more than 27 years. Please visit gomytec.com or contact us at 516-222-2041 to learn more about MyTec Remote Service Calls or any of our other services.
Related Posts
Posted on August 11, 2023
Join Our Email List For Updates!
Enter your email to receive important news and article updates.