All
Scripting a Successful Succession
by Rhonda Gerson, Oil & Energy Magazine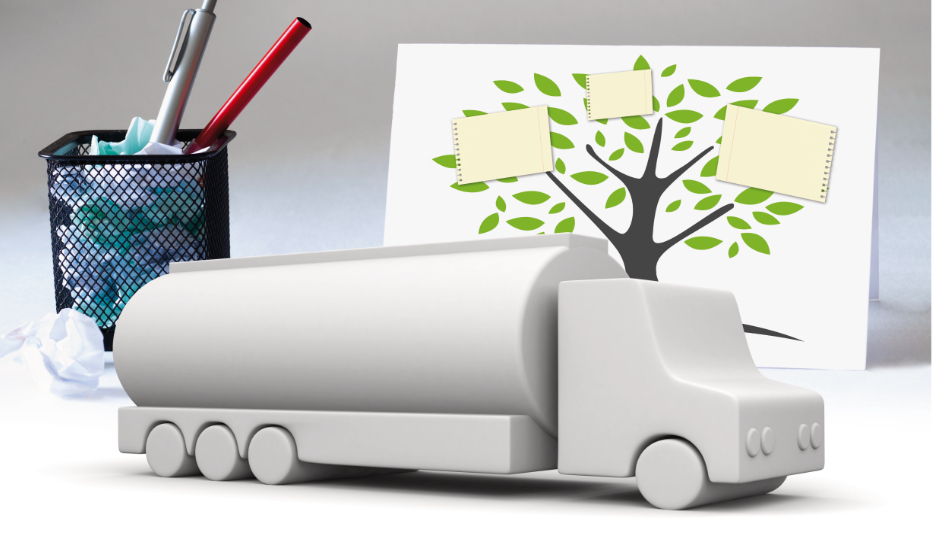 Transfer of power doesn't have to be dramatic
As far as television writers are concerned, running a family business is fraught with drama, with schemes and sabotage at every turn. From Dallas and Dynasty to Empire, Yellowstone, The Righteous Gemstones, and, of course, Succession, viewers are shown the worst possible tropes of parental favoritism, sibling rivalry, avarice and criminality.
Pick any episode from any of these shows, and one family member is plotting nefariously against another. Of course, the following week, those two will unite to thwart a third. In these scenarios, there is no line, no step-too-far. Blackmail, kidnapping, even murder are rationalized as acceptable means to their ends. The characters (and plots) thrive on chaos and pain.
This is "family?" Most often, no, it just makes good TV.
Many liquid heating fuel companies are now being run by second, third, or even fifth generations. But well-run family businesses and successful, respectful transitions between generations are not limited to the delivered fuel industry. According to the U.S. Census Bureau, family businesses, in which two or more family members exercise control concurrently or sequentially, represent 90 percent of American businesses, employ 60 percent of the country's workforce, create 78 percent of all new jobs, and generate 64 percent of the Gross Domestic Product (GDP).
How do you succeed at succession?
How to formulate a successful succession is not an idle question. Elsewhere in this issue you can find an article on the "Who, What, How and When of Succession Planning" written by Marty Kirshner and Joe Ciccarello of Gray, Gray & Gray, LLP, outlining the steps business owners need to take to develop a succession strategy while ensuring their continued financial stability and comfort (page 15).
At last month's HEAT Show, Kendall Rawls of the Rawls Group and Fred Lord of Cetane Associates led a presentation on "Growth Strategies for Family Businesses." The first task they present to business owners is to determine if they want to grow-to-sell or grow-to-transition. To do either, they explained, one must look at family dynamics as well as cultural and political pressures. Most of the attendees were part of family-owned businesses themselves, and Rawls and Lord stressed the importance of running these companies like corporations, with formal job descriptions; prerequisites for family members to be hired, including minimum education and training levels and reliable employment histories; institutionalized performance metrics and clear hierarchies; and a written succession plan.
There is a commonly accepted statistic that only one-third of family-owned businesses make it to the second generation, and only 15 percent make it to the third. A recent article in the Harvard Business Review claims those figures are based on a misreading of a single study from the 1980s, explaining that the researchers set each generation at 30 years and noted that only a third of the family businesses in the study made it through the second generation, and 13 percent through the third. If one-third of the businesses made it through the second generation, rather than to the second generation, they would have lasted at least 60 years.
The authors then compared these results to other business entities, and concluded that, "family businesses last far longer than typical companies do. In fact, today they dominate most lists of the longest-lasting companies in the world, and they're well-positioned to remain competitive in the 21st century economy."
Furthermore, the Harvard Business Review article cited analytics showing that publicly traded companies from 1950 to 2009, on average, lasted around fifteen years, or not even through one generation. "In addition, tenures on the S&P 500 have been getting shorter. If the average company joined the index in 1958, it would stay there for sixty-one years. By 2012, the average tenure was down to eighteen years," the authors stated. "A Boston Consulting Group analysis in 2015 found that public companies in the United States faced a five-year 'exit risk' of 32 percent, meaning that almost a third would disappear in the next five years."

From Generation to Generation
In fact, it is the "family" in family businesses that makes a difference. In general, family-run companies, even those with boards of directors, take a longer-term perspective in growth and spending strategies. When making business decisions, they are more likely to consider the founder's legacy, the community, and the company's future strength over immediate personal gains or the next quarter's dividends. This leads to more stable business practices and a more positive and welcoming company culture.
What does it mean to take over a company built by a parent or grandparent? What experiences are shaping the way second- or third-generation owners prepare the next? Oil & Energy reached out to a small sampling of family business owners. Rather than the disdain, avarice and schemes of a television script, these individuals were full of respect and gratitude for their predecessors and anticipated successors and were clear-eyed and optimistic about the future of their companies. Each "successor" had been, or was being, well trained in all aspects of their business, so they would be able to lead the company when called upon. Current leaders were also planning carefully to ensure, as much as possible, that the business could be passed on without destroying familial bonds.

Estes Oil & Propane
Estes Oil & Propane was founded more than 60 years ago. Mike Estes grew up working in his father's company but left at 20 years old to work at a manufacturing company. Seventeen years later, in 1987, he and his wife, Terry, bought the company from his father. Mike is a past NEFI Chairperson and currently chairs NEFI's Government Affairs Committee.
"The thing that was good about my dad, he continued to work in the company with me until he passed away. He was very comfortable with me having the management of the company. He had the confidence in me to make business decisions, and I got very little push back on them from him. Over the years we had a great working relationship. He did his thing in the field, he was an excellent technician, and we often were in the field working together. But I took over the business end completely," he recalled.
Terry Estes was pregnant with their daughter Kate when they purchased Estes Oil & Propane. Terry still handles the bookkeeping and accounting, and while Mike is still involved, his attention is focused on other business endeavors. Kate (Estes) Cavanagh takes care of most of the day-to-day operations. Mike is following his father's lead in preparing the next generation. "I try to let her make as many decisions as possible on her own, not looking over her shoulder 100 percent of the time." He continues, a father's pride obvious, "She does so many things better than me – like in marketing to new customers. She was a math major, and she's so much better at buying oil and hedging and things like that. She's built a good team of staff around her so she can be successful." He hasn't quite given up all the reins yet, stating, "I have been more engaged in the other businesses than at Estes Oil, but I still know what goes on at Estes."
Kate, in a separate discussion, picks up almost exactly where her father left off. "My dad – because he took it over from his – had insight into what that transition looks like. His dad was good about making sure he had the control he needed. It's important if you're putting your family in that position, you have to be all in. You have to let them make mistakes. I say that my dad's a good forgiver. It's really tough going in there and saying, 'I made a mistake.' He doesn't yell, he says, 'what did you learn from that?' It's important to let us build it but to be there if we fall, because we don't want the company to fail."
"The hardest part of being in a family business is you're working with your family. Everything is always business. Thanksgiving dinner, 4th of July – it always ends up being business," Kate said, adding, "The benefit is that you're working with your family, and you get time with them that others don't have."
"You have to let go for change. Our industry is changing, we're fighting different battles than we did 20 years ago," she continued. "We have more insight into why people think the way they do, because our generation has different ways of communicating; different access to what people are thinking. We might do things differently, but we're not doing it wrong."

MacFarlane Energy
Scott D. MacFarlane is the President and CEO of MacFarlane Energy, which was founded by his father, Peter, in 1946. MacFarlane purchased the company from his siblings in 1992 after his father's passing in 1987. Today he works with his wife, Cathy, and son Scott E. Scott D. has served as Chairman of the Massachusetts Oilheat Council (now the Massachusetts Energy Marketers Association) and on the Boards of Directors for NEFI, the Massachusetts Oilheat Council and the American Energy Coalition.
He credits his years of working at his father's side for his ability to run and grow the company. "I worked with my father for 19 years before he passed away 35 years ago. I was actually involved with management, banking, government affairs, payroll, installation and service, and all aspects of marketing and technical issues. I was lucky that my father spent time to go over things with me before his passing and let me do things I wanted to do to grow the company," he said. He is preparing the next generation, as well, adding, "I have my son involved and have given him more responsibility as time goes on."

Skaggs-Walsh
In 1933, when Skaggs-Walsh was founded, its owners spent much of their time converting coal heating systems to oil. Allison Heaney's grandfather bought the company in the 1950s and passed it to his son, Peter, in 1960. Allison took over when her father passed away unexpectedly in 1995. "There's so much I wish I knew. I only got three years working with my dad before he was diagnosed with cancer. I was 24 when he got sick. I wish I had more time under his tutelage," she remembers.
Allison grew up in and around fuel trucks and was going out on service calls at 15, but still briefly entertained the thought of becoming a doctor. One interview for medical school was all she needed to know that she'd rather be healing heating systems and went back to work at Skaggs-Walsh (after convincing her mother that not becoming a doctor was the right decision). Allison holds a CDL with Hazmat Endorsement, HAZWOPER certificate and Bulk Oil Storage License, was NATE certified, and at one point was the only woman to hold a New York City Oil Burner Installers License. She anticipated going to work in the service department, but her father put her in sales, instead. "I said, 'Gee Dad, I thought you loved me,' and he said, 'I do, but you need to learn sales.' It was an important learning opportunity," she recalls now with gratitude. "I learned how to sell, and more importantly, how to run a department of people who believed they knew better than I did. Once you get over that, you feel great. It was a great opportunity he gave me, even though it didn't feel like it at the time."
Allison is just "as mean" with her daughter, Elizabeth, who has been with the company for more than two years. "When she tells me we're doing things in an antiquated way or not responding to our customers in a way the younger generation wants, she's usually right. But when she says we should do something a certain way, I say, 'absolutely, you should do it,' and I make her do it," she relates. "To her it feels like a punishment, but it's actually my allowing her to earn the respect and support of the people she will eventually be in charge of and responsible for."
While Allison is not finalizing any succession plans until her son finishes his schooling and has some time to decide where his future will lie, she has begun planning for it. "If he comes into the company, my intention is to divide and conquer, make sure they each have an area where they can have autonomy," she says. "If he decides not to come into the business, my daughter will be well equipped to take over."

Hart Home Comfort
It is impossible to separate family from business when it comes to Hart Home Comfort. Ray Hart, his wife, Donna, and their four children all have their arenas within the multifaceted company. With Ray as President and CEO and Donna as Vice President Finance; Jackie is Vice President of Operations; Ray Jr. is Vice President of Terminal Operations; and Laura is Vice President of Transportation. Andrew, the fourth sibling, is a silent partner and works in Finance in Manhattan.
Ray says, "Everything we do, even at dinners and barbecues, something is brought up about one of the businesses, and we deal usually with it then. But if it's going to get heated, someone – my wife, usually ­– says 'we'll discuss this in the office' and we try to put it away for the time being."
Jackie adds, "It's difficult at times to separate business and family, but we've had a lot of practice! I think it's just years of experience, knowing that there have been times where we haven't allowed that to happen, and it didn't work out well! We have to make a conscious decision to be respectful of each other outside of the business. We have to keep respect for the differences in the relationships."
Hart has set up a holding company, where he and Donna hold the majority, and each of the children hold 12 percent. In this way, each is paid a salary commensurate with his or her position and experience, but they all share in the profits.
Jackie admits that working in a family environment is not always easy, but worth it. "I think the first thing is to say how proud I am of my dad, who came from nothing, with no background in the industry, and spent his entire life working to get us to where we are today. Without him I'd be in a totally different field. That's why I take so much pride, take it so seriously to be sure I'm doing exactly what I'm supposed to be doing. I recognize and value the time he took to do this."
"For me, specifically, although it did take years, my father has put a lot of responsibility and confidence in my decisions," she says. "He's more supportive of me now that years have gone by. Having that ability to make decisions and to know he will be supportive, rather than having to ask permission, is really important in a family business."
Looking to the future, Ray says, "I don't know what will happen in the future, when I step down, whether they keep it going or if they'll sell it. It always changes. I want to prepare them – the big thing is they do not have to do all the things I do to run a successful business. I've been hedging our product since heating oil started trading on NYMEX – they don't have to do that. Other companies don't do that. Many companies run successful businesses that don't run price protection, hedging, like I do. You may not need the transport business – you can sell it off and have others do the trucking for you. I bought the oil terminal so we always have product. I have to control everything. But you don't have to do everything the way I have. You can buy contracts and pay the differential instead of having as much storage as we do. In all honesty, it's not always necessary – you can run a successful biz without all this stuff."
One thing Jackie and Ray agree on is the importance of the entire family planning for the future. Ray said, "I feel very strongly that if companies and families don't do this, it's an injustice to your family, your employees and your customers. We put it off for many years, and if something had happened to me, it would have been a disaster. Don't put it off. Don't be afraid to spend money and bring in professional advisors. Whatever you do, include your entire family."
Jackie's comments were similar. "Realize that things change, and nothing is forever. Enjoy what you're doing now, but always be open to the family discussions about what will happen when the parents are no longer around. Not to do today, but to have a plan on what to do in the future. Have the family discussions when times are normal, so you're not put in a position of making decisions when times are really difficult."

The Family Business Legacy
"The biggest plus is to be part of something growing and dynamic," says Jackie Hart. "We make decisions together that you can see are making a difference, impacting customers and the families that work for you. Being able to be knee-deep in the trenches and making a difference.
There's a general understanding of what I'm going through, my parents understand, and we're in this together."
Allison Heaney responded, "I think that family businesses get a bad rap in terms of people suggesting folks in family businesses wouldn't make it in a non-family business. People successful in a family business would be successful outside as well. The family business offers an opportunity to those born into one: if they are motivated, they can achieve quite a bit. It's a fantastic opportunity to give your children a legacy, but it has to be done with openness. They should never be forced to enter it."
"I think there's a place for family businesses still within our communities, even with the consolidation with big time players coming into this market. It's sad to see a lot of family companies up and sell, but the ones that are surviving, they have a place in the market," Mike Estes said. "I have a heart for family businesses. It makes me feel good when we hear three or four generations have transitioned down the ranks. Those people are better connected to their communities than the big conglomerates. The big guys are good. But we're in the community, we're sponsoring Little League. We're invested. Family businesses are invested in the communities."
Not surprisingly, Kate Cavanagh has a similar take on the industry, but with a look to the future. "I think that family businesses and succession is important to our economy, important to keep Main Street businesses alive. We are the epitome of a Main Street business. As far as the industry, the industry is changing. I strongly feel that oil and propane businesses may change over the years, but we're not going anywhere. Succession is important. If you're going to go through the succession process, hear what the next generation has to say. The industry depends on that next generation to save it."
Successful successions. It's possible and happens every day in the liquid fuels industry. It's just not "as seen on TV."
Related Posts
Join Our Email List For Updates!
Enter your email to receive important news and article updates.