All
The Science Behind the Supply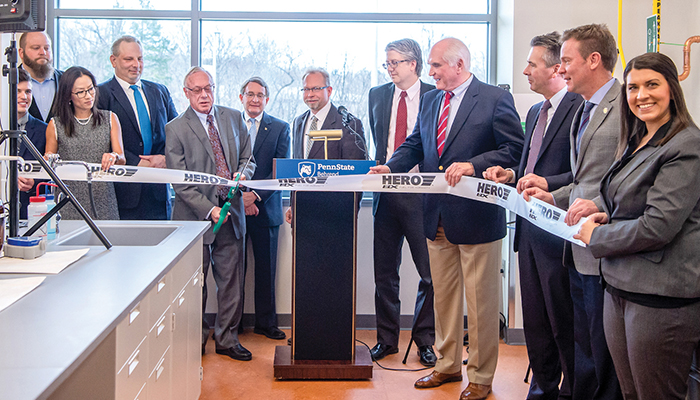 Energy can be neither created nor destroyed. In an industry built around fuel production, refinement, delivery, and consumption, it's easy to overlook the law of conservation, which is key to our understanding of all physical relationships, including the thermodynamics at the heart of any heating business. But for at least one company, this maxim remains both governing principle and continued source of inspiration.
Samuel P. "Pat" Black, III was already an accomplished businessman in and outside the Erie, Pennsylvania area when he made the decision to launch Lake Erie Biofuels dba HERO BX in 2003. Even still, getting into biodiesel felt like something of a homecoming for the philanthropist who'd long been interested in sustainable practices. "I was first attracted to the biodiesel industry as it takes waste and turns it into energy," Black explains. "Mother Nature finishes what she sets out to do — she recycles everything. And as a businessman, I understand the importance of seeing things through. Whatever is wasteful should be made productive."
Back then (and, right or wrong, today as well), the waste product most closely associated with biodiesel production was soybean oil — to the extent that prices for biodiesel and biodiesel-blended heating oil, or Bioheat® fuel, have long tracked in accordance with the so-called BO-HO spread, which compares the price of one gallon of "bean oil" to that of a gallon of heating oil. As a result of this paradigm, questions about biodiesel price and supply in the soybean-scarce Northeast are about as old as the industry itself. However, for many blenders and retailers, such concerns were exacerbated by recent policy decisions affecting biodiesel imports.
Following the complete elimination of low-cost Indonesian and Argentinian biodiesel imports, many observers couldn't help but wonder, 'Where is this region's biodiesel coming from? And how is it that prices haven't yet skyrocketed?' The answer, in some ways, is as simple as the fact that today's biodiesel isn't only derived from soybean oil. With the right science in place, high-quality biodiesel can be refined from numerous and varied waste products, including free-fatty-acid yellow grease and used cooking oil, two of the most prevalent raw materials in the Northeast. HERO BX was quick to recognize this fact, which is doubtlessly one of the reasons the company is still thriving today whereas so many competitors have since come and gone.
"Early investments in multi-feedstock technology have paid off over the last 10 years," says Black, who calls the company "a pioneer in commercial production of multi-feedstock biodiesel." Black credits HERO BX employees for their efforts to remain on biofuel's cutting edge, which have helped enable the company "to continue to progress and be responsive to a changing environment."
More specifically, HERO BX refiners have, through years of experimentation, developed an expertise in areas like dilution, acidity, temperature and retention times. "The foresight to know when and how to change process settings based on incoming feedstock is critical," says Black. It's this same forward outlook and emphasis on core scientific principles that is behind HERO BX's latest venture, a new research and development lab at Penn State Behrend.
***
Those who survive are the ones who most accurately perceive their environment and successfully adapt to it. Or, as Mr. Black says, "Like any other industry, the biodiesel industry will have to diversify to survive." Hence, the HERO BX lab at Penn State Behrend will initially focus on finding ways to reduce the sulfur content of different feedstocks. "Research of this nature gives HERO BX more options of potential feedstocks, and in turn, the ability to purchase less expensive feedstocks as needed and to be more responsive to shortages," Black explains.
"Ultimately," he adds, "this will have a positive impact for HERO BX on the cost of the finished product and finally to the end user," whether that's the delivery company fueling its tankers with biodiesel or the residents heating their homes with Bioheat. "The true essence of research and development," as Black sees it, "is to be ahead of the curve, as well as nimble, as the biodiesel industry grows and faces new challenges."
Located at Knowledge Park in the Advanced Manufacturing and Innovation Center (AMIC), the HERO BX laboratory advances the company's efforts to diversify by utilizing the skills of Penn State Behrend students in industry-driven research. At the ribbon-cutting ceremony held May 1, Penn State Chancellor Ralph Ford offered some insight into the facility's "open lab" learning model. "By providing targeted opportunities for students in our School of Science," he said, "our partnership with HERO BX expands our open lab model of learning, which matches students and faculty members with private-sector partners for experiential student learning, applied research and advanced product development."
For Black, who graduated from Penn State University in 1964 and has continued to support the school in a number of ways since, the ceremony was no mere pep rally. "May 1st was a special day," he says. "I was humbled, proud and eager to get the testing started when we cut the ribbon. We will waste no time."
For HERO BX, the lab is the latest in a series of ongoing partnerships, all of which are aimed at bringing biodiesel to a wider market. The company launched its Branded Bioheat® Program with the opening of HERO BX's North Hampton, New Hampshire blending terminal in 2016. And just a few weeks before the Penn State Behrend ribbon-cutting, the company announced a toll manufacturing partnership with Iowa Renewable Energy in Washington, Iowa, which Black says, will bring HERO BX's total annual production capacity above 100 milliongallons while also opening up new markets for the company. "We imagine that the research done at the new lab will pave the way for additional opportunities like Iowa and beyond," he adds, "all with the emphasis on quality and cleaner energy."
As the Northeast's biodiesel supply picture changes, so too does the science behind it. For Black, however, there is one constant: "The energy return of biodiesel keeps me focused on what we are doing, how to refine our processes even more, and our growth strategy, as I know that producing biodiesel gives back more than it takes."
Read more about HERO BX at HEROBX.com and find additional coverage of the company's new research and development laboratory at OilandEnergyOnline.com.
Related Posts
Posted on October 10, 2023
Posted on October 10, 2023
Posted on October 6, 2023
Posted on October 6, 2023
Join Our Email List For Updates!
Enter your email to receive important news and article updates.