All
RIN Prices Approach All-Time Highs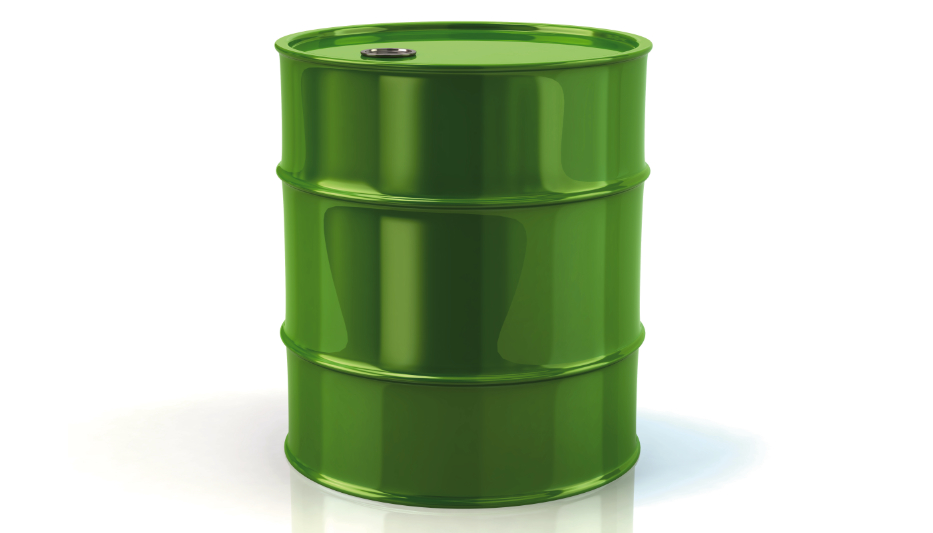 Biodiesel blending credits have surpassed the $1 mark
The prices of renewable identification number (RIN) credits — the compliance mechanisms used for the Renewable Fuel Standard (RFS) program administered by the U.S. Environmental Protection Agency (EPA) — have been steadily rising in recent months and are approaching their highest nominal levels in the history of the program (Figure 1).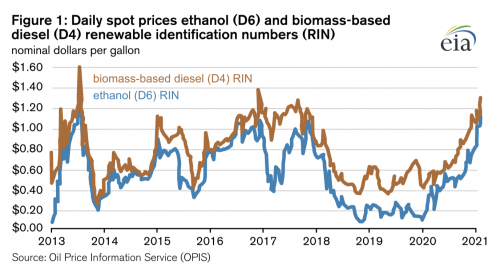 The corn ethanol (D6) RIN price reached more than $1.00 per gallon (gal) in late January and early February 2021, the highest price since 2013 when the D6 RIN price reached an all-time high. Similarly, the biomass-based diesel (D4) RIN price, applied to volumes of both biodiesel and renewable diesel fuels, approached $1.20/gal during the same period.

Although the RFS Renewable Volume Obligations (RVO) for 2021 have yet to be released, RIN prices have been increasing because of limited fuel production as a result of lower fuel demand related to responses to COVID-19, fewer approved new Small Refinery Exemptions (SRE) since 2018, and uncertainty around future RFS levels.

The price of RIN credits reflects compliance and trading activity in the RFS and generally increases in two situations. The first typical increase occurs when the cost of a biofuel is higher than the petroleum fuel into which it is blended. The increasing value of the RIN encourages producers to blend renewable fuel volumes into the petroleum pool because blenders of the biofuel are then able to trade the RIN in the secondary market and capture its value. The second typical increase arises when RFS targets increase higher than market-driven biofuel consumption. In this case, the value of the RIN is needed to drive additional, more costly blending beyond normal market levels. In general, only 10 percent of the motor gasoline pool is blended with ethanol under the existing infrastructure and legal framework, and blending levels higher than 10 percent are driven by higher RIN values or other incentives.

The first situation best represents current RIN prices, because responses to COVID-19 impacts on transportation demand have dramatically decreased fuel prices in 2020. The relationship between ethanol and gasoline, where wholesale gasoline prices fell much lower than wholesale ethanol prices in early 2020, caused ethanol D6 RIN prices to increase to where ethanol blenders would again find it economical to blend by way of capturing higher RIN values (Figure 2).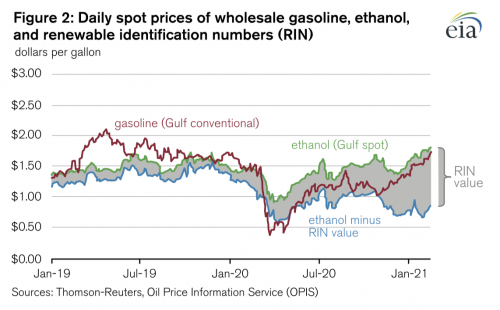 Although wholesale ethanol prices are partially determined by motor gasoline blending demand, they also are determined by ethanol market factors. Some of those factors included corn prices and ethanol production costs, which can lead to higher ethanol prices than wholesale gasoline prices, making blending uneconomical. When biofuel prices are no longer competitive with their petroleum counterparts, RFS obligations drive RIN prices to increase to help biofuel blending reach the RFS target levels despite significantly lower motor fuel demand.

Similarly, biomass-based diesel (both biodiesel and renewable diesel) has traditionally been more costly to produce than petroleum diesel and has regularly required incentives, such as RIN values and the biomass-based diesel tax credit (BTC), to make biomass-based diesel fuels competitive with diesel fuel. Because of responses to COVID-19 in 2020, diesel fuel prices fell significantly lower than their renewable counterparts, driving biomass-based diesel D4 RIN prices higher to increase demand for the biofuels, such as with biodiesel (Figure 3).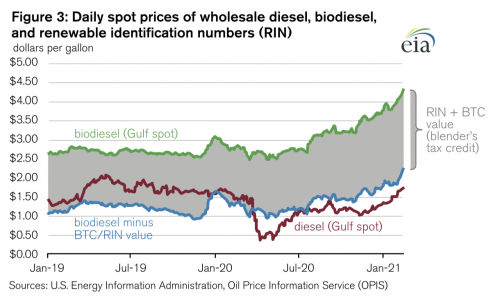 In the second half of 2020, an already limited supply of available RINs was further tightened because market participants had started to react to news of administrative and legal SRE decisions. Some small refiners that had previously been exempt from the RFS and were net sellers of RINs had become buyers of RINs for their own compliance. This situation lent itself to tighter RFS compliance levels, the number of obligated parties increased and RFS driven volumes were higher. This situation increased, and demand for RINs, either traded on the open market or by increased demand and blending, for obligated parties to meet their 2020 Final RVO targets for RFS compliance (Figure 4).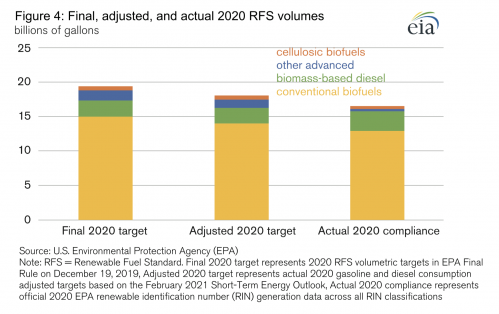 As consumption of gasoline and diesel fuel fell in 2020, the total volumetric RFS requirements fell by an estimated 1.4 billion gallons (7 percent), while actual biofuel RIN generation, according to official EPA data, fell short of this estimated adjusted level by more than 0.8 billion gallons (Figure 4). Actual RIN generation likely fell short in 2020 because of unfavorable blending economics for ethanol relative to low gasoline prices, which led to idled ethanol production capacity. As gasoline demand gradually recovered, the demand for ethanol and D6 RINs increased, subsequently increasing RIN prices over the year.

Uncertainty around future RFS targets is also likely adding some upward pressure to RIN prices. Typically, RVO targets are released in November for the coming year, but currently the 2021 RVO targets are yet be finalized and announced. In addition, whether the number of approved SREs will decrease in the future remains uncertain. In an uncertain situation where RFS targets could strengthen, some market participants may be holding RINs for an uncertain compliance level.

The U.S. Energy Information Administration (EIA) forecasts that consumption of biomass-based diesel will continue to grow during the next two years, primarily because of increasing RIN prices and expected higher RFS targets. Biomass-based diesel consumption is forecast to average 153,000 b/d in 2021 and 176,000 b/d in 2022, compared with an average of 136,000 b/d in 2019 and 140,000 b/d in 2020.
Related Posts
Join Our Email List For Updates!
Enter your email to receive important news and article updates.