All
Renewing Rhode Island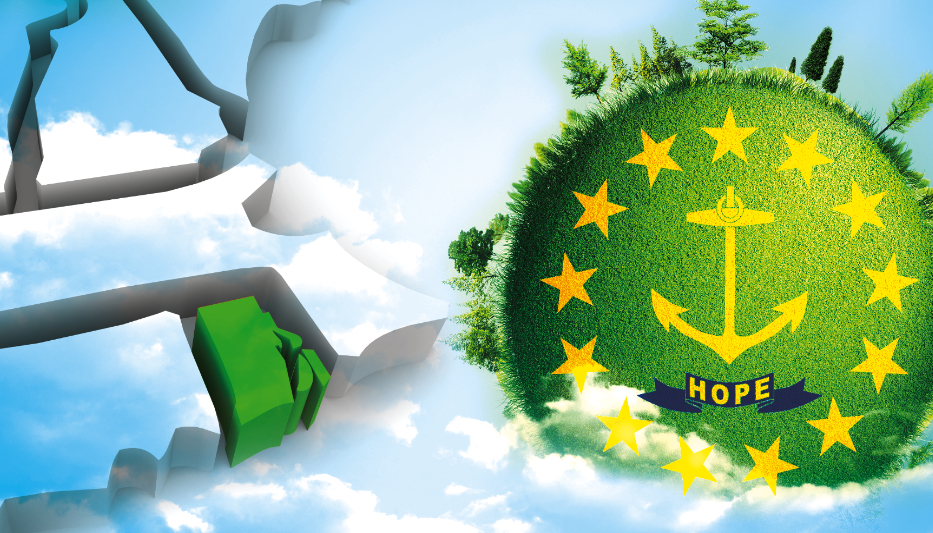 The state with the nation's first statewide Bioheat® fuel requirement will also be the first to achieve 100% renewable electricity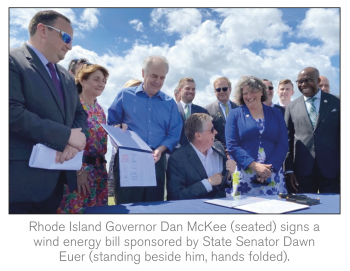 On June 20, 2022, something happened in the liquid heating fuel space that hasn't happened in a very, very long time: a state governor delivered the keynote address at an industry conference. On a Monday afternoon in Newport, RI, Governor Dan McKee appeared before a crowd of more than 100 fuel dealers at the Southern New England Energy Conference, where he commended them for playing a crucial role in his state's transition to renewable energy.
In the weeks after the event, Governor McKee took several steps aimed at accelerating that transition. Perhaps most notably, on June 29, he signed legislation requiring 100% of Rhode Island's electricity generation to be offset by renewable energy by 2033. This puts Rhode Island ahead of even the nation's most ambitious renewable electricity targets, as New York State and Washington, DC look to achieve 100% carbon-free power generation by 2040.
"Last year, I signed the Act on Climate, which sets mandatory, enforceable climate emissions reduction goals leading the state to achieve net-zero emissions economy-wide by 2050," said Governor McKee. "Today's historic legislation outlines a firm 10-year commitment to achieve our climate change mitigation goals, giving Rhode Island the most ambitious renewable energy standard in the nation. When it comes to clean energy innovation, Rhode Island has the momentum and the tools to build on it."
One week later, Governor McKee signed a law requiring Rhode Island to procure 600 to 1,000 megawatts of offshore wind energy by 2033. In attendance for the public signing was the bill's sponsor, State Senator Dawn Euer, whose 13th District includes Newport and Jamestown, RI.
"When we enacted the Act on Climate last year, Rhode Island made a historically firm, enforceable commitment to rapidly adopt renewable energy and get serious about our climate obligations," said Euer. "Projects like the one we're seeking with this legislation are an important part of our energy future. I'm glad to see the level of support there is for a major project like this one, because it will be a major step toward responsibly developed renewable energy in Rhode Island."
The nation's smallest state is striving to become its greenest by adopting wind energy and other renewables. They're in familiar company. State houses all across the Northeast are enacting policies to reduce greenhouse gas emissions by converting power plants to renewable energy sources and electrifying transportation, buildings and other sectors. But while many of these states' trade groups have adopted a competitive stance against electrification, the Energy Marketers Association of Rhode Island (EMARI), led by Executive Director Diane Quesnelle, is taking a more cooperative approach.
"We fully support the state's transition to renewable energy," said Quesnelle in an interview with Oil & Energy. "As Bioheat fuel® providers, our members deliver a continuously reliable and increasingly renewable source of energy to their fellow Rhode Islanders. Many of our small businesses also install electric heat pumps as air conditioners and heat pump water heaters. So, we see ourselves as valuable stakeholders in our state's burgeoning clean-energy economy, and we're happy to work alongside the McKee administration in the fight against climate change."
Quesnelle points to the new biofuel blending bill signed into law by Governor McKee last year, which was endorsed by EMARI and requires all heating oil sold in the state to contain 10% biodiesel or renewable diesel by July 1, 2023, 20% in 2025, and 50% in 2030. As with the state's renewable electricity legislation, the Rhode Island blending law is the most aggressive state biofuel policy in the country (neighboring Connecticut will go to 20% advanced biofuels in 2034).
This also continues a trend Rhode Island began in 2013, when it became the first state in the nation to enact a Bioheat fuel requirement. That law called for 2% biodiesel in 2014 and 5% in 2015. Today, the National Oilheat Research Alliance estimates there are over 400,000 homes across the country heated with B20, another 10,000 with B50, and over 100 with B100.
"Our state may be small, but as you can see, we're not afraid to make big changes," Quesnelle says. "Legislatively, we were at the forefront of our industry's transition to biodiesel, next July we'll become the first state to deliver 10% biodiesel or renewable diesel statewide, and we're going to continue to lead the way toward a net-zero heating fuel in support of Rhode Island's greenhouse gas reduction targets."
Those aims are ambitious, but like Rhode Island's larger renewable energy goals, Quesnelle believes they're achievable through an "all-hands-on-deck" approach.
"Our members are already in their customers' homes and having those critical kitchen-table conversations about reducing fossil fuel dependency and increasing energy efficiency," she says. "We're achieving these goals with higher-efficiency boilers and higher blends of Bioheat fuel. We're telling Rhode Islanders, just like I'm telling you now, we're not anti-electrification or anti-renewables — we are renewable, and we can help support the state's path to net-zero."
It's a conversation EMARI has also been having with the McKee administration. It would appear that message isn't lost on the governor. After all, he is the owner of McKee Bros. Energy Solutions, a heating fuel delivery business that has been serving customers in the Cumberland area since 1900.
"I'm very enthused about the fact that my business — the one my dad ran with his brothers and now my brothers run with our family — is taking proactive steps to look at how their industry will operate over the next 20 to 30 years and what that will mean not only for your families, but for your employees' families," said Governor McKee at the close of his June 20 keynote. "I'm looking forward to working with you."
---
Governor McKee's Road to SNEEC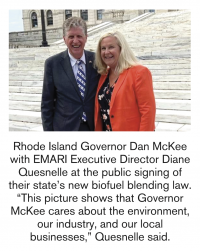 Rhode Island Governor Dan McKee co-owns McKee Bros. Energy Solutions, which was founded by his grandfather, James J. McKee Sr., and is now run by the governor's brothers Jim and Mike McKee. Formerly an ice delivery business, the company is a longtime EMARI member.  
McKee served as the lieutenant governor of Rhode Island under Governor Gina Raimondo and was sworn in as the state's 76th governor in March 2021 following Raimondo's appointment as secretary of commerce under President Biden. 
On August 17, 2021, Governor McKee signed the state's new biofuel blending bill into law. The law expanded on Rhode Island's existing biodiesel standards by requiring higher blends over the current decade and by allowing renewable diesel to help meet these requirements. 
"It was a great honor to be able to bring Governor McKee to SNEEC, and I thank him for supporting our industry via the new biofuel blending law and other initiatives like this," Quesnelle said. "Just like the governor's family business, our industry has a great story to tell and I feel privileged to be able to help."
Related Posts
Posted on February 14, 2023
Join Our Email List For Updates!
Enter your email to receive important news and article updates.