All
Renewing Our Commitment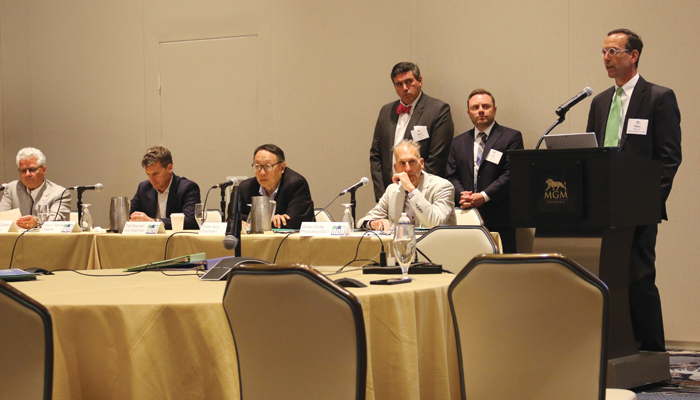 It's often said that if you're not at the table, you're on the menu.
The table is being set in local communities, state legislatures, and regulatory agencies across the country. This dinner is being held to discuss the "decarbonization" of our economy – i.e., the virtual elimination of all greenhouse gas emissions. At the table already: natural gas industry and electric utility lobbyists seeking policies to help drive their acquisition of new market share; and "Green New Deal" climate activists who seek to end all fossil fuel use and "keep it in the ground." The table is being set in local communities, state legislatures, and regulatory agencies across the country. This dinner is being held to discuss the "decarbonization" of our economy – i.e., the virtual elimination of all greenhouse gas emissions. At the table already: natural gas industry and electric utility lobbyists seeking policies to help drive their acquisition of new market share; and "Green New Deal" climate activists who seek to end all fossil fuel use and "keep it in the ground."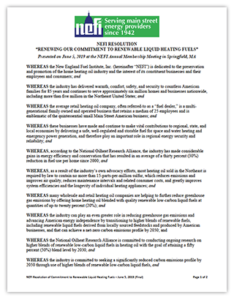 Click here
to read NEFI's June 5 resolution.
It is vital that our small family-owned, community-staffed, and customer-oriented energy businesses be at this table. If we are not, we'll surely be on the menu.
Fortunately for all of us, the deliverable fuels industry will not be plated or served in such fashion anytime soon. This is due in no small part to the efforts of NEFI and its state and local partners to tell our industry's story, connect with policymakers on both sides of the aisle at all levels of government, and get us a seat at the table. Not on it.
As NEFI members assembled in Springfield, Massachusetts on June 5 for the organization's annual board and member meeting, there was a feeling of guarded optimism in the room. Uncertainties still abound, but the mission of NEFI and its officers, volunteer leaders, and members remains the same: the protection and preservation of our industry for future generations and to continue serving consumers and local communities like no other industry can.
By the time the meeting adjourned, there was reaffirmation of the industry's guiding principles and commitment to its future promise. Plus, a unanimously passed resolution stating that and so much more.
New Education
Early signs of optimism came from the Education Foundation meeting, which kicked off the day. NEFI President & CEO Sean Cota, Board Chairman Peter Aziz, and Education Committee Chairman Jim Townsend discussed the success of the NEFI Energy Leaders Program, featured in the cover story of our May issue. The program — hosted by the Revers Center for Energy, part of the Tuck School of Business at Dartmouth College — offered an immersive, weeklong executive education experience developed in close coordination with NEFI and delivered by Tuck faculty.
"Tuck has been important for a lot of reasons," said Cota, speaking not only to the educational value for attendees, but also the connections forged because of the program. "The leverage we've gained on environmental and energy issues from those relationships will be important."
Reinforcing the latter point, Townsend added: "The Revers Center for Energy is really a leader as far as what's happening in energy today, and within that center is the Arthur L. Irving Institute [for Energy and Society at Dartmouth College]," founded by and named for the chairman of Irving Oil. Townsend remembered fondly how Arthur Irving "stood up and gave a Knute Rockne-style pep talk" at one of the dinners held offsite during the program. "He was just so proud that we NEFI members — folks who were his customers and colleagues — attended this program."
"Both Revers and Irving are very invested in our industry and full of knowledge," added Aziz, who said this simple fact unto itself offers a positive indicator that "there is a long, long life for heating oil in the Northeast."
Planning with Tuck has already begun for next year's NEFI Energy Leaders Program, scheduled for spring 2020. Additionally, the Education Foundation is looking forward to another successful Management Development Program, a self-guided online course being offered in partnership with Quinnipiac University Corporate Training. (More information on both programs is available at nefi.com/education.) First up, however, education will play a major part in the 2019 HEAT Show, taking place September 15-18 at the Rhode Island Convention Center in Providence, RI.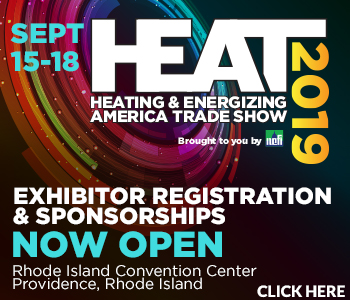 New Convention
Of the many exciting NEFI activities on the horizon, the Heating & Energizing America Trade Show — aka, the "HEAT Show" — is perhaps most anticipated. NEFI members and supporters recall how the organization's annual event previously alternated year-to-year between the NEFI Energy Expo and the Visions Conference. This constantly shifting format, NEFI leadership conceded, resulted in divided direction and reduced attendance.  It was therefore agreed the HEAT Show should be held annually starting this year.
The HEAT Show is attracting sponsors, exhibitors, presenters, and attendees from all segments and levels of the industry. Importantly, in recognition of and working to satisfy the different demands of these groups, show organizers have developed a schedule that does not require HEAT Show attendees and exhibitors to choose whether to go to the trade show or education sessions. Instead, education will be offered all-day Sunday and Monday and on Tuesday and Wednesday mornings, and the trade show will be held in the afternoon on Tuesday and Wednesday after those days' education sessions have concluded. (See the full HEAT SHOW schedule here.)
Likewise, the event will offer separate tracks for managerial education, technical training, Women in Energy events, and the formal launch of NEFI's new "NextGen Leaders Program" for the industry's young influencers and future executives. There are also five different tiers of attendee registration, each priced differently according to the desired level of participation. Furthermore, as fuel dealers are encouraged to extend educational opportunities to multiple team members, discounted attendee registration is offered for those companies that register more than one manager or technician.
Perhaps most inviting to some, HEAT Show pre-registration is completely free for all students and trade-show-only attendees.
"We spent a lot of time working to see what went right and what went wrong in 2017," said NEFI Events Committee Chair Danny Silverman, referring to the last time the NEFI Energy Expo was held. "We now understand what needs to be done."
Having played a major part in the Southern New England Energy Conference in 2018, NEFI is partnering with industry groups from Connecticut, Massachusetts, and Rhode Island, as well those from Maine, New Hampshire, New York, and Vermont, with the goal of establishing the HEAT Show as a unifying event for the entire industry. In addition to working with Connecticut Energy Marketers Association Vice President David Chu on event planning, NEFI has contracted with PriMedia, Inc. and ExpoTrac for event promotion and online registration, respectively. NEFI Business Administrator Lisa Avery and Events Coordinator Jessica Levaggi have also been working tirelessly to help ensure the show comes together as planned.
Revenues generated by the HEAT Show will be shared among all participating associations. The National Oilheat Research Alliance (NORA) also plans to hold a board meeting and offer additional programming at the HEAT Show. NEFI and several state associations are expected to hold board meetings as well.
"The show will be successful," Silverman concluded. "We want it to be as successful as it can be in its first year, but we'll learn from it. This is something we'll be doing for many years to come."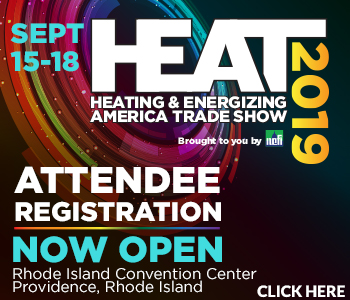 New Congress
If the meeting's morning portion was predominantly positive, the second half of the day offered a more sobering outlook. Since newly elected governors and lawmakers were sworn in at the beginning of the year, policymakers in Congress and the Northeast states have ushered in a wave of "Green New Deal" styled proposals, calling for carbon taxes and widespread electrification of both the heating and transportation sectors. (For a list of proposed policies and initiatives, see our June issue.)    
As history has shown, new policies offer both challenges and opportunities. NEFI has made new and successful inroads with the Trump administration, members of Congress, and federal agencies over the past two years. The organization stands well positioned to inform policymakers on the issues most critical to our industry and customers – i.e., their constituents.
A great example of this lies with the current hours-of-service (HOS) reform proposal. Working with likeminded coalitions and association partners in Washington, NEFI has made strides to ensure the voice of the deliverable fuels industry is heard in discussions with the Federal Motor Carrier Safety Administration (FMCSA) and other relevant agencies. Due in part to NEFI's efforts, the agency is working on a new rulemaking to revamp HOS regulations and address longtime concerns of CDL drivers and their employers. The agency recently said it is in the final stages of drafting a proposed rule and will provide opportunity to stakeholders, including NEFI and its members, to submit additional comments.
Other opportunities were seized during the industry's "Day on the Hill" in May. During this event, NEFI introduced Mike Cassata of Biofine Technology to a number of policymakers from the Northeast. Biofine Technology has developed a cellulosic biofuel known as ethyl levulinate (EL), which is produced from feedstock such as grain, forest detritus and agricultural products. EL has exceptional performance as a liquid heading fuel and is "net-negative" in terms of greenhouse gas emissions, offering an exciting new story to tell lawmakers.
Speaking of the message Biofine brought to Washington, NEFI Vice President & Director of Government Affairs Jim Collura said, "the idea of restarting the old, dying paper mill" to help churn out a renewable liquid heating fuel that reduces greenhouse gas emissions was extremely well received. "We met personally with long-time members of Congress we'd never met before," Collura noted. Some congressional staff members were "so engaged and thrilled by the message," Collura recalled, that they actually pulled their bosses from committee hearings to give NEFI and Biofine private, face-to-face meetings with lawmakers, some of which lasted an hour or longer.
"Clearly the message is changing the discussion in Washington, and helping conversations at the state level," Collura said. He also noted how an infographic, produced in partnership with PriMedia to illustrate the environmental benefits of an immediate move to 20% (B20) renewable liquid heating fuel, was especially effective in connecting with younger (millennial) legislative staffers. One key talking point included in the document states: "Region-wide use of B20 can reduce CO2 emissions by approximately 7.4 million metric tons. That's equal to removing from the road over 1.5 million cars, or more than all the registered vehicles in New York City and Boston combined."
NEFI also noted NORA's work on higher blends of renewable fuels and the development of net-zero carbon liquid heating fuel. "This is what is resonating," NEFI President Sean Cota said. "We are planning on developing a series of [infographics and other hand-outs] we can use throughout the Northeast to tell this exciting story."
Other major policy issues NEFI has addressed in discussions with and letters to Congress and the Trump administration include the biodiesel tax credit and an International Maritime Organization regulation, commonly known as IMO 2020, which calls for a new limit on the sulfur content of all marine fuels starting January 1, 2020. As part of an ongoing effort to keep members informed on the latter issue, Kirk Blanchard of NEFI member Hedge Solutions attended the annual meeting to discuss IMO 2020's possible impacts on the heating fuel industry (more about this here).
New Resolution
As one of the final orders of business for the June 5 meeting, NEFI welcomed a panel of industry leaders to the podium to share their views and experiences related to the Green New Deal, carbon tax proposals, electrification initiatives, and renewable liquid heating fuels. 
This panel included Michael Ferrante, President, Massachusetts Energy Marketers Association; David Chu, Vice President, Connecticut Energy Marketers Association; Matt Cota, Executive Director, Vermont Fuel Dealers Association; and Paul Nazzaro, Petroleum Liaison, National Biodiesel Board.
The experiences these leaders shared differed, as no two state associations' circumstances are exactly the same. However, one common theme was that the industry is under serious attack by a new breed of climate activism. They argued that we must continue to fight back and position ourselves as the solution, not the problem, if we are to preserve an industry for future generations. Otherwise, we risk being "legislated out of business."
Sean Cota summed it up succinctly. "We are at a fork in the road as an industry," he said. "We are at a point where the consumer is going to have forced upon them either a cold-climate heat pump that could cost as much as $40,000 or renewable liquid heating fuel that we are ready to deliver." Cota suggested that policymakers be challenged: do you want to put our energy security in the hands of large, faceless and in some cases, foreign-owned utilities, or in the hands of Main Street American businesses?
With that being said, NEFI Chairman Peter Aziz read the organization's newly drafted resolution, "Renewing Our Commitment to Renewable Liquid Heating Fuels." 
The resolution represents a landmark moment for both NEFI and the industry at large, as it calls upon the industry to take steps necessary to achieve a 50% reduction in carbon emissions by 2030 and a net-zero carbon emissions profile by 2050. Perhaps most importantly, the resolution states that NEFI will henceforth refer to the heating oil industry as the "renewable liquid heating fuels industry."
This resolution was approved unanimously with minor amendments to reflect NEFI's recognition of the National Oilheat Research Alliance's own stated goal to attain a B50 blend by 2030. Truly a historic document for our industry, the complete resolution follows. We thank you for reading and welcome your support.
WHEREAS the New England Fuel Institute, Inc. (hereinafter "NEFI") is dedicated to the preservation and promotion of the home heating oil industry and the interest of its constituent businesses and their employees and consumers; and
WHEREAS the industry has delivered warmth, comfort, safety, and security to countless American families for 85 years and continues to serve approximately six million homes and businesses nationwide, including more than five million in the Northeast United States; and
WHEREAS the average retail heating oil company, often referred-to as a "fuel dealer," is a multi-generational family owned and operated business that retains a median of 25 employees and is emblematic of the quintessential small Main Street American business; and
WHEREAS these businesses have made and continue to make vital contributions to regional, state, and local economies by delivering a safe, well-regulated and storable fuel for space and water heating and emergency power generation, and therefore play an important role in regional energy security and reliability; and
WHEREAS, according to the National Oilheat Research Alliance, the industry has made considerable gains in energy efficiency and conservation that has resulted in an average of a thirty percent (30%) reduction in fuel use per home since 2000; and
WHEREAS, as a result of the industry's own advocacy efforts, most heating oil sold in the Northeast is required by law to contain no more than 15-parts-per-million sulfur, which reduces emissions and improves air quality, reduces maintenance intervals and related consumer costs, and greatly improves system efficiencies and the longevity of individual heating appliances; and
WHEREAS many wholesale and retail heating oil companies are helping to further reduce greenhouse gas emissions by offering home heating oil blended with quality renewable low-carbon liquid fuels at quantities of up-to twenty percent (20%); and
WHEREAS the industry can play an even greater role in reducing greenhouse gas emissions and advancing American energy independence by transitioning to higher blends of renewable fuels, including renewable liquid fuels derived from locally sourced feedstocks and produced by American businesses, and that can achieve a net-zero carbon emissions profile by 2050; and
WHEREAS the National Oilheat Research Alliance is committed to conducting ongoing research on higher blends of renewable low-carbon liquid fuels in heating oil with the goal of attaining a fifty percent (50%) blend level by 2030; and
WHEREAS the industry is committed to seeking a significantly reduced carbon emissions profile by 2050 through use of higher blends of renewable low-carbon liquid fuels; and
WHEREAS the foundation for the infrastructure to store and deliver these renewable low-carbon liquid fuels is already in-place, and that the home heating oil industry is committed to further collaboration with wholesale terminal asset owners to ensure that higher blends can be accommodated in the future; and
WHEREAS these fuels can be safely used in existing home heating appliances with small investments in system modification, or by means of an affordable and easy-to-install retrofit, and offer the cost-effective means of carbon reduction in the home energy market; and
WHEREAS this transition to heating oil blended with renewable low-carbon liquid fuels is helping to meet state and federal greenhouse gas reduction goals, and will provide an alternative to state and federal policies, regulations, and laws that  seek to eliminate heating oil through incentives, subsidies, or high fuel costs resulting from a carbon tax, fee or other pricing mechanism; and
WHEREAS failure to transition to a renewable heating fuel and lower carbon emissions in the timeframes set-forth by many policy proposals and in some states, previously enacted laws, could jeopardize the industry's competitiveness and long-term viability; and
IN ACKNOWLEDGEMENT of the many contributions made by these mostly small, Main Street American businesses and to preserve the important role they play in promoting economic growth and job creation in their local communities and the welfare of the environment and public health, and in ensuring regional energy security and reliability, now therefore be it
RESOLVED that NEFI remains committed to the advancement of renewable, low-carbon liquid heating fuels and the promotion of their production, sale and use throughout the industry; and be it further
RESOLVED that NEFI supports the research, development and deployment of advanced biofuels, cellulosic feedstocks, and space heating technologies necessary to achieve a 50% reduction in fossil fuel-based carbon emissions within the heating oil industry by 2030 and a net-zero carbon emissions profile by 2050; and be it further
RESOLVED that NEFI will deploy staff and other resources and coordinate with industry associations and other likeminded organizations at the local, state, and federal level as necessary to advocate for government policies and reforms in furtherance of the goals; and be it further
RESOLVED that NEFI stands ready to deploy staff and other resources to conduct advocacy campaigns, organize educational programming, engage public relations and media-outreach initiatives, and other activities in furtherance of these goals; and be it further  RESOLVED that NEFI will henceforth refer to the heating oil industry as the "renewable liquid heating fuels industry" to better reflect its commitment to a low carbon and energy independent American economy, and in acknowledgement of the unparalleled achievements of its members in this regard.
Related Posts
Posted on December 14, 2020
Posted on December 14, 2020
Posted on December 14, 2020
Posted on October 21, 2020
Join Our Email List For Updates!
Enter your email to receive important news and article updates.