All
REG Blending Partner Upgrades Bulk Plant
by Steve Klein, Renewable Energy Group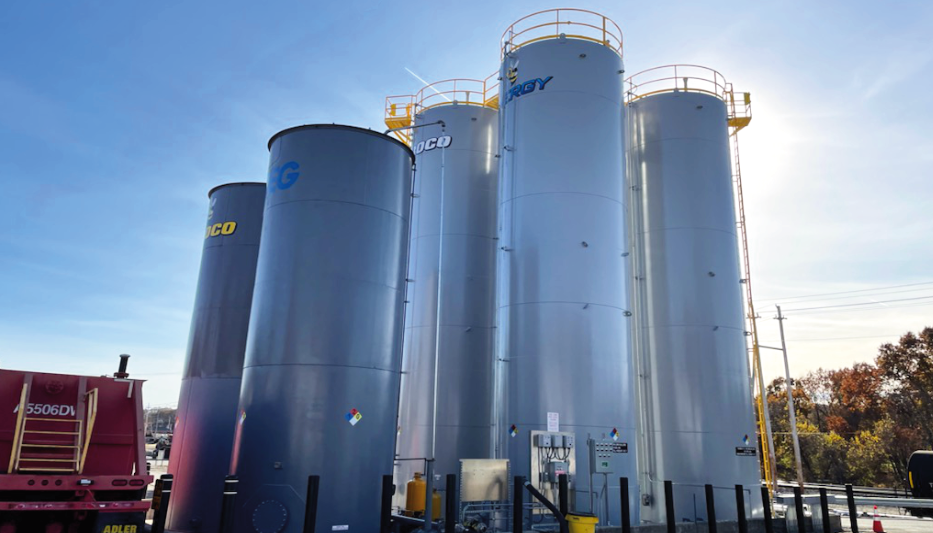 Federal grants enable Broco Energy to handle greater volumes of biodiesel
On August 19, 2021, the U.S. Department of Agriculture (USDA) announced it was investing $26 million in biofuel infrastructure to make higher blends of renewable fuels available across the U.S. Specifically, these investments came in the form of cost-sharing grants awarded through the USDA's Higher Blends Infrastructure Incentive Program (HBIIP).

You might have already read about this program in the pages of Oil & Energy magazine, as NEFI advocated for heating oil distributors to be seriously considered for HBIIP grants when the program was being established. As written in the September 2021 issue, "Those efforts continue to pay off, as the HBIIP has now awarded $11,053,749 in cost-sharing grants to nine heating fuel suppliers in six Northeast states."

One of those nine suppliers is none other than REG blending partner Broco Energy. The Bioheat® fuel, propane and HVAC services provider, owned by the husband-and-wife team of Bobby and Angela Brown, maintains a rail-connected terminal in Haverhill, Massachusetts, with a large and still growing storage capacity. Through HBIIP, the company has been awarded $978,249 toward a $1,956,498 infrastructure project involving several fuel storage and delivery improvements at Broco's 168 Hale Street fuel terminal.    

Broco Energy has been using the grant money to help cover the costs of several planned upgrades, including two new double-walled, heated and insulated 30,000-gallon aboveground biodiesel storage tanks along with new pipe bridges and an additional loading bay. This has greatly enhanced the Haverhill terminal's existing storage capacity and supply capabilities, further cementing its position as a central hub for biodiesel and Bioheat fuel blends in the Greater Boston area.

Portions of the project funded by HBIIP began in April 2021. The project is approximately 75 percent complete, with two new loading positions to be added this spring. Broco Energy has also replaced its eight existing 10,000-gallon horizontal heating oil tanks with four 49,500-gallon single-walled vertical tanks. The plant now has a combined fuel storage capacity of 468,000 gallons (including 150,000 gallons of biodiesel, 198,000 gallons of heating oil, 80,000 gallons of propane and 40,000 gallons of clear diesel fuel).

According to USDA, the Haverhill project is expected to increase biodiesel sales by 45 million gallons per year. At B20, those 45 million gallons could reduce heating oil customers' carbon footprint by over 161 million pounds per year according to figures from Clean Fuels Alliance America. Per Environmental Protection Agency estimates, that's equal to the greenhouse gas emissions from 183 million miles driven by an average passenger vehicle.

"This HBIIP initiative is a great example of public/private partnership investments in a cleaner environment," remarked Guy Bresnahan, Manager, Railroad Operations, Broco Energy. "It comes at a time when we are experiencing tremendous growth, and to be able to get 50% of project costs covered is incredible. We're very grateful for that."  

"REG has been a great partner and very supportive of our facility upgrades," added Bobby Brown, co-owner, Broco Energy. "We're also in the process of independently expanding our rail footprint so that at any given time we can bring in up to 12 rail cars from REG in addition to our other commodity suppliers."

The HBIIP-funded project offers a glimpse at how REG blending partners can significantly benefit the communities they serve and receive significant financial support in the process. To date, the USDA has awarded $66.4 million in HBIIP grants out of a total of up to $100 million in available funding. That means additional HBIIP grants could be announced in the near future.

Additionally, the Renewable Fuel Infrastructure Investment and Market Expansion Act proposed in Congress would authorize another $500 million over five years for a biofuel infrastructure expansion program based on HBIIP. As was the case with HBIIP, the legislation creating the program specifically cites "heating oil distribution centers" as eligible funding recipients. However, where HBIIP provided cost-sharing grants of 50% (meaning it would only cover half of a proposed infrastructure project), the new program would cover up to 75% of total project cost. Imagine three-fourths of your bulk terminal upgrade being paid for by the federal government!

If you are interested in exploring infrastructure improvement opportunities that may be available as an REG blending partner, talk to our sales team today.  

Steve Klein is Senior Manager, Marketing at Renewable Energy Group. He can be reached at steve.klein@regi.com or 515-269-8364.
Related Posts
Join Our Email List For Updates!
Enter your email to receive important news and article updates.