All
Raise Sales with a Forklift Exchange Tank Program
by Rich Morahan, Richard Morahan Associates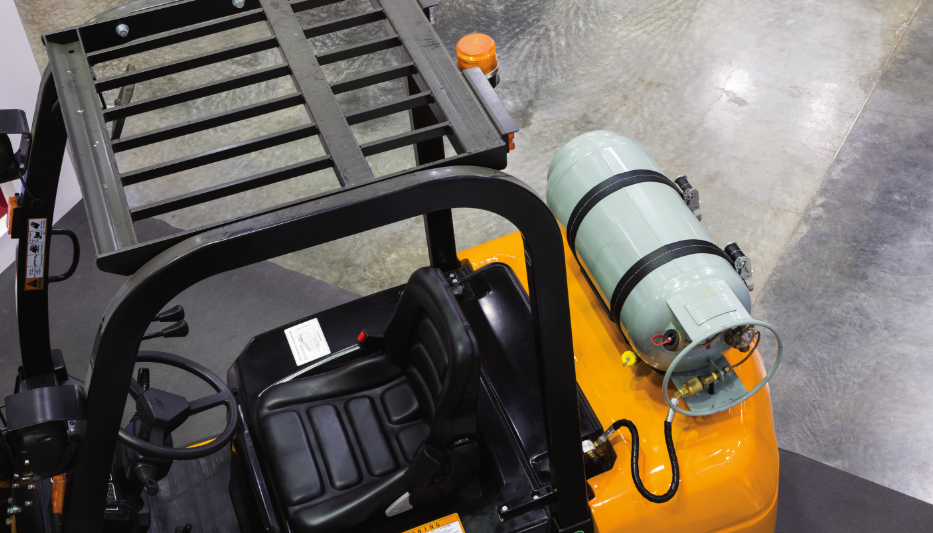 Increase your local footprint and enhance your supply with a new sales line.
Propane marketing can be hard to predict. One way to protect against market volatility is to synergize your bulk residential and industrial service with an industrial forklift exchange tank program. Many propane suppliers now provide retail exchange tanks through c-stores, gas stations and hardware stores. Expanding your product line by marketing to warehouses may seem like a big move, but the payback can be great. You increase your fuel purchases, giving you leverage and perhaps lower prices from your suppliers. You have no seasonal lull. And if you label your tanks with clear flashy graphics, you have little billboards running around a plant or warehouse for potential customers to view.
Successful propane suppliers have broadened their product line to go beyond bulk fuel and retail exchange tanks to include forklift exchange tanks.
CES, Combined Energy Services in the NJ, NY, PA market is an example of the multilevel product line. Since 1968, CES has been providing cylinders for forklifts and industrial vehicles, while also providing bulk propane deliveries to homes and commercial customers. Sweetwater Propane, Erpatha, PA, in addition to its residential and commercial service and its retail branded exchange tank program also fills out its line with forklift services. Lakes Gas, Michigan, Minnesota, Wisconsin and South Dakota, delivers forklift cylinder refills along with a wide range of other fuels, as does Valley Wide Cooperative, Nampa, ID.
In all these cases, these local companies have had to compete against national brand names, and against the movement to electric forklifts.
The "national" brands have name recognition and wide resources, but a local full-range service can respond to local conditions, provide locally based sources, with the added benefits of a full range fuel service.

Electric Vehicles Can Impact the Propane Forklift Market
Propane offers significant advantages over electric for most distribution centers, plants and warehouses. Rather than being passive about your business, it pays to broadcast propane's edge over electric, not just for plants and warehouses, but also particularly for food products centers.
Food Logistics, the only publication dedicated to the cold food and beverage sector, points out that propane forklifts improve bottom line and carbon footprint. Food and beverages require safe secure operating conditions. Propane operators need to emphasize their benefits over electric, such as cheaper operations, tank replacement over long charging times, greater power, and the ability to operate outdoors and in harsh environments. Electric might seem environmentally friendly to prospects, but propane marketers can take advantage of local and national propane educational and lobbying groups to strengthen their message.
Business trade associations around the country represent the home and commercial heating and cooling industry. These companies include retail heating oil, renewable biodiesel, and propane companies; wholesale suppliers of fuels; biodiesel producers and heating equipment manufacturers. It is essential to protect the future by creating marketing tools that address the benefits of propane over electric as a power source and a heating source.
By managing and improving environmental and economic performance with propane-powered forklifts, businesses can decrease their carbon footprint, enhance worker safety and comfort, increase productivity and lower operating costs. There are three sides to the propane forklift advantage.
1. Lower Long-Term Costs. Capital costs of propane forklifts are 30 percent lower than those of electric. Propane forklifts consistently have a lower total cost of ownership than those powered by electricity or diesel. When exploring their fuel options, many material handling professionals are finding propane to be the most cost-effective option, while also appreciating its versatile and environmental benefits.
2. Increased Productivity. According to a PERC survey, 68 percent of forklift fleets are required to work both indoors and outdoors. In contrast to many electric models, propane forklifts can be used in both indoor and outdoor applications, including when the temperature is at or below zero (as low as -20°C). Propane's versatile, low-emission operation makes it possible for forklift operators to safely do the work wherever the job is, keeping them more productive throughout the workday. Typically, one propane cylinder lasts an entire eight-hour shift, providing 100 percent power throughout operation so facilities and warehouses can operate at full efficiency.
3. Increased Sustainability. Propane is the best choice for businesses interested in reducing their carbon footprint. A comparative emissions analysis of forklifts conducted by the Gas Technology Institute, in partnership with PERC, found that propane forklifts produce significantly fewer emissions than other energy sources.
Propane continues to be the intelligent energy choice with material handling professionals. Propane forklifts' ability to work around the clock and reduce emissions provides maximum impact for plants, warehouses and distribution centers.
Successful marketing requires a full range of tank options for each customer, not the right size, but the material. Keep in mind that composite tanks are lighter than metal, and since they are translucent, it's easy to know levels are low.

Market the Full Package.
Propane Ninja, Tampa, FL recognizes that a propane company sells much more than propane: they sell a complete product, complete with flashy graphics in a tank that is easy to handle. Because they market outdoor heating and retail exchange tanks, they want to market full-time, which is what all the ads on their tanks do as they fly through the factory past potential customers.
Many propane suppliers have recognized the benefits of servicing retail tank exchanges. Expanding your market to forklift exchange programs can increase profits, buying power with propane sources, and enhance local visibility in an uncertain market.
Rich Morahan writes frequently about security and marketing for the propane and other industries, including information management, petroleum distribution and self-storage. You can contact him at 617-240-0372 or rmwriteg@gmail.com or visit www.rmorahan.com.
Related Posts
Posted on October 10, 2023
Posted on October 10, 2023
Posted on October 6, 2023
Posted on October 6, 2023
Join Our Email List For Updates!
Enter your email to receive important news and article updates.