All
PPA Vs. Peoples
by Samuel Diamond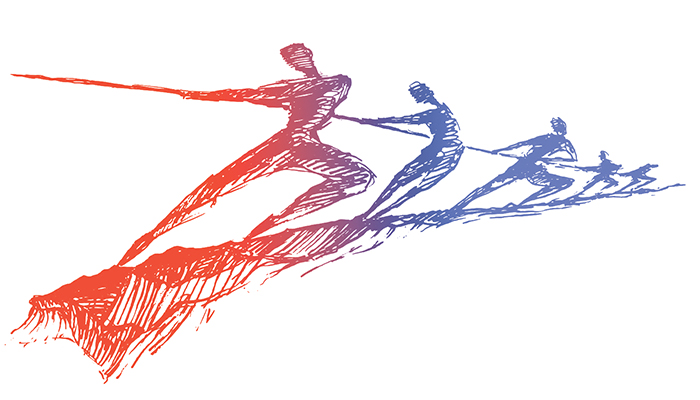 February 28 was an unseasonably warm day for Gallitzin, PA, with a high of 57º and a low that just barely hit freezing. However, the people of this central Pennsylvania borough had plenty to feel frosty about as they gathered at the Gallitzin Community Building on Convent Street for an open house meeting with representatives from the Peoples Gas utility.
"Nobody ever said a word," offered one resident quoted in the Altoona Mirror. "Everybody signed on because they felt it was a good deal," he added. "The value of my home is going to go down. People are going to buy somewhere else where (rates are lower)," said another. A third had some helpful advice for those who might be undecided about switching to gas: "Don't do it."
Emotions in the community building covered the full spectrum of shock, outrage and disappointment, as recent converts to natural gas expressed their frustrations over the high monthly fees that appeared on their bills. These included a delivery rate of $7.14 per 1,000 cubic feet (mcf), more than twice what residents of nearby Cresson pay.
Peoples Gas countered that residents had been told about the fees in advance, but apparently some customers hadn't received the memo. Of course, this wasn't the first time something like that happened; "It typifies what the utilities are doing," says American Energy Coalition Executive Director Tom Tubman. "They say we'll bring in a line for free, but nothing is free in this world."
Pennsylvania Petroleum Association (PPA) Director of Marketing Ted Harris agrees. "It's clearly not being communicated that to bring gas to these areas, the residents will end up paying more than what other consumers across the state are paying," he says. "We're seeing 2-3 times the normal cost, due to added on fees and surcharges that weren't really explained on the front end."
Now, PPA and its local affiliates are stepping up their efforts to ensure that others in Peoples' targeted expansion areas are fully aware of "the real cost to convert." The AEC is eager to help "warn people by giving them the facts," as Tubman says. Working in partnership with the Oil Heat Association of Central Pennsylvania (OHACPA), under the direction of Ted Harris, the AEC has developed Every Door Direct Mail® campaigns targeting East Taylor, Gallitzin and Centre Hall, PA.
The first of these actually pre-dates the Gallitzin open house by a few months, but culled information from another public forum, one in January 2017 in which Peoples discussed its proposed expansion into East Taylor. There, according to an article from The Tribune-Democrat, the utility explained it would cover the approximate $1.5 million cost of adding 5 to 8 miles of gas pipes by charging new customers in the area a rate of between $6.87/mcf and $10.31/mcf. At the top of that range, the cost is almost three times higher than Peoples' reported system-wide rate of $3.50/mcf.
Highlighting this disparity, the OHACPA and AEC's first postcard campaign included the headline, "Would You Normally Pay 3X the Regular Price?" accompanied by text detailing the price discrepancy. But the postcard didn't stop there; it went on to list a number of added costs — such as that of a new gas boiler or furnace ($5,000-$10,000), a new chimney liner ($750-$2,000) and an oil tank removal ($500-$1,500) —even going so far as to explain how, "A utility-paid contractor might give you a significantly lower quote, but they're probably only showing you the equipment and installation (labor) cost, not the combined conversion cost itemized above."
The message was extremely detailed, perhaps to its own detriment. "The biggest challenge," Harris noted, "is connecting with consumers who don't fully understand how their rate is determined." Because the utility is unclear about exactly what the final fee will be for a new customer, it is difficult to communicate the intricacies of the situation to someone who is on the fence, according to Harris. "But when you have the ability to look at what is coming from their peers in the community, just three to four words or a sentence or two can be really powerful," he said.
With this in mind, Harris and Tubman planned for the next postcard to relay an even stronger message, one that conveyed the frustrations expressed by those Gallitzin residents who'd converted to gas. And that it did.
"I'm taking my furnace out, guaranteed," reads one of the four quotes on the OHACPA and AEC's second postcard (the three other quotes appear at the top of this article). "Those four quotes are really powerful, and we hope they get consumers to ask questions," explains Harris. "It's really clear that not all the facts are laid on the table," but the PPA and its local affiliates are working to ensure they are, Harris says.
Tubman puts it another way; "Buyer beware is the message that needs to go out," he says, noting that the AEC and PPA aren't stopping with a postcard campaign. "One of the things that we're doing is customizing landing pages for Pennsylvania." These webpages will include a conversion cost calculator, as well as links to additional fact sheets created by AEC.
Such online efforts are a logical next step for Pennsylvania Oilheat stakeholders looking to counter natural gas encroachment, especially when pay-per-click landing pages are customized for residents of specific townships, as is the case here. "Peoples is upfront in terms of where they want to go," Harris says. "Their website lists the seven communities."
Looking further ahead, Harris believes ongoing, direct community engagement may be a deciding factor in the battle for central Pennsylvania's fueling future. "We're going to continue to work in those areas with a grassroots, guerilla marketing mentality," he says.
To that end, another avenue where oil and propane stakeholders might find success is social media. "There was a thread about this on Facebook where someone posted their bill, and the reaction was unbelievable," says Harris. "We should be leveraging real-time, real-life reactions on social media platforms and be prepared to expand if one consumer is sharing a negative experience."
Local affiliations or even individual heating oil and propane dealers can undertake such efforts, but at the end of the day, a unified voice is critical, according to Harris. "It takes competitors in the industry working together to combat this," he says. "It comes down to cooperation and communication."
Harris encourages local affiliation members and liquid fuel dealers to keep an eye out for public forums on natural gas and get involved whenever they can. "We've already heard a couple examples of our stakeholders showing up to these events and asking questions, which has a chain reaction," he says. "You see the light bulb come on for the other people in the room!
"Take two hours out of an evening to ask fair, intelligent questions. That's worth thousands in terms of follow-up marketing."
Related Posts
Posted on December 10, 2021
Posted on December 10, 2021
Posted on December 10, 2021
Posted on October 12, 2021
Join Our Email List For Updates!
Enter your email to receive important news and article updates.