All
Power to the … International Corporate Ownership?
by Ed Burke and Kelly Burke, Dennis K. Burke Inc.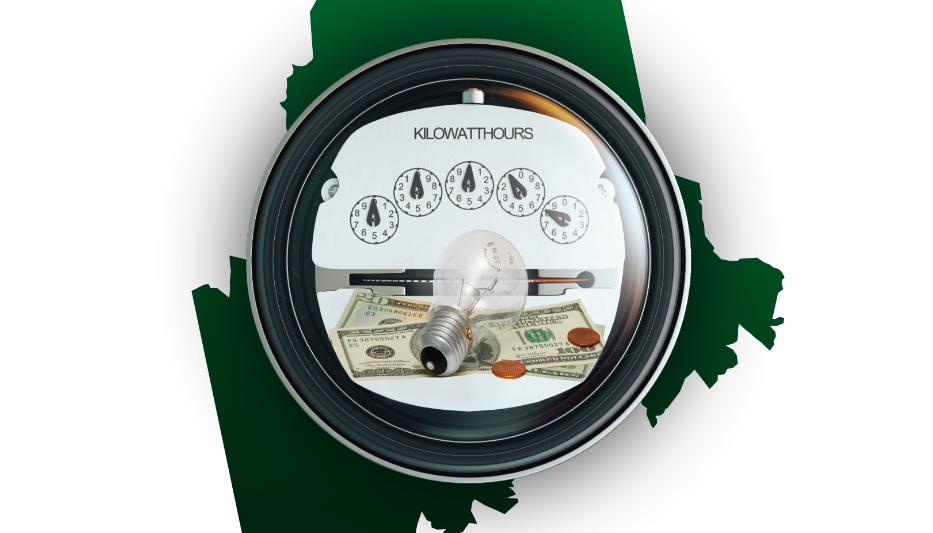 Maine's push to create the first statewide consumer-owned utility
In June, the Maine Senate voted against a bill to purchase the assets of the state's two investor-owned utilities (IOUs) and form a statewide consumer-owned utility (COU). Maine lawmakers have been pushing for the state to create the first statewide, publicly owned utility in the United States.

The proposed legislation would create a new nonprofit utility called Pine Tree Power Company. The company would issue bonds to purchase the assets of the state's current utilities, Central Maine Power (CMP) and Versant Power.

With bipartisan support, the bill had already passed through the House and was expected to be approved by the Senate. However, after questions arose about how the nonprofit would make payments in lieu of an estimated $90 million in property taxes paid to cities and towns, the State Senate could not get the bill passed. It failed by a vote of 18-17.

In July, lawmakers are back in session, giving the bill's supporters an opportunity to address the tax concerns and then get the bill back on the docket for another vote.

The bill would face a likely veto from Governor Janet Mills, who has said that she is leery of the commitment that the Pine Tree Power concept would require. Supporters of Pine Tree Power said if the bill were vetoed, they would likely start over and go the petition route to get the proposal on the ballot. They contend that a publicly owned utility would reduce costs for ratepayers and improve reliability, in addition to leading the drive to make Maine the first state to hit its goal of 100-percent renewable power.

"The facts are clear – investor-owned utilities are not meeting the needs of the Maine people," Rep. Nathan Carlo, a member of the legislature's utilities committee, said in a press release. "The legislation we're proposing will not only strengthen our grid, but it will also lower rates and advance Maine's carbon emission goals."

Our Power, a coalition of Maine ratepayers, businesses, and environmental groups, is leading the campaign to create a statewide COU. The group points to support from both sides of the political aisle.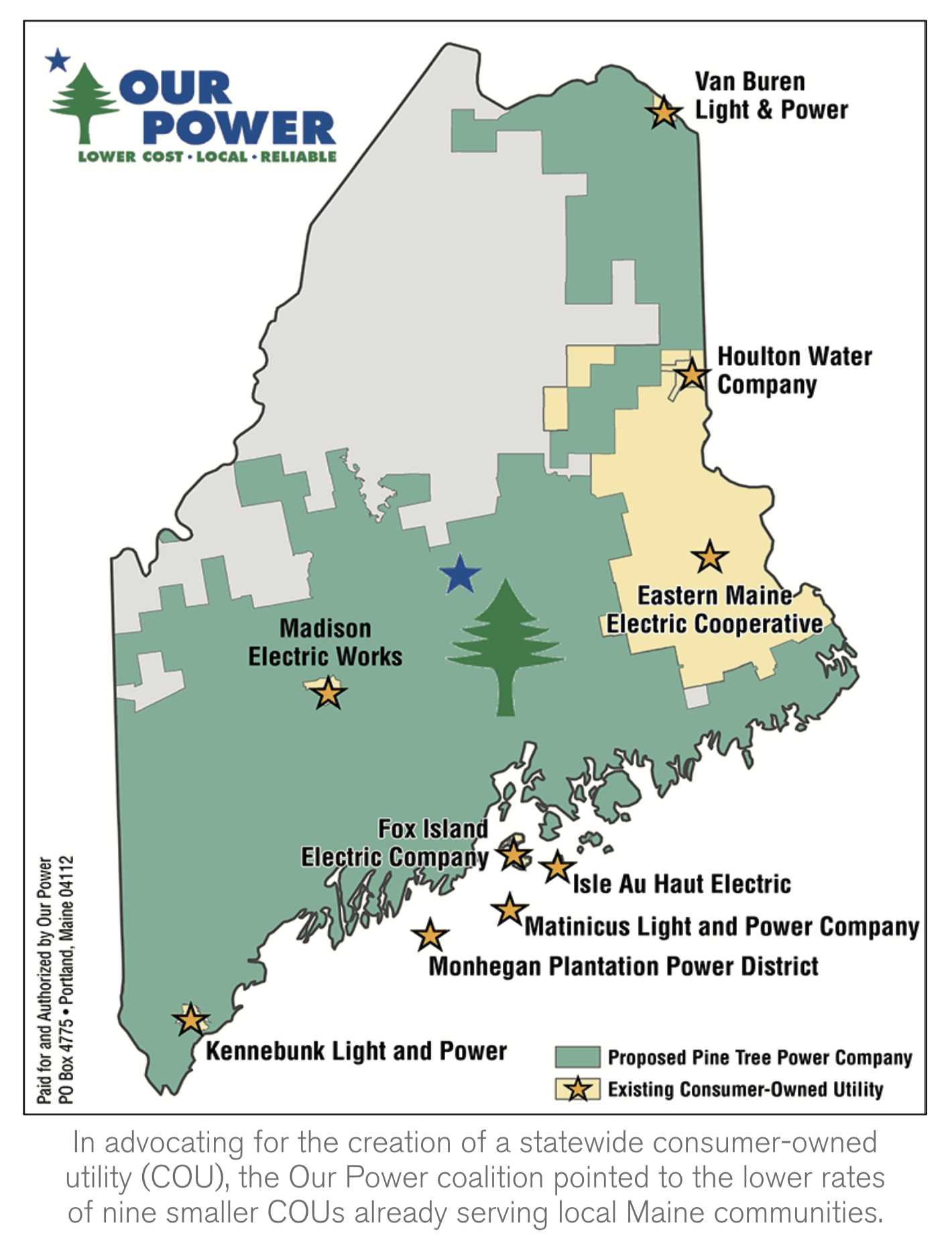 "The people of Maine want and deserve to take control of their energy future, and we will all have that chance in either 2021 or 2022," said Stephanie Clifford, campaign manager for Our Power, after the Senate rejected the bill.

A similar proposal was unveiled in 2019, resulting in a feasibility study for the Maine Legislature by London Economics International. According to the study, acquiring the two utilities could cost $5 billion to $7.5 billion, but would lower long-term rates and costs and save customers $9 billion.

By contrast, opponents of the proposal suggest that the acquisition costs could be as high as $13 billion with years of litigation.

Pine Tree Power will be run by qualified, private sector-based operating companies and current workers – not the state. The company will be overseen by its elected Board, and by the Maine Public Utilities Commission as an additional check. Pine Tree Power would also report annually on its operations and performance to the legislative committee with authority over energy and utilities, and to the public.

Our Power says that Mainers would receive a better deal in terms of rates and service under a COU. Their basic argument is that the two IOUs' chief obligations are to their shareholders and profits for foreign corporate ownership. Versant's ownership is in Canada and CMP's originates in Spain.

"It will allow us to focus on the needs of the consumers here in Maine," Rep. Seth Berry, the House utilities committee chair, said of the COU proposal. "Divided loyalties are a problem in the investor-owned utility world."

Opponents of the Pine Tree Power plan warn that Mainers should be careful what they wish for. They argue the plan will lead to higher rates, put climate change progress on hold, and could cost ratepayers $13 billion to buy out the two IOUs. That's on top of the operational and power-acquisition costs of maintaining service to consumers, who will be expecting to see much better service, particularly with storm restorations.

Supporters contend a publicly owned utility would provide significantly less expensive power, citing a report of nine small COUs in Maine.

In the 2020 Maine Public Utilities Commission report, calculations show that the two larger IOUs provided electricity at a rate 58 percent higher than the nine small COUs that serve 97 towns, mostly along the coast. Based on a weighted average of the rate per kilowatt hour, that figure translates to a potential annual savings for residential ratepayers of around $155 million.

Three former commissioners of the Maine Public Utilities Commission wrote an op-ed in the Portland Press Herald that outlined their opposition to the bill. They were concerned that the requirement to have Pine Tree Power run by elected officials would politicize the grid, noting further that elected politicians likely would not have the competence to run a statewide utility.

Labor unions also expressed opposition to a government takeover of Maine's electric grid. They cite the uncertainty surrounding utility workers' retirement benefits, and the concern that a government-controlled utility would likely under-invest in transmission and distribution systems in order to try to keep rates low – a dangerous and counterproductive prospect for utility sector workers.

"In terms of reliability, small COUs only have to keep the lights on for a few thousand customers," said CMP Corporate Communications Manager Catharine Hartnett. "Comparing a statewide investor-owned utility like CMP, which has 646,000 customers, or Versant, which has 160,000, to small, municipal power companies is like comparing oranges to apples.

 "The premise that CMP's rates are high is false," Hartnett added. "Average monthly bills for CMP customers are among the lowest in the Northeast – in fact, significantly less than those served by larger electric cooperatives in New Hampshire and Vermont. We work very hard to keep our rates manageable and must balance with such things as storm response and system investment and maintenance," she said.

Avangrid, the parent company of CMP, is aggressively pursuing renewable energy goals as part of Maine's Climate Action Plan, according to Hartnett.

"Avangrid, which has more than three million customers across New England and New York, is one of the leading renewable developers in the country," Hartnett said. "Their portfolio includes Vineyard Wind, which just received its final approval from federal regulators. The first commercial-scale offshore wind farm in the U.S., the project is a joint venture for the company."

As far as the cost of acquiring CMP and Versant, the total bill would likely top $13.5 billion and take a decade to complete, with legal challenges along the way, Hartnett said.

Judy Long, spokesperson for Versant Power, said "past proposals by supporters of a publicly owned utility did nothing to guarantee lower rates and more reliability for customers." As for its commitment to clean energy, Versant is "working hard on the state's renewable energy goals," Long said, adding the utility has "ambitious goals."

Across the country, approximately 2,000 COUs provide electricity to 49 million people. Regardless of what the legislature and the governor do in the coming weeks, CMP and Versant will have to convince the state's voters that the current model is a good deal and that changing to Pine Tree Power would be more trouble than it is worth.

Ed and Kelly Burke are respectively, Chairman of the Board and Senior Marketing Manager at fuel distributor Dennis K. Burke Inc. They can be reached at 617-884-7800 or ed.burke@burkeoil.com and kelly.burke@burkeoil.com.
Related Posts
Posted on August 11, 2023
Join Our Email List For Updates!
Enter your email to receive important news and article updates.