All
PMAA Campaign Supports Heating Oil Dealers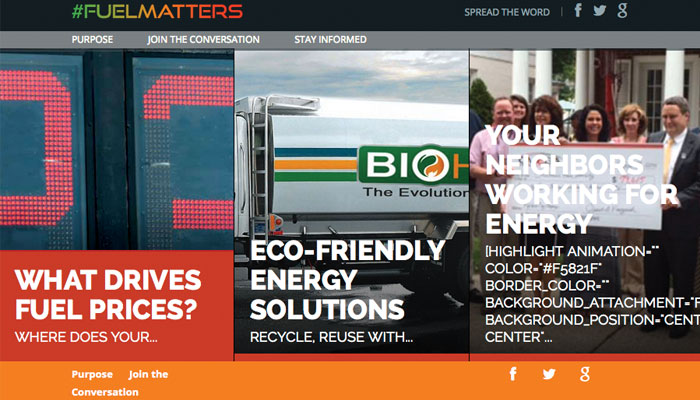 The Petroleum Marketers Association of America (PMAA) is supporting heating oil dealers and independent petroleum marketers with #FuelMatters, a new social media campaign that is designed to improve public appreciation of petroleum and the companies that deliver it.
New England Fuel Institute (NEFI) Chair Sharon Peterson, of Apple Oil, in West Haven, CT, is deeply involved with the campaign, serving as chair of PMAA's national task force on social media. She recently fielded questions from Oil & Energy about #FuelMatters.
Oil & Energy: Please explain the origins of the #FuelMatters campaign.
Sharon Peterson: The Northeast Regional Committee of PMAA generated the idea for the PMAA social media campaign two years ago. As Chair of that committee, I made the recommendation that our industry form a national task force to explore the creation of a social media infrastructure and campaign. This infrastructure is a 21st century necessity to complement and expand existing media resources in order to educate consumers. Educated consumers can become allies in the promotion of PMAA's and its members' legislative agenda.
O&E: Who sits on the task force?
SP: I chair the task force, and there are eight other members:
Brian Clark, Kentucky Petroleum Marketers Association
David Foster, Wilcox Energy, Westbrook, CT
Dawna Leitzke, South Dakota Petroleum and Propane Marketers Association
Jim Collura, NEFI
Mark McBride, Cox Oil Company, Union City, TN
Mike Bailey, Bailey Oil Company, Riverton, WY
Natalie Issacks, Louisiana Oil Marketers and Convenience Store Association
Suzanne Budge, Idaho Petroleum Marketers & Convenience Store Association
The task force has a Content Subcommittee that includes myself, Mike Bailey, Suzanne Budge, Natalie Issacks, Brian Clark, Jim Collura and PMAA Vice President Sherri Stone. The subcommittee reviews the content to be posted for the campaign. The social media task force selected the agency Wyoming, Inc. from Lander, WY to create and run the campaign.
O&E: Please describe the purpose of the #FuelMatters campaign.
SP: The purpose of the social media campaign is to educate consumers and affect public and political sentiment regarding our industry.
Benefits about our product and members that we will highlight include:
Family owned small businesses – Fuel Oil marketers (gas station owners and heating oil dealers) are your local small businesses. We are your neighbors.
Bioheat is both affordable and clean. Bioheat and biodiesel products are an environmentally and economically sound solution to our energy needs. When you compare natural gas and low sulfur heating oil with a full lifecycle analysis over 20 years, you will find that heating oil and natural gas are equivalent. If you blend in small amounts of biodiesel, it is better than natural gas from a global warming perspective.
Domestic independence and job production – America is producing more oil than ever before. Let's create policies that encourage energy independence and affordable energy.
Realities and merits of petroleum based fuels versus natural gas.
Other specific topics will be addressed over time, such as credit card fees and the Jones Act.
O&E: What are the task force's goals?
SP: One of the major goals of the campaign is to address the misguided belief that petroleum marketers are the same as the major oil companies. As laid out in PMAA's request for proposals for the social media campaign, "We are the folks on the ground experiencing the effect of price volatility; costly local, state and federal regulations; and we are your neighbors who deliver fuel, who run the stations, who are bringing biodiesel/clean heating fuel to the market, who care about our communities and who are front line during emergencies." How can we affect good policymaking that reduces the cost burden on businesses and consumers, and provides better and increased supply?
O&E: What can #FuelMatters tell the public about petroleum marketers that the might not know?
SP: We're highlighting that we're family-owned small businesses. In addition, we're using bio-products that are renewably produced, and we're using fuels that are domestically produced. Our current low-sulfur Bioheat® fuel has a lower carbon footprint than natural gas over 20-year life cycle analysis, and as we increase the bio-content, our results are even better. We want to educate consumers and to be able to have an impact on both public policy and public opinion regarding our industry.
O&E: What social media avenues is the campaign using to connect with the public?
SP: The campaign uses Facebook pages, Twitter accounts, and Google+. These efforts will be taking place in various social media venues, including PMAA's #FuelMatters Facebook and Google+ pages, as well as the campaign's Twitter account. All of these will make use of the #FuelMatters hashtag and will feed visitors to the association's new website dedicated to the campaign, www.FuelMatters.org. PMAA-member state and regional petroleum marketing associations, as well as individual members, will also be able to link their websites to the main #FuelMatters site for news and information relating to their specific issues.
O&E: How can marketers, associated companies and industry associations participate?
SP: They can place information from #FuelMatters on their own Facebook pages, Twitter accounts and Google+. They can also "like" the campaign's pages and share the weekly information that PMAA is providing with their followers and customers.
O&E: The tone of the content on the Fuel Matters website is casual and frank. Is it important for marketers and/or the industry to be frank with consumers?
SP: Absolutely. We want consumers to learn about our industry, and it is important to communicate without standard industry jargon or with complex explanations. People want to know basics about the industry and what impacts pricing.  The effort is meant to start a conversation, an interactive dialog.
Energy marketers can help promote #FuelMatters by:
1. Bookmarking the website at fuelmatters.org.
2. Liking on Facebook www.facebook.com/FuelMatters. (Click "Like" to follow the page, and then "Invite friends to like this page".)
3. Following on Twitter at twitter.com/fuel_matters. (Click "Follow" and then create a new personal Tweet to encourage others to follow @fuel_matters.)
4. Following on Google+ at plus.google.com/+FuelmattersOrgInfo. (Click "Follow" and then the "Share this page" arrow directly below the "Follow" button.)
Related Posts
Posted on December 13, 2021
Posted on December 10, 2021
Posted on October 22, 2021
Posted on October 16, 2021
Join Our Email List For Updates!
Enter your email to receive important news and article updates.