All
Northern New England Energy Conference Recap
by Jennifer Grace, Maine Energy Marketers Association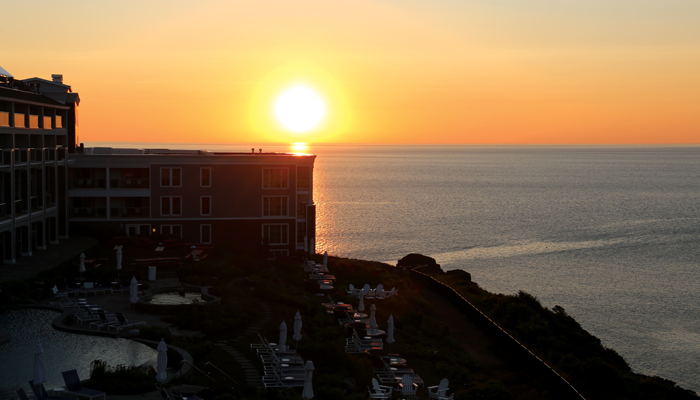 The Maine Energy Marketers Association and the Energy Marketers Association of New Hampshire are proud to report that we just had our most successful Northern New England Energy Conference (NNEEC) ever. From Sunday, June 23 to Tuesday, June 25, over 300 people crowded together at the beautiful Cliff House in Cape Neddick, Maine for networking, education, dining and drinks. Thank you to our many sponsors and vendors who made this event possible for our membership.

The conference blasted off with a 16-team Cornhole Tournament during the Sunday evening Welcome Reception. This year's champions were Steve Cornforth and Charlie Page from Maritime Energy, trailed closely by second place champions Matt Poole and Robert Clifford from Colby & Gale. Both teams took home some rather exciting trophies.

Monday brought in a beautiful sunrise (as seen above). With over 50 vendors set up and a number of education sessions on the day's schedule, there was plenty to see and do. According to Jamie Py, "The education this year far exceeds any other year to date. If nothing else, this lineup was worth the attendance."

After Monday's education sessions, attendees were invited to the famous Vendor Blender, where REG provided a delicious signature drink called the "B20." The festivities, however, did not end there. The Vendor Blender was followed by a formal dinner in the lovely Cliff House Ballroom. The windows that lined the backwall of the ballroom peered over the rocky cliffs below, adding to the mood of the already heartfelt awards ceremony. Entertainment continued with comedian Juston McKinney followed by an open bar at Nubb's Lobster Shack. A great time and beautiful evening made for a happy group of attendees.

Although all good things must come to an end, at least the 3rd Annual NNEEC ended with a relaxing morning of golf! Threats of rain didn't scare us away and as luck would have it, there was very little until after the tournament ended. Thank you again to all of our attendees for making 2019 a HUGE success. We look forward to seeing you next year at the Omni Mount Washington Resort in Bretton Woods, NH, from June 14-16!
Related Posts
Join Our Email List For Updates!
Enter your email to receive important news and article updates.