All
NORA Releases Updated FSA Calculator 2.1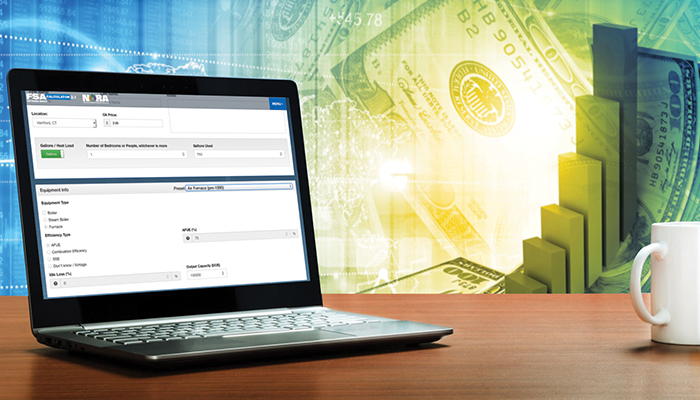 On March 29, the National Oilheat Research Alliance (NORA) announced the latest update to its popular Fuel Savings Analysis (FSA) Calculator. This free, cloud-based software tool was developed by NORA and New York-based marketing firm PriMedia, Inc. in order to help the association fulfill its missions to improve oil-fired heating system efficiency and educate consumers about advancements in Oilheat technology.
The FSA Calculator enables heating equipment contractors, installers, technicians, and sales personnel to quickly predict the real fuel savings of virtually any oil-fired heating system (with ROI projections over 5, 10, 15 or 20 years), to accurately compare fuel use between an existing appliance and different upgrade options, and to provide consumers with a complete picture of the fuel savings afforded by energy-efficient, oil-fired home heating systems.
FSA Calculator 2.1 brings that picture into even clearer focus.
"The FSA has always offered the only true way to accurately predict fuel savings when upgrading to a new oil-fired appliance," said NORA President John Huber. "Version 2.1 is the next natural step in making FSA more accurate and versatile. With FSA [2.1], homeowners can see the real fuel and money savings benefits to upgrading their furnace or boiler."
What's New in FSA Calculator 2.1?
For user convenience, the FSA Calculator offers the option to perform fuel savings audits in either Basic Mode or Advanced Mode. The more user-intuitive Basic Mode features a number of common Equipment Presets. Each of these includes established base Steady State Efficiency and Idle Loss percentages, which make it easy for users to compare old and new heating systems even in cases where little information about the existing appliance is available.
New for FSA Calculator 2.1 are four additional categories of Equipment Presets:
Steam Boiler: Pre-1965 Excluding Conversions with Tankless Coil
Steam Boiler: 1965-1979 Cast Iron Pin Boiler with Tankless Coil
Steam Boiler: 1980-2000 Cast Iron Pin Boiler with Tankless Coil
Air Furnace: Pre-1990
Another important addition is the ability to select Boiler, Steam Boiler or Furnace under Equipment Type when entering a Custom heating system for the existing equipment in Basic Mode. Previous versions of the FSA calculator did not include any furnace or steam boiler pre-sets, nor did they include the aforementioned Equipment Types.
According to the U.S. Energy Information Administration's 2015 Residential Energy Consumption Survey (RECS), 3.7 million homes in the U.S. are heated by oil-fired central warm-air furnace, more than two-thirds of these homes (2.8 million) are located in the Northeast, and 1.5 million are in the New England region alone. The 2015 RECS estimates 1.6 million homes in the U.S. are heated by oil-fired steam or hot water systems, 1.5 million of which are in the Northeast and 0.5 million of which are in New England. Heating professionals have continued to report encounters with warm air furnaces from before 1990 and steam boilers from before 2000; hence, the importance of incorporating these systems into the software.
By including furnaces and steam boilers as pre-sets, FSA Calculator 2.1 empowers heating equipment contractors to perform more, as well as more accurate, fuel savings analyses. Utilized effectively, these analyses can inspire homeowners to stick with Oilheat and increase sales of energy-efficient, oil-fired home heating systems.
Using FSA 2.1 in the Field and on the Phone
In a recent edition of the Energy.Ink e-newsletter, PriMedia offered the following 10 tips to help heating system installers and salespeople use FSA Calculator 2.1 more effectively:
When starting off, always use Basic Mode rather than Advance Mode. As you become more experienced with the software and in heating system sales/installation, you should begin experimenting in Advance Mode before deploying it in the field.
FSA Calculator 2.1 is device responsive, so remember you can use it on any mobile device in the field as long as that device is connected to the internet.
When discussing a heating system upgrade over the phone, salespeople can email a heating system Comparison Report to a prospective buyer by clicking "Email Report" on the Comparison Report page underneath the savings chart.
Reports can also be printed to share with a homeowner on system evaluation or sales consultation house calls — important to remember if your installer-salesperson doesn't have an internet-connected mobile device or the homeowner doesn't have Wi-Fi.
After completing a new report, remember to save it for future use. It's always faster and easier to pull up a saved report than to create a new one.
After loading a saved report, update the oil price as needed to reflect changing market conditions.
It's also smart to show buyers the potential cost savings with different oil prices entered. As the price of oil increases, so too do the savings provided by a high-efficiency heating system.
When creating cost estimates for prospective buyers, remember to incorporate savings from the FSA Calculator report. These fuel savings can be displayed separately and factored into a "net" cost (so long as the fine print explains that final costs and savings may vary from the estimates provided).
After logging out of the FSA Calculator, submit comments for future system improvements. This feedback is taken into consideration during periodic software updates.
A complete tutorial on using the FSA Calculator is available in PDF or PowerPoint format to anyone who requests it. To request a copy of the tutorial, contact PriMedia Creative Director John Bruno at jbruno@goprimedia.com or 800-796-3342.
To find out more, visit the NORA website at noraweb.org/fsa. To register and begin using FSA Calculator 2.1, go to fsacalc.com.
Related Posts
Join Our Email List For Updates!
Enter your email to receive important news and article updates.