All
NORA Reauthorized for 10 Years
by Samuel Diamond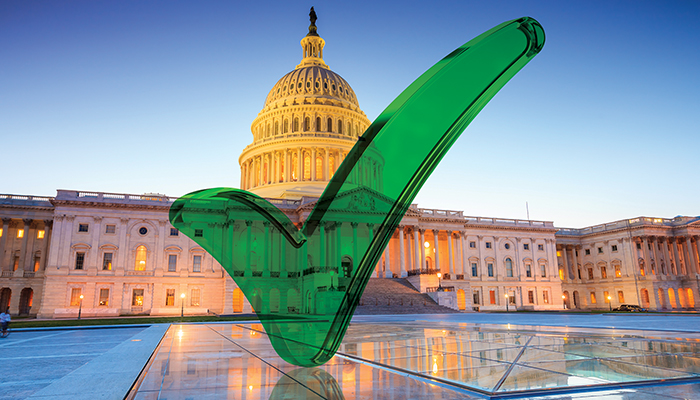 There are those email subject lines that grab your attention and prompt a quick open: "Your @OIL&ENERGY December Newsletter," perhaps. And then there are those email subject lines that make you drop everything and shout them verbatim from the highest mountain top: for example, "President Signs NORA Bill into Law."
Christmas came early for the heating oil industry, as that very message was delivered at 4:05 p.m. EST on December 20, 2018, by the NEFI Action Center.
"Moments ago, President Donald J. Trump signed-into-law a bill extending the National Oilheat Research Alliance for ten-years," read the headline.
"The measure — part of the Agriculture Improvement Act of 2018 (known as the "Farm Bill") — renews or reauthorizes the NORA program through February 6, 2029," the email continued. "This is twice the usual five-year reauthorization and a major victory for NEFI and the broader heating oil industry. The Farm Bill was given final approval by Congress last week, with votes of 87-13 in the Senate and 369-47 in the House. NEFI was present in each chamber for these votes."
All across the industry, a collective "hip-hip-hooray" followed the news, which, though not unexpected, was eagerly anticipated. Two editions of NEFI's NEON e-newsletter distributed in December had included important updates on the NORA reauthorization effort, notifying members first that Congress had passed a version of the Farm Bill that included the 10-year renewal and next that the president might sign the bill by week's end.
For many months prior to the signing of the Farm Bill, industry leaders and supporters had worked tirelessly to press policymakers on the benefits of NORA not only for the heating oil industry, but for thousands of local businesses and millions of homeowners, as well as the economy to which they all contribute and the environment they all share.
"We again thank our association partners at the state and national level for their efforts," NEFI wrote, "including the Petroleum Marketers Association of America (PMAA), National Biodiesel Board (NBB), and the Advanced Biofuels Association (ABFA). NEFI also thanks its many members and supporters who contacted Congress in support of NORA, attended meetings on Capitol Hill, or met with lawmakers in their home states and districts."
NORA reauthorization was one of several (eventually successful) efforts on the NEFI Government Affairs Committee's agenda for 2018. As reported in previous issues of Oil & Energy and NEON, it was a major topic of discussion at meetings between policymakers and members of NEFI and its state associations, which took place during PMAA's "Day on the Hill" event back in May 2018.
From those meetings policymakers' support for NORA reemerged as a reinvigorated and bipartisan effort. Where previous discussions typically framed the NORA statute as a temporary solution — due to its built-in "sunset clause," which requires the program to be periodically reviewed before it is either retired or renewed every five years — in 2018, industry leaders and policymakers pushed to make the program permanent.
Washington being Washington, voices of opposition also emerged. However, after many impassioned phone calls, marathon meetings, and nearly 24-hour work days, compromises were reached on both NORA renewal and other unrelated issues with the Farm Bill. And in the end, as a result, heating oil dealers can now look forward to at least another 10 years of federally funded consumer education and employee training, as well as research and development critical to the future of heating fuels and technology.
As a "check-off" program, NORA receives $0.002 at the wholesale level on every gallon of heating oil sold. Per the details of the amended NORA statute, going forward, the alliance will receive 75% of its regular funding each year, with the remaining 25% going into an escrow account. This money will become available October 1, 2028.
As NEFI Government Affairs Committee Chairman Scott E. MacFarlane said, "NORA can now focus entirely on consumer education, ushering-in a new generation of cleaner-burning fuels and efficient heating systems, and the development of a well-educated workforce for our industry."
"Now we are in a steady state of activity, and can focus solely on improving execution of all of our functions," stated incoming NORA Chairman Charlie Uglietto. This was the first time in NORA's history that the program did not lapse for any period before being renewed.
NORA President John Huber praised the efforts of industry leaders who helped shepherd the reauthorization effort through Congress in 2018. "NORA offers special thanks to the organizations and individuals in the heating oil industry that worked so hard and effectively to see this through," he wrote. "The Petroleum Marketers Association of America's (PMMA) family of associations was particularly effective … the team in Washington of PMAA, New England Fuel Institute and Squire Patton Boggs worked hard and smart throughout."
Though virtually all industry leaders characterized the successful bid for NORA reauthorization as a true "team effort," NEFI noted that "special appreciation is due to Senators Jeanne Shaheen (D-NH), Susan Collins (R-ME), Pat Leahy (D-VT), and Jack Reed (D-RI); and Reps. Peter Welch (D-VT), Ann McLane Kuster (D-NH), Jim McGovern (D-MA), and Paul Tonko (D-NY)." Not coincidentally, these lawmakers represent six states in the Northeast, where oil plays an especially critical role in heating and power, as well as the region's overall economic and environmental security.
According to an infographic produced by NEFI and PriMedia, and distributed to lawmakers during the Day on the Hill event, "With the support of NEFI and research by the National Oilheat Research Alliance (NORA), B5 Bioheat® fuel dealers in New England and New York can reduce the region's total CO2 emissions by more than 1.3 million metric tons, the equivalent of removing nearly 300,000 cars from the road."
In addition to allowing for the successful deployment of increasingly cleaner blends of ultra-low sulfur heating oil and biofuel (collectively known by the National Biodiesel Board's registered trademark, Bioheat®), NORA has funded research and development of state-of-the-art home heating equipment technology, including multi-stage burners that are fully compatible with blends of up to B100. Other recent R&D projects have focused on areas such as aerosol enabled liquid fuel combustion and integrating heating oil with air source heat pumps.
NORA also provides support for ongoing consumer education efforts, including the Oilheat America website and social media campaigns, as well as consumer rebate programs, such as the Upgrade & Save Energy Efficiency and Safety Rebate Program, which provides consumers with valuable financial incentives for replacing old Oilheat equipment and storage tanks with newer models that conserve fuel and are more energy efficient. As of January 9, 2019, Upgrade & Save had provided Oilheat users with $2,751,625 in rebates for 4,245 heating equipment upgrades and 2,731 storage tank replacements, nationwide.
Some other NORA-funded consumer education efforts have focused on the transition to ultra-low sulfur heating oil and Bioheat fuel.
Last but definitely not least, NORA offers training courses both online at learning.noraweb.org and in person at various technical institutes and other facilities across heating oil country. These courses enable new and veteran service technicians to advance their technical education and skills, as well as achieve and retain NORA Gold, Silver and Bronze Certifications, which are proven hallmarks of expertise in heating oil equipment installation, maintenance and repairs.
With potential funding for all of these and more NORA programs now possible, heating oil customers, dealers, service technicians, and equipment manufacturers can bank on there being a number of "gifts under the tree" for the following decade.
So, yes, Christmas truly did come early for the heating oil industry this winter. And though sources say it's purely coincidental that NORA's outgoing chairman is named Santa, we at Oil & Energy continue to offer him cookies, nevertheless.
Related Posts
Posted on December 13, 2021
Posted on December 10, 2021
Posted on October 22, 2021
Posted on October 16, 2021
Join Our Email List For Updates!
Enter your email to receive important news and article updates.