All
"Never Stop Learning!"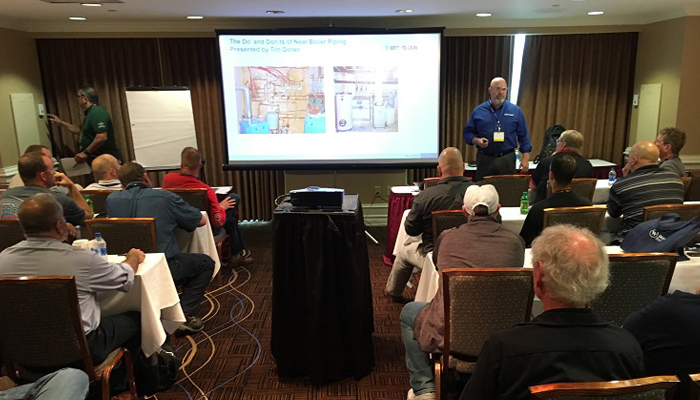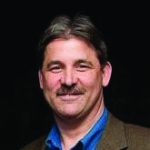 As the Weil-McLain team geared up for a series of complimentary technical training sessions and equipment demonstrations at the 2019 Eastern Energy Expo, Oil & Energyspoke with the company's training and technical manger, Bob Melinis. In addition to the importance of technical training, we discussed the latest developments in Weil-McLain boiler technology and how the company has incorporated these innovations, as well as ease of service and installation, into its new high-efficiency boilers.
In announcing Weil-McLain's demonstration sessions at Eastern Energy Expo, you mentioned attendees would get "an in-depth tour of the internal components that set our boilers apart." What are some of those "internal components" that distinguish Weil-McLain products? 
The internal cabinet layout and components included vary from model to model, all based on serviceability and value to customers. For example, our WM97+ wall mount gas boiler includes components traditionally found outside the cabinet, to eliminate contractor guesswork and increase the speed of installations. The boiler includes a low water cut off, a primary secondary manifold, an expansion tank (70 & 110 models) and a 3-zone controller. Our premium Evergreen boilers include a control that is extremely user friendly, with a simple set-up wizard and preset applications to match any heat emitter strategy found in residential or commercial buildings. Some other valued components that vary by model include removable condensate bases, test ports, burner inspection covers (without removing major components to inspect), fuel conversion ease and color-coded wiring terminal blocks.
How has Weil-McLain built serviceability and ease-of-installation into its boilers?
Weil-McLain takes great pride in developing our products to be "user friendly" both to the installer and servicing technicians. One of the first things you will notice on our high-efficiency products is the amount of room inside the cabinets, allowing easy access to components and for performing annual service and maintenance. Our control platforms are designed to be very intuitive and display the critical information in plain text and graphics while utilizing multiple color-coded backgrounds on the display screens to allow "at a glance" status of the boiler. Additionally, all controls offer in-depth troubleshooting and diagnostic info, with most of our products displaying this in plain text. Our newer products also contain a set-up wizard, which guides the installer screen by screen in setting up the initial settings. The screens also contain pop-up tutorials to further explain the settings displayed. Another example would be our Series 4 Ultra gas boilers, which feature a state-of-the-art heat exchanger with nanotechnology coating that acts like "Ultra Armor," reducing build-up in the heat exchanger while maintaining high efficiency. The nano-coated heat exchanger requires no cleaning for a full five years after installation. When it's finally time to clean, a simple rinsing of the coated heat exchanger with water is all that's needed, making the service technician's job easier.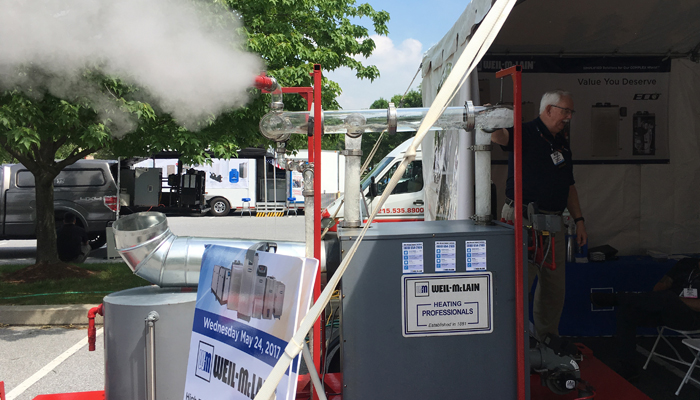 From where do you think "the mystery" surrounding condensing boilers arises? And what are some of the "common roadblocks" you see tripping up technicians when it comes to these units?
I think installers and service technicians that have not attended training on high-efficiency boilers tend to be intimidated by them. While there are specific things that are different from traditional boilers, if they follow the installation manual, they shouldn't have any issues. One example would be understanding the benefits of primary/secondary piping strategies and the importance of proper circulator and pipe sizing to achieve the proper flow through the boiler and system. Condensing boilers typically are low mass, low water volume heat exchangers, so it is imperative to get these things correct.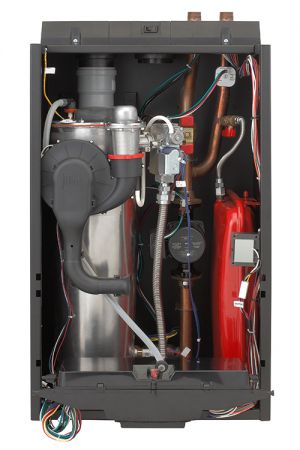 As a training manager, what is some general advice you give to all service technicians?
Never stop learning! Attend training as often as possible. The industry and products are evolving rapidly and it is important to keep up with what's new. Another thing I would strongly advise is to utilize the installation and service manuals. Weil-McLain takes great pride and puts much effort into our manuals. With clear step-by-step instructions, piping & wiring diagrams, control functions and diagnostics, as well as service and maintenance procedures including actual photos, everything the installer or service tech needs is in there.
In addition to the "Foundations of Hydronics" and "High-Efficiency Boilers – Operations and Service" seminars your company is presenting at Eastern Energy Expo, what are some courses that you think might complement the knowledge service technicians and managers can gain from Weil-McLain training? 
Any classes that cover the importance of combustion testing and adjustment would be beneficial. While our products are factory test fired and adjusted, it is always important to check for proper combustion when installing and servicing any fuel-burning appliance, especially when converting to propane, as that sometimes requires additional adjustment upon installation. In addition, any other classes that reinforce the importance of proper installation practices would help lead to trouble-free installations in the future. Beyond this event's opportunities for training, Weil-McLain offers local training by our factory-employed team as well as national events such as our School of Better Heating.
The School of Better Heating program is an annual series of comprehensive training seminars that include extensive in-field experience with hands-on and application training. In addition to class instruction, reference materials and a certification of completion are provided, as well as some special certified courses for continuing education. Class examples include:
Condensing boiler technology
Design and construction of condensing boilers
Installation of venting, piping and wiring
Controls, set up and programming
Start up, maintenance and troubleshooting.
Look for more information in the May issue of Oil & Energy magazine and be sure to attend Weil-McLain's upcoming training sessions and product demonstrations at the Eastern Energy Expo, May 19-22 at Hershey Convention Center in Hershey, PA (details below).
Training
Foundations of Hydronics
When: May 20: 2:30PM-4:00PM
Where: Room Empire B
Instructor: Tim Doran, Territory Sales Manager
Topics Include:
Pipe sizing and configuration
Circulator sizing
Air entrapment
Calculating heat load
Expansion tank sizing
High-Efficiency Boilers – Operation and Service
When: May 21: 10:30AM-12:00PM
Where: Room Cocoa 5
Instructor: Robert Melinis, Training & Technical Manager
Topics include:
Outdoor reset
Condensing heat exchangers
Modulation of the burner
How boiler components interact
Cleaning and servicing of three types of heat exchangers
Demonstrations
Steam Boiler Live Fire Demonstration
When: May 21: 12:30PM-1:15PM, 3:00PM–3:45PM
May 22: 10:30AM-11:15AM, 1:00PM-1:45PM
Where: Outdoor Tent O8
High-Efficiency Gas Boiler Operation & Service
When: May 21: 1:30PM-2:15PM, 4:00PM-4:45PM
May 22: 11:30AM-12:15PM
Where: Outdoor Tent O8
Related Posts
Join Our Email List For Updates!
Enter your email to receive important news and article updates.