All
Lock, Stock & No Shopping Around
by Rich Morahan, Rich Morahan Associates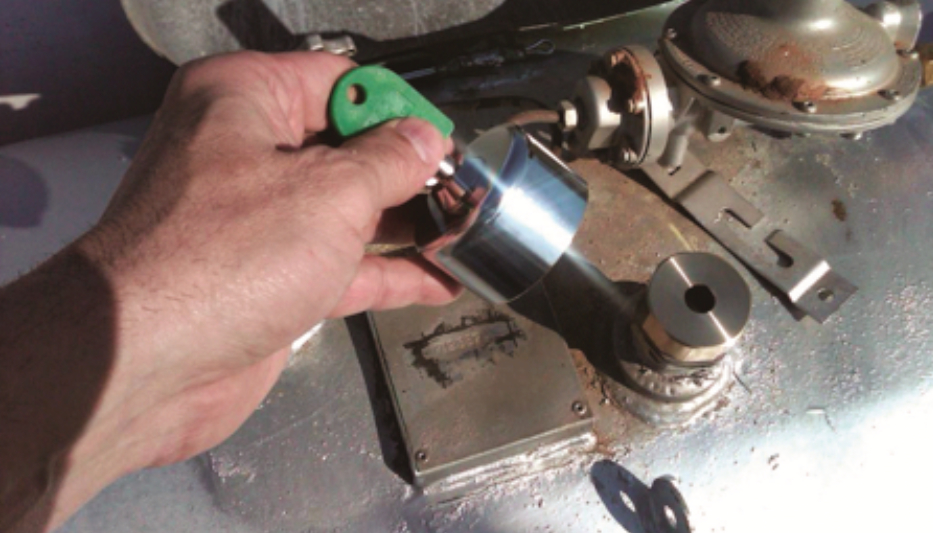 You don't have to be a teenager to know that there's an app for almost everything. Tank monitoring software is central to customer service and inventory supply for the propane industry, and increasingly, propane customers have been able to take advantage of tank monitoring as well. A customer can even order his own app right from the Apple App Store. Suppliers would naturally prefer that customers use their apps, and more and more now provide them, allowing the customer to keep track of what's going on in his or her tank. Tank monitoring software companies such as Anova, Gremlin, Otodata and Tank Utility can provide a customer app branded with your company's look and contact information, giving users instant access to their supply level.

Propane customers can download and install a fuel monitoring app for themselves, allowing them to precisely determine delivery needs and then shop around for a deal if their tank is not secure. Many suppliers use propane tank monitoring systems as part of exclusive auto-fill contracts. The messy question becomes, "How do you ensure customer compliance?" For example, Sweetwater Propane of Northeast Pennsylvania offers an auto-fill option, which provides a price discount along with tank level monitoring by Sweetwater. As they say on their website, "Imagine being able to monitor your tank level anywhere with your phone."

Two products help Sweetwater manage its propane inventory and delivery, and equally important, its cash flow. In 2016, Sweetwater began offering customers two new contract options: an auto-fill (with discount) option and a "monitor/will call" option. Sweetwater selected tank monitoring software from a Boston-based company to monitor customers' propane needs as well as the fuel supplier's own inventory requirements. Customers like avoiding the worry of running out and having to continually check their tank. With the auto-fill option, the customer agrees that Sweetwater will be the sole supplier. The customer can monitor their supply on a downloadable app, and Sweetwater can view all its accounts on its own server, and schedule deliveries as needed. The tank monitoring program enables Sweetwater to monitor fuel use and notify the customer to track fuel use when it is time to order a delivery.

In addition, as part of the auto-fill option, the customer agrees to a lock-and-key system developed by Lock America of Corona, California. Lock America's locks are easily installed and tamper-resistant, and provide Sweetwater, like all of Lock America's customers, with its own unique key code. The tank locks are a critical element of the program. As Service Manager Jesse Detweiler points out, "The locks are solely for our benefit and most customers don't mind it." The lock-and-key system ensures prompt, secure delivery for the customer and contract compliance for Sweetwater, and prevents customers from turning to another supplier for unauthorized fills, or when their account is past due. The lock seals the deal.

The auto-fill program provides Sweetwater with greater control over its operations, sales, cash flow and product management. As Detweiler points out: "With monitors, we definitely have an increase in retaining those automatic fill customers. This is where the locks come into the picture. We want to make sure that we are the only supplier of those tanks to retain our investment in the tank monitor."

Do customers mind the locks? While a few decline the program, Sweetwater started with a few dozen locks and now has more than a thousand installed.

Propane monitoring software can benefit the supplier and the customer. But there's a second side to the propane monitor app. With app-enabled instant level updates, it becomes easier for customers to shop around and break their contract by using an unauthorized supplier. Whether there is an auto-fill contract or not, most operators own their customers' tanks and have exclusive delivery rights. The Fill Valve Lock ensures compliance for those suppliers who own their tanks, by protecting against the easy temptation to shop around that a customer app provides.

Rich Morahan writes frequently on security and marketing for the petroleum and propane marketing and self-storage industries. He can be contacted at 617-240-0372, rmwriteg@gmail.com or rmorahan.com.
Related Posts
Posted on October 12, 2021
Posted on October 12, 2021
Posted on September 8, 2021
Posted on August 13, 2021
Join Our Email List For Updates!
Enter your email to receive important news and article updates.