All
It's What's Inside that Counts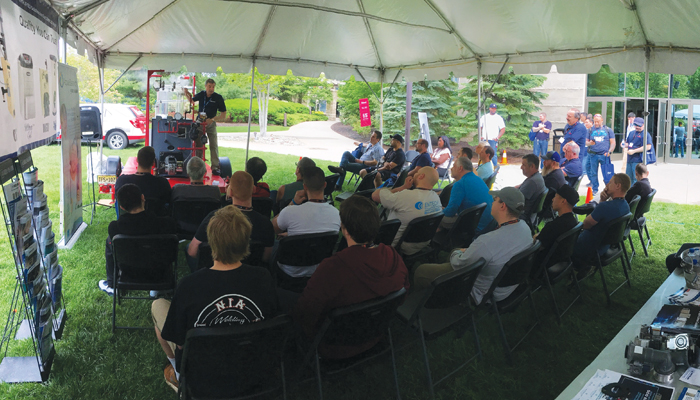 When it comes to today's boilers, it's a whole new world out there. Between condensing heat exchangers, high-tech displays, modulating burners, and changes to circulator sizing and pipe configuration, there have been enough innovations in system technology and installation strategy to attract and overwhelm HVAC contractors.
Robert "Bob" Melinis, of heating equipment manufacturer Weil-McLain, has seen this reaction firsthand. "The latest generation of our high-efficiency boilers offer industry-leading features and functionality that can be both exciting and intimidating to those unfamiliar with how to operate them," he says. As the company's technical and training manager, it is his challenge — and opportunity — to help bridge that gap between intimidation and excitement.
As the Weil-McLain team geared up for a series of complimentary training sessions and equipment demonstrations at the 2019 Eastern Energy Expo, Oil & Energy spoke with Bob Melinis about the latest developments in boiler technology and how the company is incorporating these innovations, as well as ease of service and installation, into its new high-efficiency boilers.
Our discussion with Bob Melinis continues over at the Oil & Energy Blog. Read "Never Stop Learning" for more on Weil-McLain boiler technology and technical training.
Under the Hood
When it comes to today's Weil-McLain boilers, it's a whole new world in there. Discussing the upcoming live fire demos to be held at Eastern Energy Expo, Melinis said, "Participants will … take an in-depth tour of the internal components that set our boilers apart from the competition." Curious as to exactly what he had in mind, Oil & Energy asked for a sneak preview.
Melinis offered the WM97+ wall mount gas boiler as a prime example of how Weil-McLain is building both "serviceability and value to customers" into its new high-efficiency models. This boiler "includes components traditionally found outside the cabinet, to eliminate contractor guesswork and increase the speed of installations," he explained. "The boiler includes a low water cut off, a primary secondary manifold, an expansion tank (70 & 110 models) and a 3-zone controller."
Adaptability is a common concern among companies expanding into propane gas service and technicians trying to pick up new tricks and tools of the trade; by engineering heating systems with these issues — and today's customers — in mind, Weil-McLain is providing a "user friendly" solution that could help HVAC contractors save time and make money.
"One of the first things you will notice on our high-efficiency products is the amount of room inside the cabinets, allowing easy access to components and for performing annual service and maintenance," Melinis said. Faster service times mean more service appointments on any given day, which should translate to more efficient and profitable service departments.
On the Surface
The WM97+ isn't the only Weil-McLain boiler that's built for easy installation and service. The company's Evergreen boilers feature a set-up wizard with preset applications for virtually any heat emitter found in residential or commercial buildings.
"Our control platforms are designed to be very intuitive and display the critical information in plain text and graphics while utilizing multiple color-coded backgrounds on the display screens to allow 'at a glance' status of the boiler," Melinis said. "Additionally, all controls offer in-depth troubleshooting and diagnostic info, with most of our products displaying this in plain text. Our newer products also contain a set-up wizard, which guides the installer screen-by-screen through the initial settings. The screens also contain pop-up tutorials to further explain the settings displayed."
And these intuitive platforms aren't the only feature Weil-McLain has included to help contractors save time. "Another example would be our Series 4 Ultra gas boilers, which feature a state-of-the-art heat exchanger with nanotechnology coating that acts like 'Ultra Armor,' reducing build-up in the heat exchanger while maintaining high efficiency," Melinis said. The nanotechnology covering makes it so that the Series 4 Ultra's heat exchanger won't need to be cleaned "for a full five years after installation," Melinis continued. "When it's finally time to clean, a simple rinsing of the coated heat exchanger with water is all that's needed."
"Never Stop Learning!"
Clearly, Weil-McLain is looking to make installation and service technicians' jobs easier, but that doesn't mean employees can simply phone it in on their next boiler installs. For best results, Melinis advises service managers to put their techs through as many training courses as possible, including Weil-McLain's (see sidebar), as well as "any classes that cover the importance of combustion testing and adjustment."
Although Weil-McLain products are factory tested and adjusted, Melinis says, "it is always important to check for proper combustion when installing and servicing any fuel burning appliance, especially when converting to propane, as that sometimes requires additional adjustment upon installation." Picking up on that thread, Melinis emphasized the importance of learning and following best installation practices.
It's with this in mind that Weil-McLain continues to offer training not only at trade shows like the Eastern Energy Expo, but also through the company's annual School of Better Heating seminar series. Using a combination of hands-on training and classroom instruction, these courses cover a wide range of important topics, such as condensing boiler technology; installation of venting, piping, and wiring; controls, set-up, and programming; and more.
To find out more about the new technologies and training available from Weil-McLain, visit the company at outdoor tent O8 and indoor booth 802 at the Eastern Energy Expo, or online at weil-mclain.com.
Weil-McLain Offers Free Training, Demonstrations at Eastern Energy Expo
Training
Foundations of Hydronics
When: May 20: 2:30PM-4:00PM
Where: Room Empire B
Instructor: Tim Doran, Territory Sales Manager
Topics Include:
Pipe sizing and configuration
Circulator sizing
Air entrapment
Calculating heat load
Expansion tank sizing
High-Efficiency Boilers – Operation and Service
When: May 21: 10:30AM-12:00PM
Where: Room Cocoa 5
Instructor: Robert Melinis, Training & Technical Manager
Topics include:
Outdoor reset
Condensing heat exchangers
Modulation of the burner
How boiler components interact
Cleaning and servicing of three types of heat exchangers
Demonstrations
Steam Boiler Live Fire Demonstration
When: May 21: 12:30PM-1:15PM, 3:00PM–3:45PM
May 22: 10:30AM-11:15AM, 1:00PM-1:45PM
Where: Outdoor Tent O8
High-Efficiency Gas Boiler Operation & Service
When: May 21: 1:30PM-2:15PM, 4:00PM-4:45PM
May 22: 11:30AM-12:15PM
Where: Outdoor Tent O8
Related Posts
Posted on September 8, 2021
Posted on August 13, 2021
Join Our Email List For Updates!
Enter your email to receive important news and article updates.