All
It's Time to Put the Horse and Wagon out to Pasture
by Richard Rutigliano, PriMedia, Inc.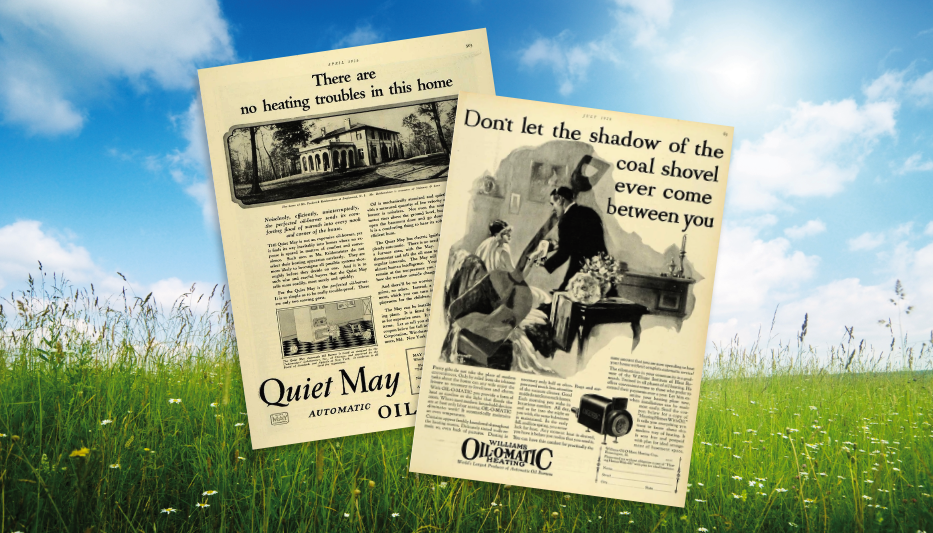 Companies still marketing "Oilheat" today need to embrace the product of the future
A century ago companies delivering coal had to face a seismic market change as homeowners converted their heating systems to cleaner burning heating oil. Today, we face a similar challenge, as homeowners convert to heating systems they believe are better for the future.

As the home heating industry comes together at the HEAT Show and the Industry Summit to continue to map the road to a net-zero carbon future, it's time to ask: Are you embracing the renewable liquid heating fuels (RLHF) of tomorrow or are you still delivering a product introduced to consumers many, many decades ago?

100-Year-Old Messaging
In 1923, Valor-Perfection promoted its new oil heaters as "the clean, smokeless and odourless (sic) heater" that was "more economical to use than ever." In 1926, the "completely automatic" Quiet May kept the home temperature constant "with almost human intelligence," and, best of all, "there'll be no worries over coal strikes, no grime, no ashes." A third system of the era, the Oil-o-Matic, appears to be a magical machine that provided "heat as carefree as the light that floods the room"; automatically maintained an even temperature; and kept the house cleaner than even "good maids." It did all this for "practically the same amount you are spending to heat your house."

Companies still selling Oilheat continue to use similar claims of comfort and cleanliness, albeit with a little less hyperbole. But "clean" in the 2020s has a different meaning than it did in the 1920s, and, rightly or wrongly, those companies are harking back to the days of the Jazz Age and Prohibition.

Today, Clean Means Green
Today, clean means "environmentally friendly," and that claim has been appropriated by the electrification movement.

Oil & Energy readers are well aware of the significant challenges inherent in the "electrify everything" movement, most notably the inadequacies of the nation's electric grid and our inability to produce and store enough peak-demand electricity solely through non-liquid renewable energy sources. RLHF is an immediate, drop-in solution to achieving carbon reduction, but, unfortunately, thanks to the corporate utilities that regularly disregard the atmospheric dangers of methane, Oilheat had been branded as environmentally dangerous during the "gas wars" of the past decades, and the electrification movement has grabbed onto that stereotype and run with it.

Welcome to the Future
The future is renewable liquid heating fuels – for your company, the industry, and the planet. As a drop-in replacement to Oilheat, RLHF delivers immediate reductions in carbon emissions, but you can only help your customers if you deliver the fuel.

At previous summits, the industry agreed to the Providence Resolution for net-zero carbon emissions by 2050 and then to make it a reality by delivering 100 percent renewable liquid fuels by that date. This year, the Summit will address the financial opportunities for retailers with low carbon fuels.

In order to grasp those opportunities, you need to do more than add biofuels to your product mix. Successful RLHF retailers create a corporate culture around renewable liquid heating fuels. From website content to employee training, from on-hold messages to social media posts, they are "all-in" on RLHF.

Granddad Would Approve
Change takes time - and elbow grease. Your company's founders — those men and women who hauled ice, coal and feed — knew this, but survived by doing the hard work and bringing the company into their future.

They needed to learn about the new fuel – how to store it, deliver it, charge for it and market it. They needed to learn how to install and repair the newfangled burners, and then stay current as that technology advanced.

You have much less of a learning curve. The infrastructure to store, deliver, invoice and market RLHF is in place. The equipment is as well, and your technicians are already familiar with the advanced controls and integrated technologies. One of the biggest hurdles will be educating everyone on your staff to change the conversation from "heating oil" to "renewable fuel," and its increasingly vital role in combating climate change.

Welcome to the Age of Renewable Liquid Heating Fuels. We expect it to have as long and successful a run as the Oilheat Era, and look forward to sharing the future with you.

Richard Rutigliano is President of integrated marketing and communications firm PriMedia, Inc. He can be reached at 516-222-2041 or rrutigliano@primediany.com.
Related Posts
Posted on October 10, 2023
Posted on September 14, 2023
Posted on August 11, 2023
Join Our Email List For Updates!
Enter your email to receive important news and article updates.