All
Increase Sales by Easing the Buying Process
by Rich Morahan, Richard Morahan Associates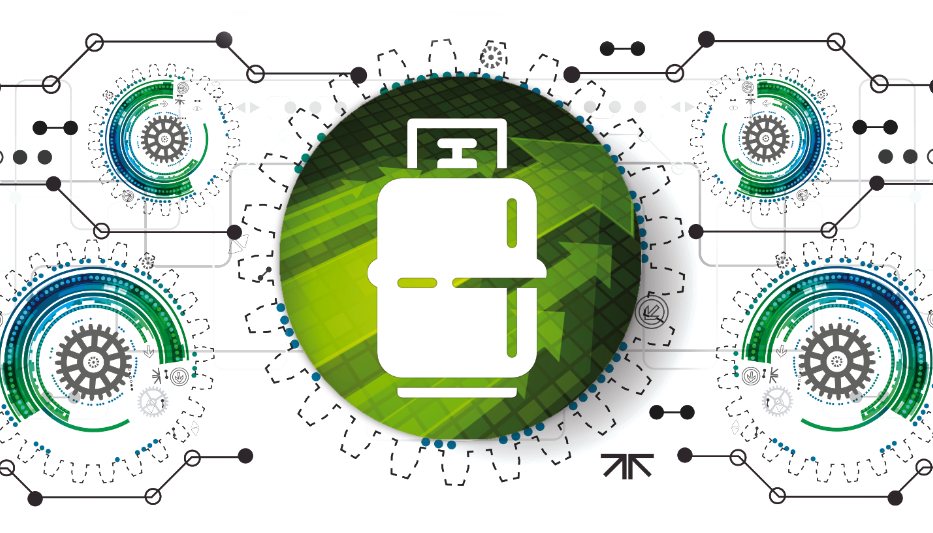 Automated Propane Exchange Machines Open Up Markets
These days you can get almost anything from a vending machine: the usual snacks and drinks, scratch tickets, beer (in Japan at least), and – in a growing market – 20- and 30-gallon propane exchange tanks. There are a number of companies that now offer machines and systems that replace the costly, labor-intensive, customer-unfriendly ceremony of tank exchange.
The branded propane exchange tank market is dominated by the big names such as Amerigas and Blue Rhino/Ferrell Gas, which control access to big box stores such as Home Depot, Menards and Walmart. It can be difficult for a small or regional supplier to compete with bigger, better-known companies, both to sign up distribution outlets and to generate traffic for their brand. Automated vending machines can address these concerns and perhaps even level the playing field between national brands and local brands.
Automated propane vending offers a way to increase propane exchange tank revenue by smoothing the process, for the supplier, the retail outlet and the customer.
John Pattenson of Propane HQ, a market observer, predicts that, "automated vending is poised to have a profound impact on the propane tank exchange market in the coming years. With the potential for significant returns on investment, increased sales, and enhanced customer experiences, this technology represents a bright future for the industry."
He adds that "As more retailers adopt this technology, we can expect to see a more robust and competitive market that caters to the changing needs of consumers. The expansion of this market will drive innovation in automated vending technology, leading to even greater efficiency and improved customer experiences."

Customer-Friendly Experience, Transaction Data and Inventory Management
In a typical retail exchange tank transaction, a customer drops off a tank, goes inside to the dealer, waits in line until the clerk is free, and then completes the transaction once the clerk can safely leave the store. It's a time-consuming process for both of them. Might not the clerk, the people who pay him, and the customer, all be happier with less interaction? How about walking up to a machine, inserting a credit card, opening a door and swapping tanks? Fast and efficient, seven days a week, 24-7.
And what does the propane supplier get? Instant inventory reports and transaction history, as well as the opportunity to schedule its deliveries by monitoring transactions. Ease of use will inevitably drive sales increases, and real-time transaction histories will provide data to optimize delivery scheduling and costs.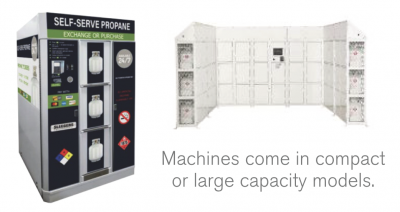 Sleegers Engineered Products Inc. is a North American supplier of engineered solutions for the pressure vessel and propane industries. The company designs, engineers and fabricates propane vehicle tanks, automated propane cylinder exchange kiosks, propane dispensers, propane bulk plant and terminal facilities, custom pressure vessels and air compressors.
Sleegers has joined with Outdoor Vending Solutions to form PVC, combining Sleegers' fabrication with Outdoor Vending's experience in machine fabricating.
Their kiosk is equipped with a PCI compliant payment terminal that enables the customer to pay for the transaction using any major credit or debit card. Each kiosk can store up to 24 propane cylinders. It can require less than a 5 ft. by 5 ft. footprint to install and plugs into a standard outlet. Transaction time is often as short as one minute. The machine even provides remote management via web portal including inventory monitoring, issue alerts, transaction reporting, promotional opportunities, and remote software updates.
This system can provide hands-off revenue streams to a car wash, convenience store or gas station.
Anytime Propane is a propane supplier that sells the whole package, and its customers find that exchange sales have gone up without increased labor or overhead costs.
An Anytime customer writes: "It is my pleasure to write this letter of recommendation for Anytime Propane Supply, LLC. Their automated cylinder exchange machines were installed in several of our stores three years ago and in that time they have provided exceptional service. We had no upfront investment and no labor, yet our cylinder sales increased significantly. Our employees love that with this system, they are no longer required to go out in heat/cold/rain to exchange a cylinder manually. Our customers tell us they enjoy the convenience of the automated exchange that is available anytime, 24 hours a day, 7 days a week, and takes less than a minute to complete the transaction."

The Financial Options for Propane Dealers and Retail Dealers
For a propane supplier, buying the machine is a simple transaction. Among the options it can:
Open a new distribution outlet at an existing business location: A propane supplier can lease unused storefront space from a dealer or negotiate a percentage of the sales with no responsibilities for the dealer other than cashing the check.
The propane suppler would: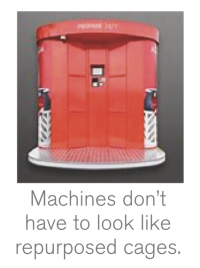 Provide all the required liability insurance, attain and maintain all required state licensing permits and ensure all required safety requirements are met.
Deliver its own fuel or arrange for a designated and fully licensed propane cylinder distributor to refill the machine before it is ever empty.
The storefront owner has to do nothing at all.
John Glor of PVC asserts that "once they see them, they're ready to go."
Utilize the propane supplier's existing distribution location or set one up. Most vending machine companies have purchase or lease plans. The propane supplier can make its deal and establish its own 24-hour outlet, lowering its overhead while enhancing its competitiveness.

A Win-Win Scenario
It's tough for a local propane exchange operation to compete against the convenience and the brand presence of large national propane chains. Automated vending machines can provide convenience for the customer, simplicity for the outlet, and increased market visibility for the propane supplier. We are almost one quarter into the 21st century. It's time for the propane exchange business to seize the future.
Rich Morahan writes frequently about security and marketing for the propane and other industries, including information management, petroleum distribution and self-storage. You can contact him at 617-240-0372 or rmwriteg@gmail.com or visit www.rmorahan.com.
Related Posts
Posted on August 11, 2023
Posted on August 11, 2023
Join Our Email List For Updates!
Enter your email to receive important news and article updates.