All
If You Can't Beat 'Em, Blend 'Em
by Anja Ristanovic, Hedge Solutions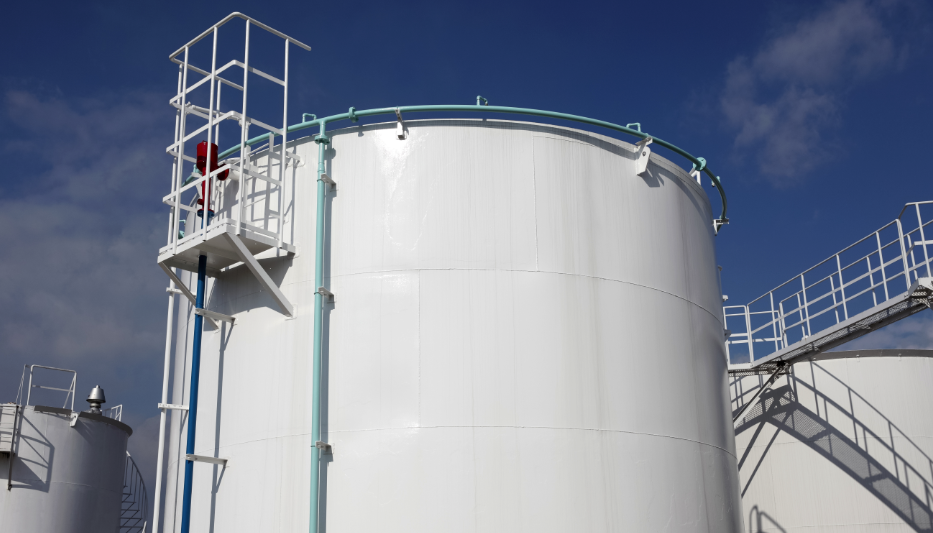 As costs of compliance rise, oil majors bet big on biofuels
The price of Renewable Identification Numbers (also known as RINs), which is the compliance mechanism administrated by the U.S. Environmental Protection Agency (EPA) and used for the Renewable Fuel Standard (RFS), has been on the rise since last year. The biodiesel (D4) RIN price reached its all-time high on June 8, 2021 at 204 cents. D4 RIN prices have since come down, but are still trading at significantly high levels, hugging the 180-cent mark at the time of this writing (in early August 2021).

The price of RIN credits reflects the cost of complying with the RFS and trading activity in the RFS. In the past, RIN prices generally increased due to either the higher cost of a biofuel compared to the petroleum fuel it was blended into, or an increase in RFS blending targets (called Renewable Volume Obligations or RVOs) above and beyond market-driven biofuel consumption (the higher-value RINs encourage additional blending above normal market levels). RIN prices have increased this year due to limited fuel production caused by lower demand amid the COVID-19 pandemic, fewer approved new small refinery exemptions (SREs) since 2018, and uncertainty around future RVO levels, according to the U.S. Energy Information Agency (EIA). The COVID-19 pandemic caused demand for transportation fuels to fall quickly, causing gasoline and diesel prices to drop significantly lower than wholesale ethanol and biomass-based diesel, which resulted in higher D6 and D4 RIN prices to encourage increased blending of ethanol and other biofuels.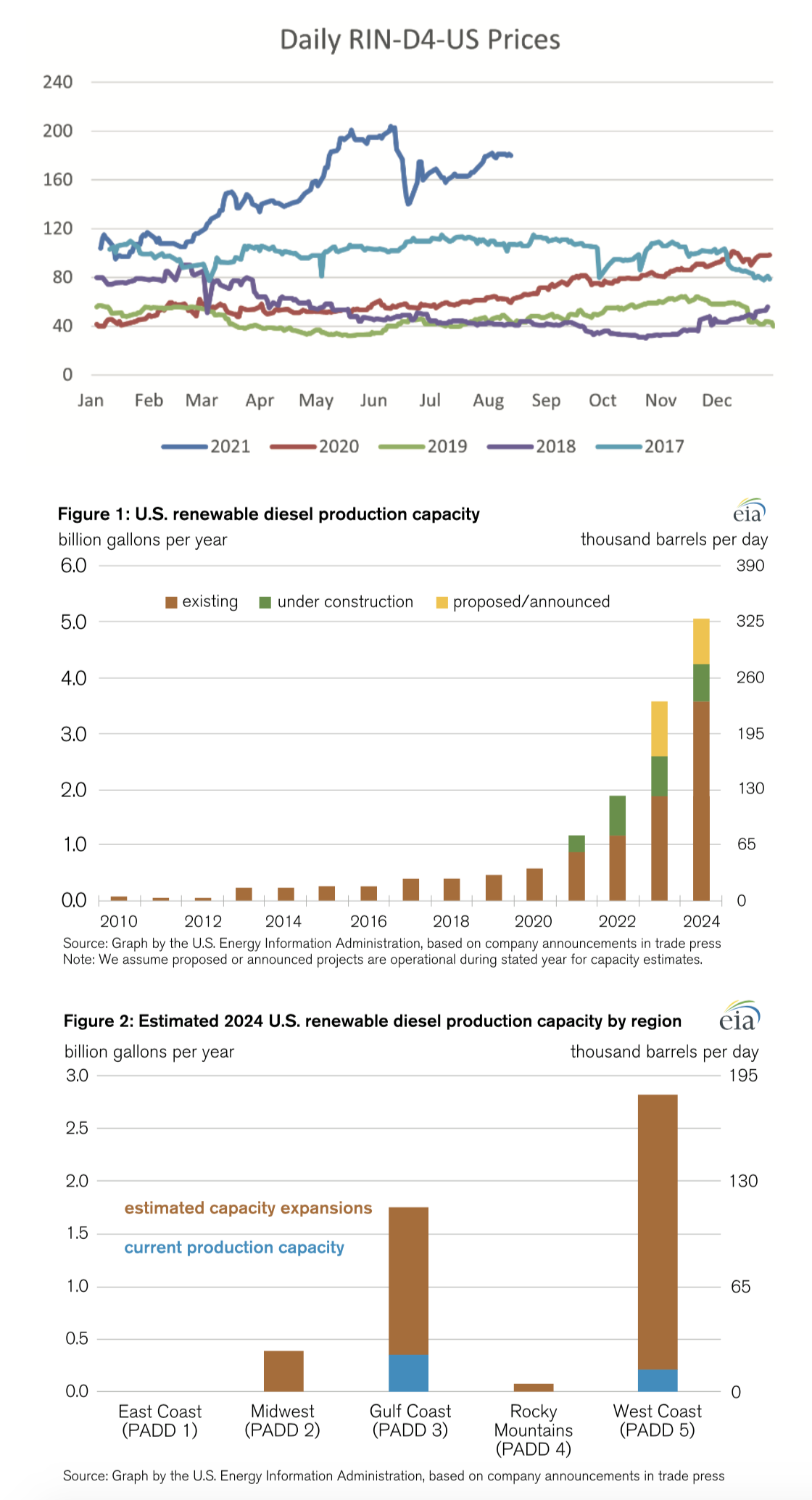 Total RFS compliance costs for 2021 could break all-time records and exceed $30 billion, which is more than twice the record-high annual program costs set in 2016 and 8.5 times higher than in 2019, when the U.S. reached record ethanol blending. The total cost of the program is surging even though biofuel consumption is not projected to change significantly.  

Many refineries closed down last year in order to convert their existing facilities into renewable diesel plants. Marathon Petroleum's refinery in Martinez, California and the Phillips 66 refinery in Rodeo, California are currently undergoing reconfiguration. These refineries are expected to produce 48,000 barrels per day (b/d) and 52,000 b/d of renewable diesel, respectively, once they reach full production capacity. The Phillips 66 refinery will represent the world's largest facility of its kind once the conversion is completed. According to EIA, the estimated U.S. production capacity for renewable diesel was about 38,000 b/d in 2020 and is forecast to reach 330,000 b/d by 2024.

Exxon Mobil Corp and Chevron Corp, two U.S. oil majors, are looking into converting their existing facilities without significantly increasing capital spending. Exxon said that it will repurpose its existing refineries to produce biofuels, and it aims to produce more than 40,000 b/d of low-emission fuels by 2025. Chevron is looking into how to co-process biofuel feedstocks in its fluid catalytic crackers – gasoline-producing units that are generally the largest component of refining facilities. The company is partnering with the EPA and California Air Resources Board to develop a plan to start producing fuel that would qualify for emissions credits by the end of 2021. According to the California Energy Commission, that product is not yet commercially available but could reduce carbon dioxide emissions by 61% to 83%, depending on which feedstock is used.

EIA expects that biomass-based diesel consumption will continue to grow over the next two years amid increasing RIN prices and expected higher RFS targets. Biodiesel and renewable diesel consumption is expected to average 153,000 b/d in 2021 and 176,000 b/d in 2022, up from 136,000 b/d in 2019 and 140,000 b/d last year.

Anja Ristanovic is a Financial Analyst at risk management consultancy Hedge Solutions. She can be reached at 800-709-2949.

The information provided in this market update is general market commentary provided solely for educational and informational purposes. The information was obtained from sources believed to be reliable, but we do not guarantee its accuracy. No statement within the update should be construed as a recommendation, solicitation or offer to buy or sell any futures or options on futures or to otherwise provide investment advice. Any use of the information provided in this update is at your own risk.
Related Posts
Posted on January 25, 2022
Join Our Email List For Updates!
Enter your email to receive important news and article updates.