All
Hudson Valley Oil & Energy Council 26th Annual Person of the Year Dinner Dance Date a Huge Success

FOR IMMEDIATE RELEASE
OCTOBER, 26, 2015
Hudson Valley Oil & Energy Council
26
th

 Annual Person of the Year Dinner Dance Date a Huge Success

The Hudson Valley Oil & Energy Council's 26th Annual Dinner Dance held this past Saturday was a huge success.  The event, which honored former HVOEC president Joe D'Aprile, was easily one of the biggest nights in HVOEC history.  HVOEC would like to thank everyone involved and invite the public to visit the 26th Annual Dinner Dance Highlights web page to see photos from the event, as well as view and download your free digital copy of this year's Souvenir Journal.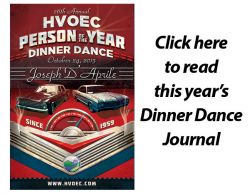 HVOEC would, once again, like to express its appreciation to its sponsors, without whom this event would not be possible. They would like to thank the VIP sponsors, RE Michel Company, Inc., Star Gas, and Bold Gold Media Group; the event photography sponsor, Panco Petroleum; the cocktail hour sponsor, Charlie's Garage;the hors d'oeuvres sponsor, Main Care Energy; the dessert sponsor, Buckeye Energy Services LLC; the centerpiece sponsor, Vaz-Co Reclaiming Service; the coffee mug sponsor, Sweeney Rogers Geraghty, Inc.; the banner sponsors,  Warm Thoughts Communications, Sclafani Oil and Propane, and Consumer Focus; and the thank you card sponsor, Chili Gas; for their support.
HVOEC would also like to take this opportunity to thank everyone who placed ads in the Souvenir Journal. (To download your digital copy, visit the 26th Annual Dinner Dance Highlights web page.)  They would also like to especially thank Anthony's Pier 9 and PriMedia, Inc. for helping to make the evening unforgettable.
Lastly, once again HVOEC wishes to thank and congratulate the night's honoree, Joseph D'Aprile and his selected charity, the West Hurley Public Library.
If you'd like to relive the night's events, please visit the 26th Annual Dinner Dance Highlights web page,where you'll find photos, this year's digital Souvenir Journal, and much more. And thanks again for making the HVOEC 26th Anniversary Dinner Dance a success.
Related Posts
Posted on December 13, 2021
Posted on December 10, 2021
Posted on October 22, 2021
Posted on October 16, 2021
Join Our Email List For Updates!
Enter your email to receive important news and article updates.