All
How Vaccine Rollouts Could Affect the Oil Market
by Anja Ristanovic, Hedge Solutions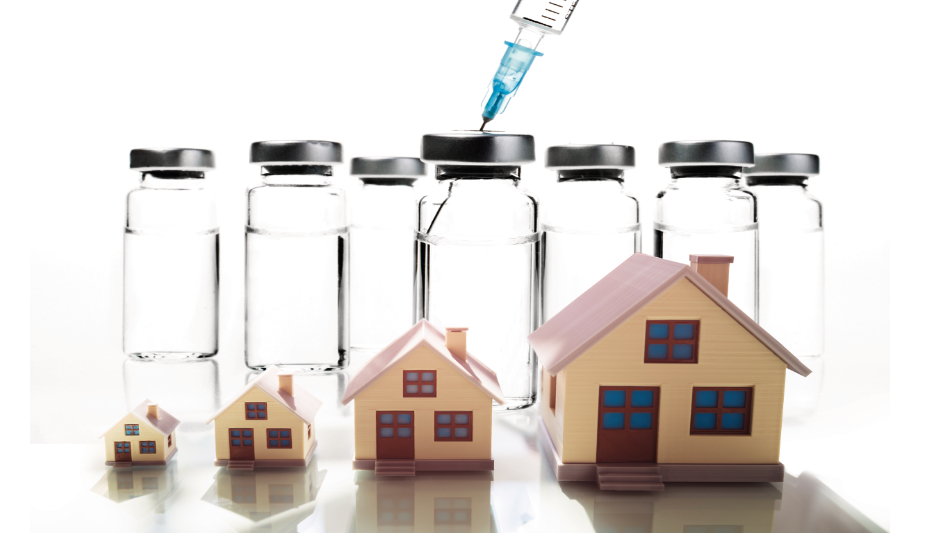 As with the global economic recovery, everything hinges on the next few months
The past 12 months have revolved around the COVID-19 pandemic, which continues to evolve. Reduced economic activity has had an impact on the energy market, particularly on demand for gasoline, as travel has slowed down significantly. With the start of vaccinations and some stabilization in the number of new infections, I thought we could take a look at current market conditions and how the rollout of vaccines could affect the oil market.

WTI and Brent crude oil spot prices were both trading near $60 per barrel as of this writing (in mid-February), recovering from lows both hit at the beginning of the pandemic last year. In early February, the Organization of the Petroleum Exporting Countries (OPEC) released its monthly report in which it forecasted that global oil demand would rise by 5.79 million barrels per day (mb/d) to 96.05mb/d in 2021. OPEC cut its growth demand forecast by 0.1mb/d compared to its January monthly report. It is estimated that global oil demand averaged 90.3mb/d in 2020. The U.S. Energy Information Administration (EIA) has shown similar estimates when it comes to global demand figures. EIA forecasts that global oil consumption will average 97.7mb/d in 2021, up by 5.4mb/d compared to 2020. In its February report, OPEC estimates that global oil supply averaged 67.8mb/d in 2020 (62.7mb/d for non-OPEC countries and 5.1mb/d for OPEC countries). The group expects non-OPEC production to increase by 0.7mb/d to 63.4mb/d in 2021 and OPEC countries to raise supply by 0.1mb/d to 5.2mb/d.

When it comes to supply and demand figures in the U.S., EIA sees U.S. oil production averaging 11.0mb/d this year, down 0.3mb/d from 2020, noting that production will continue to decline until June, when it is expected to reach 10.9mb/d, before production starts picking back up again in the second half of the year. The agency also forecasted that U.S. petroleum and other liquid fuels consumption would rise by 1.35mb/d to 19.43mb/d in 2021.

U.S. gasoline consumption has declined by more than any other petroleum product due to a decrease in travel. The EIA forecasts that U.S. gasoline demand will average 8.6mb/d this year, up from 8.0mb/d in 2020, but still well below the 9.3mb/d seen in 2019. According to the EIA, U.S. regular gasoline retail prices averaged $2.33 per gallon (gal) in January 2021, recovering from a December 2020 average of $2.20/gal but still significantly lower than the $2.55/gal price from January 2020. Diesel fuel prices averaged $2.44/gal this January, down from $3.05/gal in January 2020, but 10 cents higher than the December 2020 average price.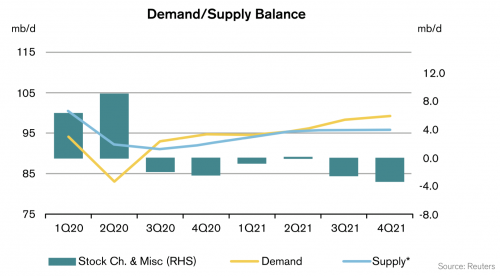 COVID-19 vaccinations began in December 2020 and are still underway with about 50 million people vaccinated in the U.S. as of this writing. There were some issues with vaccines not being distributed fast enough at the beginning of the year, but distribution numbers seem to be improving. Moderna Inc. expects to have up to one billion doses available globally this year, while Pfizer is planning on producing two billion doses. If the rollout continues at the same or a faster pace and more people get vaccinated against the coronavirus, the positive impact on the travel industry will be significant. The airline industry has been particularly hit by this pandemic and consequently demand for jet fuel has dropped.

With optimism over vaccines, the number of travelers is expected to rise along with the demand for gasoline and, especially, jet fuel. As demand goes up, gasoline prices are likely to rise, all else equal. EIA forecasts that average U.S. gasoline retail prices will rise to $2.44/gal this year and U.S. diesel fuel prices will average $2.77/gal. The same week that the news about a COVID-19 vaccine hit — the week of November 9, 2020 — flight search website Skyscanner reported a 9 percent jump in U.S. bookings for economy round-trip flights, compared to the prior week. On November 10, another travel website, Kayak, reported a 27 percent increase in weekly flight searches from the U.S.

However, if the distribution of vaccines stalls and additional coronavirus strains slow down the economy, the current trend showing the rise in oil demand and prices could be reversed. The Paris-based International Energy Agency stated in its December monthly report that it will take several months before "we reach a critical mass of vaccinated, economically active people and thus see an impact on oil demand." The agency also said that the rebalancing of the market and oil demand growth are highly dependent on progress in distributing and administering vaccines, as well as the easing of travel restrictions.

The COVID-19 pandemic continues to be the number-one concern for the global economy and the oil market, but the current numbers show a positive trend in global oil demand growth and oil prices. Even though oil prices have recovered, it will likely take months for oil demand to reach its pre-pandemic level.

Anja Ristanovich is a Financial Analyst at risk management consultancy Hedge Solutions. She can be reached at 800-709-2949.

The information provided in this market update is general market commentary provided solely for educational and informational purposes. The information was obtained from sources believed to be reliable, but we do not guarantee its accuracy. No statement within the update should be construed as a recommendation, solicitation or offer to buy or sell any futures or options on futures or to otherwise provide investment advice. Any use of the information provided in this update is at your own risk.
Related Posts
Join Our Email List For Updates!
Enter your email to receive important news and article updates.