All
How to Keep Customer Tanks "In-Network"
by Rich Morahan, Richard Morahan Associates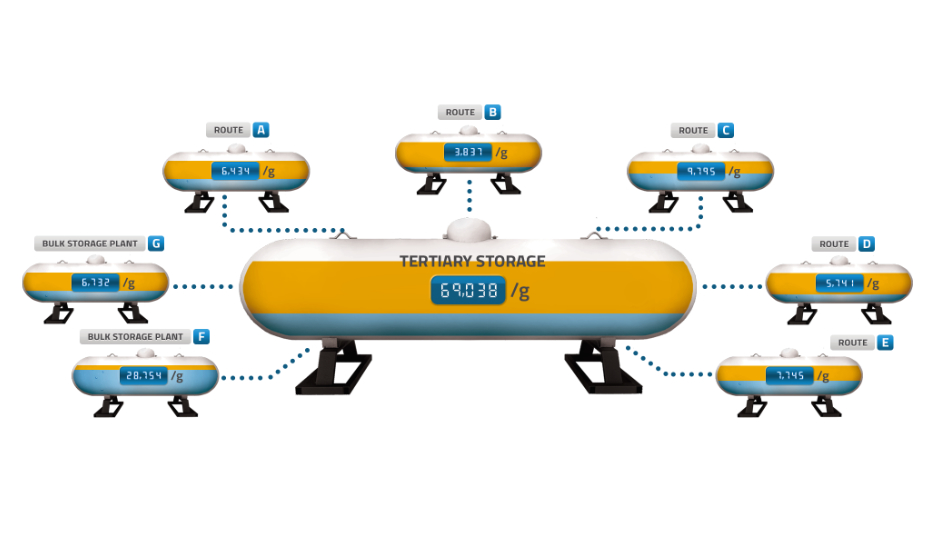 Managing propane distribution for efficiency and profit
You can't control the price of propane. You can control the price to you by timing and sizing your purchase, and you can optimize your purchasing and stockpiling by monitoring actual and projected customer usage. There are many formulas for that, but it's pretty hard to project the timing and amount of deliveries.

One way to lessen the uncertainty is with auto-fill contracts. One way to fine-tune the process is with a network of remote tank monitoring systems. Knowing the level of all your customers' tanks allows you to optimize delivery frequency and volume and maintain inventory. Meanwhile, your customers are assured of a seamless fuel supply. Everybody wins!

But what about when a customer breaks that network by bypassing his meter and shopping around for one of your competitors to fill his tank? Then the customer can keep winning while you lose.

To maintain your network, you need to control what goes in the tank. Propane tank locks such as Lock America's Fill Valve Lock and POLock can ensure that only your product goes in the tank by allowing access to only the authorized supplier. This way, you don't lose revenue and then doubly lose it by having a competitor ring up the sale.


Distributed Storage Networks
Tank monitor systems are a powerful management tool. Working with actual monitored usage instead of degree day formulas can create a marketing edge. There are a number of tank monitoring systems to choose from. They offer a range of communication options to send information over cellular and satellite networks to a centralized database. Alerts can be set to notify the marketer of low tank levels and excessive usage.

At least three companies — Cavagna, InSite, and Otodata — provide features that go beyond merely monitoring fuel levels. Cavagna markets an actual meter, and Otodata markets a monitor that enables budget billing. InSite's Sky Trackerô integrates the metering and billing functions. By consolidating inventory management and consumption billing, Sky Tracker enables a propane supplier to take advantage of the best pricing and volume discounts from its wholesale supplier and distribute the inventory in customer tanks to bill as it's used.

With a distributed storage network, a propane supplier can spread out inventory over all its tanks, providing maximum flexibility in uncertain markets. Purchase choices are no longer limited by onsite storage capacity, so the size of the supplier's purchase could be nearly double what it would be under a conventional storage arrangement. Thus, the supplier gets the price advantage of a larger quantity and greater flexibility in timing fuel purchases. "By keeping field tanks topped off during warmer weather, you'll be able to proactively keep your customers from running low on fuel during peak winter usage," adds Brian Humphrey, CEO of InSite.


Secure Your Inventory and Protect Against Tampering
While monitor devices and software enable suppliers to optimize their delivery trips and keep track of unusual usage, you can only rely on these if it's only your fuel in a customer's tank. A tank lock such as Lock America's provides the complementary hardware to tie up the monitor and the network.

A steel and brass outlet valve lock not only discourages tampering; the lock renders it virtually impossible. If a supplier is ready to move to metered billing for its customers, a secure locking system keeps customers fully locked in the supplier's network. You provide your customer with responsive service at an agreed upon price, and you're assured that only your product hits that customer's tank.

A secure locking system can prove essential for protecting a distribution network. It does so by closing the loop of a supplier's delivery, storage, data management and billing systems. Minimum requirements for a secure tank lock program may include all metal construction, weather-resistant seal and keyway, and a secure key management system with thousands of key combinations and a unique code for each company.


Fitting Your Company's Needs
As the propane market remains volatile and uncertain, making the right choice of software to manage information and distribute product can provide the marketing edge every operator seeks. Just as data management is now crucial to the propane industry, it remains equally crucial to control whose propane goes in a customer's tank. Frank Minnella, CEO of Lock America, says tank locks provide an extra level of security for propane data management systems.

In an environment where fuel suppliers have little control over prices, effective information and distribution management control systems can create a powerful competitive advantage. Likewise, tank monitors and security locks can help to, respectively, attract and retain retail customers. The future may be uncertain, but it most certainly belongs to those companies that take advantage of technology to control supply, costs and operations.

Rich Morahan writes frequently on security for the ATM, self-storage, petroleum, propane and vending industries. He can be contacted at 617-240-0372 or rmwriteg@gmail.com.
Related Posts
Posted on October 17, 2022
Join Our Email List For Updates!
Enter your email to receive important news and article updates.