All
How Data Saved the Day
by Regina Balistreri, ADD Systems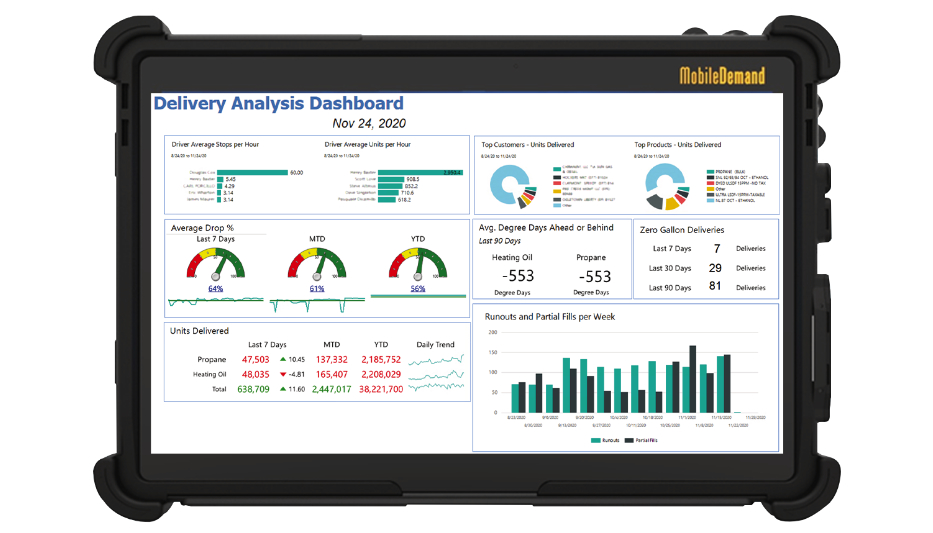 Fuel marketers use data management to better meet and predict customers' fluctuating demands
What are you doing with the data you have? Well, it's likely you could do more.

In everyday business functions, data is collected — a lot of it. Data about deliveries, service, equipment, credit and much more. Of course, that data helps businesses run their daily operations, but that's not all it could be doing. Last year raised the bar for marketers, and remaining competitive now means managing resources as efficiently as possible and delivering the most exceptional customer service. Better data management is key.

Back-office software is the hub of a business's data management. When new software is first installed, the main goal is to be running live as quickly as possible. Once a company crosses that finish line, it is time to celebrate this first win, but, just as importantly, it is time to do more. Deliveries are getting made and invoices are being paid, but now the goal shifts to maximizing the software investment. It is very likely that the software has even more to offer due to the vendor's continuous research and development.

This is where data management comes into the story. Every time a delivery is entered or a service call is placed, data is captured. Now is the time to use it better. Are those deliveries being made efficiently? Are tanks sized correctly? Does the scheduling need adjusting? What does runout history look like? Using this data, companies turned their sights to developing processes to improve efficiency and customer experience.

The unexpected changes that 2020 brought to all aspects of life, not to mention a fuel delivery business, meant that it was more important than ever to use data to stay ahead of the changing landscape. With overnight changes to household activity due to stay-at-home orders, forecasting was heavily impacted. As the new deliveries were posted, new data was collected and it could be used to suggest quick adjustments to hone in on the new customer needs. Here data management success meant making quick adjustments to existing data to bring it up to date.

Data management was more than just getting a window into what was already happening. For the most successful companies, it was also about getting ahead of the curve. With customer usage in flux, CSRs proactively and efficiently reached out to scheduled customers via text and email to request their tank readings. That data entry automatically re-forecasted the delivery and improved efficiency and data integrity.

Similarly, companies could reach out to both automatic and will call customers in a planned delivery area, asking for tank readings. This helped avoid stops that would have been partial fills or zero-gallon deliveries and enabled companies to include will call requests that may have come in after the driver finished in the area. This customer communication let companies use their current data, including email and text information and preferences, to continuously improve on customer satisfaction.

Real-time reports and dashboards, through business intelligence reporting, helped in 2020 as well. Ready access to a snapshot of company activity allowed for quick, more informed decision-making. How many runouts happened this week? What is the average drop this week? What is the profitability? Having true visibility into operations through collected data meant issues could be dealt with immediately before they grew.

Let's be honest, though — things were changing so fast that it was sometimes hard to take a breath, so businesses relied heavily on automatic report subscriptions and alerts. While management was trying to develop and set policies to maintain safety, they were also getting automatic email alerts showing events that happened outside their acceptable ranges. Issues that needed attention were immediately brought to management's inboxes for a quick response. That's efficient data management.

Data management is both an ongoing responsibility and a wealth of opportunity, and this past year brought that to light like never before. Highly successful companies embraced this with a commitment to continuous improvement and an emphasis on leveraging their software capabilities to the fullest. In this new world, there's no going back, only forward, with better served customers, efficient processes and a successful, resilient business.

Regina Balistreri is Director of Marketing at energy software company ADD Systems. She can be reached at 973-584-4026 x1317 or balistreri@addsys.com.
Related Posts
Posted on February 13, 2023
Posted on February 13, 2023
Posted on December 15, 2022
Join Our Email List For Updates!
Enter your email to receive important news and article updates.