All
Helping Propane Dealers Protect Profits
by John MacKenna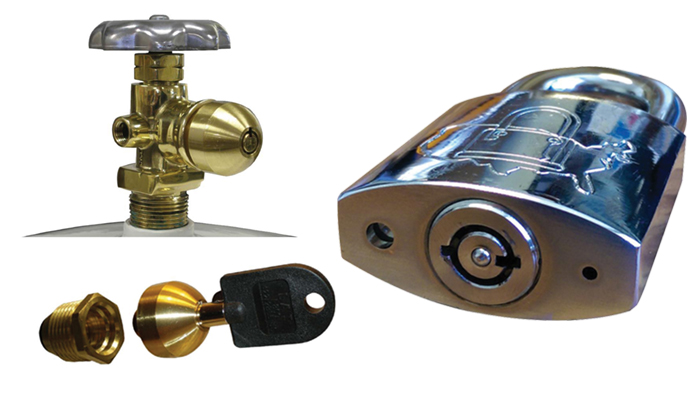 New ideas and products often emerge from vendors who are well established within a niche, but Lock America is a different kind of vendor. It is a relative newcomer to the retail fuel industry, bringing useful expertise from another business realm.
Lock America's solutions for propane marketers and gas station operators have sprung from the mind of veteran inventor and security specialist Frank Minnella. The company co-founder and CEO enjoys learning about the unique security challenges that exist in different business niches. Lock America thrives in industries where tampering is an issue and security devices can protect value. The company has done a lot of work in the vending industry to safeguard the cash and products stored in vending machines.
Minnella has received an education in propane by talking with dealers. Propane companies face a number of threats such as the theft of portable tanks, but the security issue that has had the most traction for Lock America is not actually theft of product. Rather, it is the threat of unauthorized fills.
Unique ROI Formula
The economics of propane place a premium on a company's exclusive right to fill a tank, according to Minnella. "The dealer has invested a couple of thousand dollars to buy the tank, and then they use a crane truck and a couple of service guys to install it and make a concrete pad," he said. "The dealer needs to be the only one refilling that tank in order to get the full return on that investment."
The problem that many dealers face is that customers accept the dealer's tank and then clandestinely place some of their orders with other propane companies that offer them a better price. Minnella met a propane dealer once at a trade show who said he has made a business out of filling other dealers' tanks. "He told me all about it, and he was not embarrassed," the CEO told Oil & Energy. "He never spent a dime on tanks."
Minnella has built Lock America, which is based in Corona, CA., by discovering challenges like these and applying his expertise in securing remote devices. Lock America helps propane dealers combat unauthorized fills with its Fill Valve Lock, which secures the fill valve with a hardened cover that requires a unique key to remove it. "Lock America's locks are designed to be extremely vandal resistant," the CEO noted.
"Locking the fill valve is an important issue," he said. "I cannot give you specifics, but I can tell you that we sell many more Fill Valve locks than POL locks, which block the tank's outlet valve. I have spoken to many dealers at trade shows, and one of the  statements I hear most often is that when a dealer checks how many  times he has had to fill a customer's tank, he will often find that he  filled the tank when he installed it, but then his refills are not happening as frequently as they should."
Minnella said he once sold a few thousand Fill Valve Locks to a large company that installed many of them on tanks that they suspected were receiving unauthorized fills, and the number of deliveries to those tanks increased dramatically in the first year. "The dealer realized that these customers were only buying propane from him once a year, and now he gets three deliveries on those tanks," he added.
The Fill Valve Lock also helps dealers collect more past-due receivables, because the customer has to pay up in order to get gas. The Fill Valve Lock prevents them from calling another dealer for a fill.
Tampering Increases Liability
Loss of sales is not the only potential consequence of unauthorized fills. If a dealer damages a line while poaching on another dealer's account and an accident ensues, the dealer who owns the tank is most likely to be held liable, according to the Lock America CEO.
Lock America's other propane industry product, the POLock, addresses a different set of problems, including the theft of portable tanks, which is a major issue that is often connected to underground manufacturers of methamphetamine. Meth manufacturers steal the tanks in order to fill them with anhydrous ammonia, which is used to make meth. If a tank is secured by a POLock, it is useless to a thief because it cannot be connected to anything, according to Minnella.
In addition to the tank theft problem, there is a potential liability issue when meth manufacturers use propane tanks. Anhydrous ammonia is corrosive and can damage the tank. If a dealer takes back a tank that previously has been filled with anhydrous ammonia, the tank's structure could be weakened.
Lock America also serves the gas station industry with locks that protect the credit card readers inside gasoline dispensers to prevent thieves from installing credit card skimming devices.
Related Posts
Posted on September 14, 2023
Posted on September 14, 2023
Posted on September 14, 2023
Posted on September 14, 2023
Join Our Email List For Updates!
Enter your email to receive important news and article updates.