All
Heating Fuel Industry Aids in Coronavirus Relief
by Samuel Diamond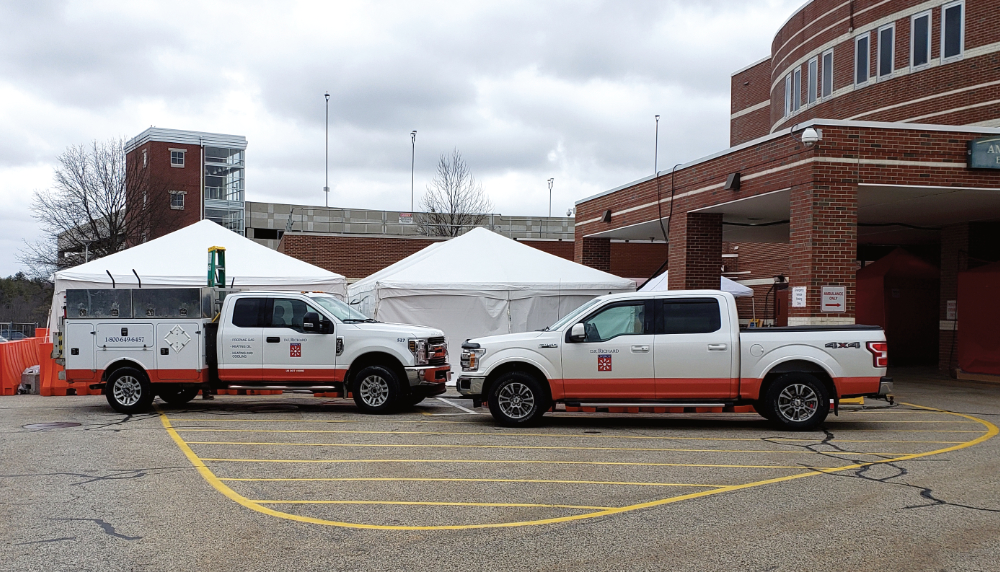 Dealers, wholesalers, manufacturers, vendors and associations all step up in time of crisis
It's a cliché because it's true: in times of crisis, there are those who run from danger and those who run toward it. The heating fuel industry doesn't find itself in the latter category just because we offer essential services. The heating fuel industry eagerly inserts itself into the latter category because helping and protecting others is as much a part of who we are as it is what we do every day.

By now, there can be no doubt that the coronavirus has presented unprecedented challenges. The pandemic and subsequent economic crisis have dramatically altered our lives and are likely to do so for months to come, if not forever. Tens of thousands have died. Millions of workers are now furloughed or unemployed. Who knows how many businesses have shuttered temporarily or permanently?

It's virtually impossible to fathom or overstate the impacts of the crisis; beyond those physical and financial, the coronavirus has also illuminated certain intangible truths. It has shown that the heating fuel industry and the workers who comprise it are not simply essential — that they embody the sensibility, neighborliness and self-sacrifice this historic moment demands. In this era of social distancing, our industry lives up to society's greatest aspirations.   

These are the stories of just a few of the countless dealers, wholesalers, manufacturers, vendors and associations that have stepped up during the coronavirus crisis. There are too many similar stories to ever tell them all, and that is part of the larger point. We are truly in this together.


***

The coronavirus has strained health care systems everywhere the pandemic spreads, perhaps most noticeably in downstate New York. Here, hospitals and health facilities were pushed far beyond their capacity in terms of available equipment, staff and beds. The Jacob Javits Center and USNS Comfort helped accommodate bed overflow in New York City, but additional patient beds were needed out east on Long Island as well.

Helping to meet this need, the Army Corps of Engineers built temporary field hospitals at Stony Brook University and SUNY Old Westbury. The field hospital at Stony Brook is a 1,000+-bed facility consisting of five climate-controlled tents with multiple layers of insulation. The medical space stretches across 255,676 square feet of the Stony Brook campus.

With the facility still under construction, a heating oil truck from Bayridge, Brooklyn was on hand to deliver Bioheat® fuel for the worksite. "Approved Oil is proud to serve the temporary hospital at Stony Brook University in Long Island, which is being built to relieve hospitals overwhelmed by the COVID-19 outbreak," read a message posted to the company's website in April. "We are honored to help support the effort of the U.S. Army Corps of Engineers, who are setting up these facilities."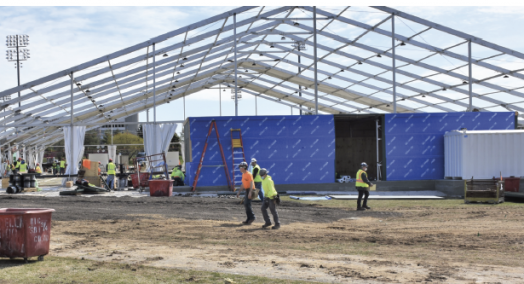 ***

While New York's hospitalization "curve" (the charted rate of new cases) plateaued in April, Boston area hospitals still faced an increasing influx of COVID-19-positive patients. As in New York, the virus proved especially devastating to working-class communities just outside the city, like Chelsea, Massachusetts. A captain in the Chelsea Fire Department, Broco Oil CEO and co-owner Bob Brown witnessed the devastation firsthand.   

"As a Navy Seabee veteran, active fire captain and longtime essential service provider, I'm no stranger to national emergencies," Bob said. "However, like just about everyone in New England, I've never encountered anything quite like the COVID-19 crisis. At Broco Oil, we see that as all the more reason for us to step up and work with our customers, communities and first responders in any way we can. We are all in this together, so the more we can do to help our neighbors overcome this crisis, the better off we will all be."  

Photos on the Broco Oil Facebook page showed the company delivering fuel to the VA Hospital in Brockton, MA, and providing standby power for another hospital in Connecticut. The company, based in Haverhill, MA, also offered a "Hero Discount" of $.50/gallon off Bioheat fuel deliveries to the homes of first responders and health care workers through the month of April.

"It's important we remember that this affects more than just the sick and the first responders themselves," said Broco Oil CFO and co-owner Angela Brown. "Just as doctors, nurses, firefighters, police and EMTs put their own health and safety on the line to protect others, so do their family and loved ones. That's part of the reason why Broco Oil has decided to go beyond offering emergency fuel and services as we would in any crisis. Our 50-cent-per-gallon 'Hero Discount' will go a long way toward helping first responders' family members stay warm and safe while stuck inside this April."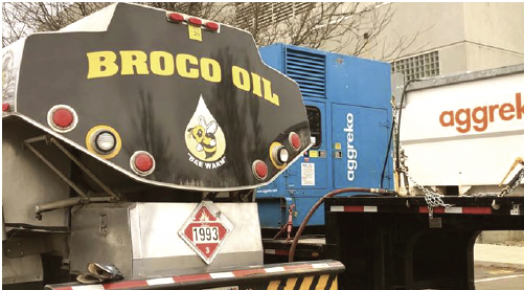 ***

In addition to delivering fuel to health care facilities and first responders' homes, some dealers provided direct relief by donating money and food. Skaggs-Walsh, of College Point, NY, turned its e-billing campaign into a kind of online donation drive, providing a complimentary $20 meal donation to local first responders for each of the first 200 customer sign-ups. Skaggs-Walsh also sent another email to customers, notifying them of the company's ongoing efforts to give back to the community and encouraging them to do the same by donating to the Food Bank For New York City or Long Island Cares.

"We are lucky enough to have been able to keep all of our employees on payroll," said Allison Heaney, owner and president of Skaggs-Walsh. "We felt so fortunate, we thought it was only right for us to do more to give back to first responders and health care workers. That's why we began donating meals to local nursing homes, hospitals, police precincts and firehouses."

The initiative resulted in 660 meal donations in the first week alone. By week two, that number was up to 1,180 and still climbing.

Skaggs-Walsh sourced the meals to local restaurants in order to help support these struggling small businesses. "Amazingly, one of these restaurants, Mama Soup in Mineola, is donating 100 percent of the proceeds to another charity, so the initiative is really paying it forward," Heaney said. "We also used my favorite local pizza parlor for donations to nursing homes and hospitals in the Glen Cove area, and when the pizzeria heard that's where the food was going, they applied a 15 percent discount. The gratitude chain is truly inspiring."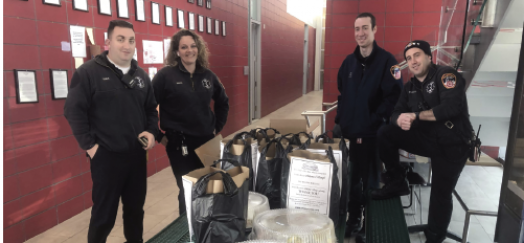 ***
Also in New York, the National Biodiesel Foundation (NBF) and National Biodiesel Board teamed up with the New York City Fire Department (FDNY) to bring in money for meals to feed first responders. The funds went directly to New York restaurants, and the meals to FDNY's Emergency Medical Services stations, where they helped feed emergency response dispatchers and other critical personnel.

"NBF Executive Director, Tom Verry is working with FDNY's Incident Management Team personnel to provide meals where needed and in a timely fashion," explained an article on the NBF website. "The Department organizes the order and delivery for all the meals directly to personnel... While we wish we could do more to help, Lt. Fitch reports that these hot local meals have been a significant morale boost to the men and women who have received them to-date."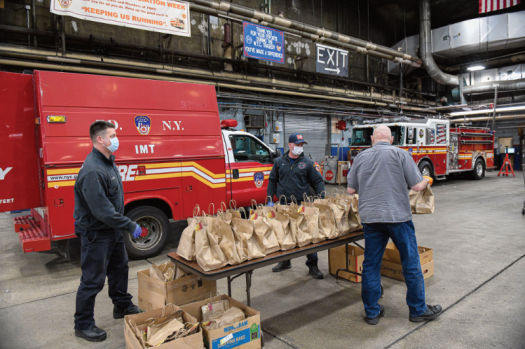 ***

The heating fuel industry also went beyond donating food, in actually helping to protect food supply lines. BioheatÆ fuel and propane supplier D.F. Richard Energy provided propane for tent heaters outside the Shaw's Supermarkets Distribution Facility in Wells, Maine.

"Everyone who enters the facility undergoes a health screening before entry," explained Ryan Jackson, chief operating officer at D.F. Richard Energy. "The screening tents are set up outside, and we provide propane so the health screening workers can stay warm throughout the day."

D.F. Richard Energy was also keeping health care workers warm in the tents outside Wentworth-Douglass Hospital, just one mile northwest of D.F. Richard headquarters in Dover, New Hampshire.

Elsewhere in Dover, D.F. Richard donated propane to provide hot water for some of the city's most at-risk residents, the homeless. "The Community Action Partnership of Strafford County worked with the city to set up a trailer with three shower bays," Jackson said. "We donated propane to run the water heater. This serves about 30 people who use the units at designated times."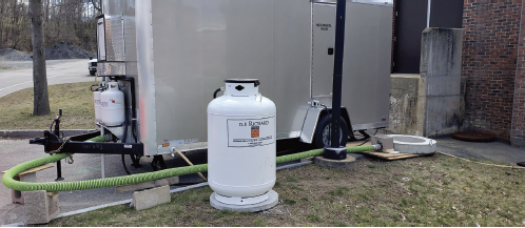 ***

Propane also powered relief efforts in Vermont, where Bourne's Energy and Proctor Gas donated fuel for tent heaters at outdoor testing sites. In Rhode Island, Newport Propane set and filled tanks for the National Guard's drive-through testing sites.

Propane Gas Association of New England President & CEO Leslie Anderson relayed stories of PGANE members' efforts to accommodate customers' lifestyle changes. "We had a big push in the first two weeks of April, with a lot of people leaving the metropolitan areas to hunker down at their second homes," she said. "Our members did a great job coordinating with caretakers so they could get into those vacation homes earlier and perform the required pressure tests before the customers arrived, thereby avoiding unnecessary in-person interactions and ensuring everyone's safety.

"Members have also been closely monitoring customers' gallon usage, as it's higher than normal for April. Customers under stay-at-home orders are using more propane for cooking and heating than usual. Likewise, in the southern parts of New England, we're seeing more pool heater gallons. Thankfully, our members know their customer base really well, so they're able to reach out and plan ahead accordingly. They're also working with customers who've been laid off or otherwise affected and figuring out payment plans to help them during this critical time."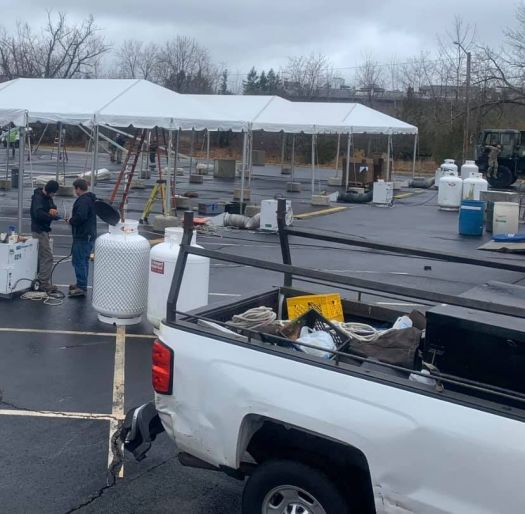 ***
Of course, it wasn't only fuel dealers, wholesalers and their associations going above and beyond the call of duty. Several vendors that support the industry, such as American Business Forms & Envelopes, began offering facemasks and other needed supplies to help mitigate shortages.

In response to dealers' demands for cleaning products, Fuel Management Services — makers of the UltraGuard™ Heating Oil Treatment — began selling hand sanitizer and multi-purpose cleaner. These products, unlikely to be found in supermarkets, were made available through Fuel Management Services in 55-gallon drums, five-gallon pails and individual spray bottles.

Further up the supply chain, several original equipment manufacturers were pitching in as well. Known in the HVAC industry for producing boilers and heat pumps among other products, global manufacturing company Bosch developed a fully automated "rapid test" for COVID-19. Meanwhile, commercial vehicle manufacturer Daimler used 3D printers to produce plastic face shields.

***

As stated earlier, these are just a few of many stories illustrating how the heating fuel industry and its partners have stepped up during the coronavirus crisis. With that in mind, Oil & Energy would like to encourage readers to contact our publishers at NEFI (617-924-1000) and PriMedia (516-222-2041) as well as the state and local heating fuel associations. These industry stakeholders stand ready to provide needed assistance during times of crisis and can help our readers share their stories with a growing, captive audience.
Related Posts
Posted on August 11, 2023
Posted on August 10, 2023
Posted on August 10, 2023
Posted on August 10, 2023
Join Our Email List For Updates!
Enter your email to receive important news and article updates.