All
The HEAT Is On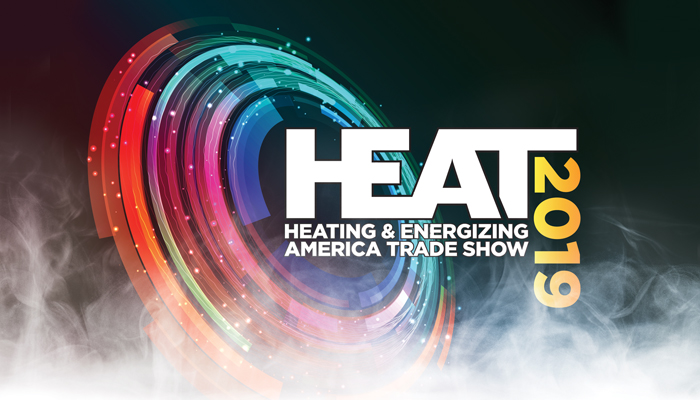 The schedule is set. The keynote speaker is booked. Postcard invites are in the mail. Signage is in production. What exhibitor spaces, sponsorship spots, and hotel room blocks still remain are filling up fast. The list of pre-registered attendees looks promising, with association leaders, business executives, managers, service technicians, delivery drivers and students of the trades all represented.

As show-time drew near, Oil & Energy met with the organizers of the 2019 Heating & Energizing America Trade (HEAT) Show at the Rhode Island Convention Center in Providence, RI, for a tour of the hosting venue and discussion of the many exciting programs and sessions scheduled for September 15-18.

The following is but a brief summary of what the event has to offer. For more information on the 2019 HEAT Show, and to pre-register, visit HEATShow.com. Please note: discounted pre-registration is available until September 10, with full-priced registration available September 11-18. As of press time, there were 59 exhibitor booths available (of 169), and sponsorship requests were still being fielded. For additional information on exhibiting and sponsorships, contact NEFI Events Coordinator Jessica Levaggi at 617-804-2222 or events@nefi.com.


Industry Summit: Responding to the Climate Agenda
One of the main draws for the 2019 HEAT Show — at least for those attendees active in heating and energy trade associations — has to be the Industry Summit, "Responding to the Climate Agenda," taking place September 16, 2019.

Longtime readers and tradespeople will recall the last Industry Summit was held almost exactly 10 years ago, on September 15, 2009 in Baltimore, Maryland. At that event, heating oil industry leaders, associations, and stakeholders — facing aggressive market competition from the natural gas utilities and cap-and-trade proposals from Washington, DC — made the commitment to transition from traditional oilheat to an ultra-low sulfur product blended with renewable biofuels. Ten years later, that blended product, commonly known as Bioheat® fuel, is in widespread use throughout the Northeast U.S. Meanwhile, market incursion from natural gas, though still a concern, has been largely limited by the environmental and economic benefits of Bioheat® fuel, as well as the efforts of heating fuel dealers and industry associations to educate consumers about their choices in fuel and heating equipment.

However, new threats to the liquid heating fuel industry have emerged, which NEFI President & CEO Sean Cota and Chairman of the Board Peter Aziz detailed in a recent letter to state and local industry association executives and board members (see page 3). "Given the political stalemate in Washington, climate activists are turning their attention to the state and local level," the letter read. "They are calling for economy-wide reductions in carbon emissions of 50% by 2030 and 80% by 2050. Their 'silver bullet' proposition is complete electrification of all passenger vehicles and homes, fueled by 100% renewable power from hydro, wind and solar. Under their plan, all homes in the Northeast will utilize government-subsidized heat pumps by the end of the next decade.

"We are once again called to action to preserve and defend the many Main Street businesses that our associations call 'members,' the thousands of people they employ, and the millions of customers they serve," the letter continued. "Our industry must come together. As America's Founders famously said, we must 'unite or die.'"

With this stated, Cota and Aziz invited state and local association leaders and board members to attend a new Industry Summit, "Responding to the Climate Agenda," being held Monday, September 16, 2019 at the Rhode Island Convention Center. This event, a centerpiece of the inaugural HEAT Show, will follow a number of association meetings, education sessions, and the conference's keynote presentation, all building toward an industry consensus that will help ensure Main Street America's renewable liquid heating fuel business is recognized as an instrumental part of tomorrow's clean-energy economy.

The specific goal of the Industry Summit is to outline a pathway for the liquid heating fuel industry to achieve 50% carbon emissions reductions by 2030 and a net-zero carbon fuel by 2050. Attaining these targets, a goal originally outlined in the NEFI Resolution, "Renewing Our Commitment to Renewable Liquid Heating Fuels," would not only allow retailers to continue to compete for decades to come, but would also actually increase our market share as renewable liquid fuels can reach emissions reductions targets faster than natural gas, as well as hydro-, wind- and solar-powered electricity.

To reflect this ambitious goal and bring the industry's attention to the critical crossroads at which it now stands, HEAT Show organizers chose for the event the tagline, "The Road to Net-Zero Carbon Starts Here™." The message has since been applied to printed postcards, flyers, advertisements, email blasts and other event promotions.


Next Gen Leaders: Welcome to the Future
Heating fuel has always been a family business, with mom and pop passing hard-learned lessons of industry down to sons and daughters. These days, however, it's clear that the next generation has just as much to teach the older folks. As our industry starts on the road to a net-zero carbon future, the tools of tomorrow are driving progress like never before, impacting every aspect of the family business from technology to finance and management. At the same time, a solid grounding in heating fuel industry fundamentals remains as essential as ever.

With this in mind, HEAT Show organizers decided to dedicate a day of the event's programming to exchanging ideas with the next generation of industry leaders. The Next Gen Leaders Program, being held Sunday, September 15 from 1:00 to 4:45 p.m., will bring together the heating fuel industry's young influencers and future executives for a series of seven hyper-focused and results-driven educational experiences in two tracks. Attendees can choose to divide their time however they like between the two, as Management level registration includes the complete Next Gen Leaders Program.

The Next Gen Financial Track begins with a class on "Understanding Profits & Losses, Cash Flow and Balance Sheets," then heads into a session about "Industry Metrics and Statistics," before closing with a crash-course on "Family Business Valuation." Running simultaneously, the Next Gen Business & Technology Track opens with a class on "Risk Culture for the Next Generation," then covers "Growing Up in a Family Business," and closes with a course on "Hedging Basics."

After the last session of each track ends at 3:45 p.m., all Next Gen Leaders Program attendees and presenters will join with HEAT Show organizers for a 45-minute general session beginning at 4:00 p.m. titled "Planning Your Future – What's Important to You?" Here, Next Gen Leaders will have opportunities to engage their colleagues and educate the "old guard" of current industry leaders. This should not only inspire spirited discussions and cross-segment collaborations, but also help HEAT Show organizers plan future Next Gen programming.
 
The lessons of the day will also tie in closely with the upcoming NEFI Management Development Program, a self-paced course offered online and locally in partnership with Quinnipiac University Corporate Training beginning in October 2019. A preview of this program, as well as a teaser of next year's NEFI Energy Leaders Program at Dartmouth College, will be offered at the HEAT Show as well. More information on each Next Gen Leaders session, along with the rest of the 48 educational sessions scheduled for the event, can be found at HEATshow.com/about/schedule-overview.

The Next Gen Leaders program is open to all industry participants but especially recommended for new owners, young or future executives, children of current owners, and business managers. To sign-up, attendees should pre-register for the Management Track at HEATshow.com/attendees. This registration includes access to virtually all HEAT Show programming — not just the Next Gen Leaders sessions, but also all management sessions being held September 16-17 and technical sessions being held September 17-18, as well as all Women in Energy sessions, trade show access, and a reservation for the keynote luncheon (details below).


Our Keynote Speaker: Geoffrey G. Parker
Monday, September 16: The heating fuel industry is at a fork in the road. One road leads to a shrinking market share. The other leads to new opportunities for the current and future generations of our family businesses … but it's a hard road to take. To get there, we need not only sustainable products but also inside knowledge of the economic future that is already in play. Our keynote speaker for the 2019 HEAT Show, Geoffrey G. Parker, is a man with exactly that insight. Parker will break down the concepts you need to grasp for your business to exist in the coming postnatural-gas, zero-carbon energy market. Before becoming a professor at the Tuck School of Business and Thayer School of Engineering at Dartmouth College, Parker grew up in oil country, Louisiana. He is a co-author of Platform Revolution (2016) and Operations Management for Dummies (2013), whose research interests include supply chain strategy and energy market structure. More importantly, Parker is an engaging speaker who knows our industry's language. Having thrilled heating fuel execs during the NEFI Energy Leaders Program at Dartmouth College last spring, Parker's keynote will focus on the transition to renewable liquid heating fuels while touching on several topics in the works for next year's program. Keynote attendees will come away inspired to help take their business — and our industry — to the next level.
Please note: the keynote luncheon is included with the full conference registration, but is also available for a small additional fee for tradeshow only attendees, exhibitors and service track attendees. Simply check the box marked "Monday Keynote Lunch" during pre-registration.
NEFI Legends: Honoring Family Businesses
A beloved tradition, the NEFI Legends Awards Dinner & Reception returns at the 2019 HEAT Show. This awards gala, last held during the 2017 NEFI Expo, provides our industry an opportunity to honor its own, as NEFI presents longtime members and supporters with the coveted Legends Award in acknowledgement of their remarkable careers and indelible legacies.

As family businesses remain the backbone of Main Street America's fuel delivery trade, this year's Legends Awards will be presented to some of those families that have served their communities and our industry for multiple generations. If the 2019 HEAT Show is about unity and our shared future, this fits that theme perfectly.

The full slate of 2019 Legends Awards honorees will be unveiled at HEATShow.com/legends-dinner shortly before the event and listed on a commemorative page of our September issue, which will be distributed at the 2019 HEAT Show. Sure to be an emotional and inspirational evening, the Legends Dinner & Reception will be held in the luxurious ballroom atop the Graduate Providence Hotel on Tuesday, September 17 from 6:00 to 9:00 p.m. Tickets are available for an additional fee with any HEAT Show registration.
    
Getting There, Setting Up & All the Rest
It was obvious from Oil & Energy's tour of the Rhode Island Convention Center that the venue is well equipped to accommodate the HEAT Show and all of its attendees, exhibitors and sponsors. With four days of programming planned, including 48 education sessions, there is now a wealth of information about the event available online. Anyone with specific questions about the show is encouraged to explore the FAQ section in the ABOUT drop-down at HEATShow.com. Below is some additional information that might be helpful.

The Rhode Island Convention Center is located at 1 Sabin Street in Providence, RI. As of press time, discounted hotel room blocks are currently available at the Graduate Providence, Hilton Providence, Providence Courtyard By Marriott, and Homewood Suites By Hilton, all within walking distance of the convention center. Room discounts are available until August 16. For discount codes, go to HEATshow.com/hotels. Truck move-in times are from 9:00 a.m. to 11:00 a.m. on Sunday, September 15. Exhibitor booth assembly and set-up can be done anytime from 9:00 a.m. to 4:45 p.m. on Sunday or from 8:00 a.m. to 6:00 p.m. on Monday, September 16. A registration desk will be open all day through all four days of the show, starting at 9:00 a.m. on Sunday, at 8:00 a.m. on Monday and Tuesday, and at 7:30 a.m. on Wednesday.

As a reminder, discounted pre-registration is available online through September 10 at HEATshow.com/attendees. Full-priced registration is available online September 11-18 and onsite September 15-18. For more information, please visit HEATshow.com, email events@nefi.com or call 617-804-2222. On behalf of the entire HEAT Show team, we look forward to seeing you there!
Related Posts
Join Our Email List For Updates!
Enter your email to receive important news and article updates.