All
Getting Smarter about Propane Logistics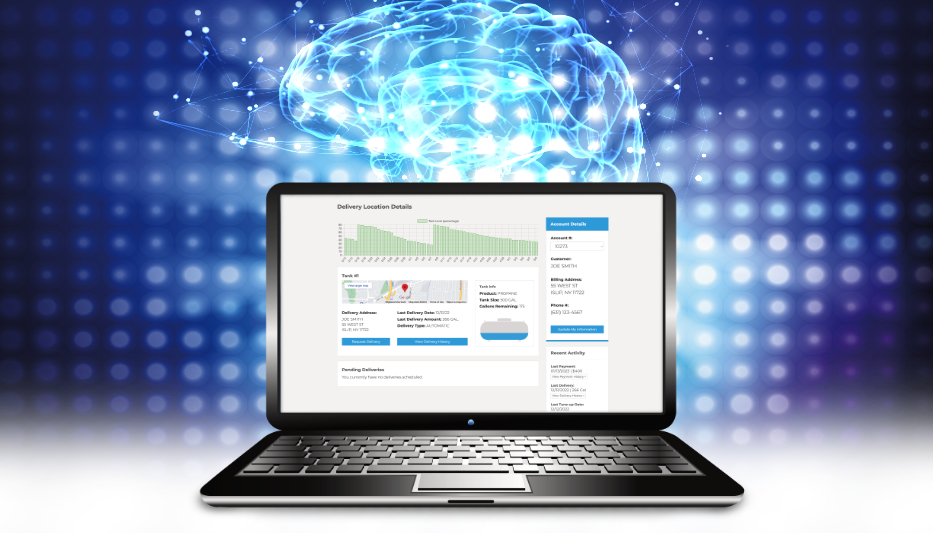 Using technology to reduce errors and increase profits
Look up the definition of the word 'logistics,' and Merriam-Webster provides a simplistic "the handling of the details of an operation." The Cambridge Dictionary responds with "the careful organization of a complicated activity so that it happens in a successful and effective way." Getting a bit more into the weeds, one business site defines logistics as "the process of planning and executing the efficient transportation and storage of goods from the point of origin to the point of consumption. The goal of logistics is to meet customer requirements in a timely, cost-effective manner."
Any one of those definitions will apply to Oil & Energy readers. The liquid fuels industry is all about 'handling the details of an operation;" ideally in a carefully organized manner that moves product in a timely, cost-effective manner. A propane company's profits are determined as much by its logistics as the prices at which it buys and sells its product.
With the right technology, companies can determine the most efficient delivery schedules, increase profit per delivery as well as deliveries per route, prevent vehicle theft, and reduce human error throughout the billing and payment cycle.

Optimizing Delivery Logistics
Advances in available technology, system communications and tank positioning locators have made propane tank monitors one of the most important logistics tools for propane retailers. When first introduced, monitors were too expensive to place on all tanks, and so were used exclusively for commercial and industrial operations, remote tanks at the furthest points on the route, or properties with inconsistent usage patterns.
The data available through advanced, integrated monitors now provide live data on tank levels, historical consumption, days to empty, and days to optimal drop. Without real-time data on tank levels, the majority of deliveries are either too small to be profitable or so large as to risk customer run-outs. With tank monitors and advanced logistics software, propane providers can optimize delivery schedules for more value per drop.
While often considered a solution for intermittent residential users who use natural gas, heating oil or electricity for space heating but have propane tanks for pool and spa heating, cooking, indoor and outdoor fireplaces and the like, tank monitors are just as vital for corporate and agricultural customers, especially as Environmental, Social and Governance (ESG) performance becomes a key metric in rating a business's value and growth options. The data from tank monitoring on this level helps these companies manage operational efficiencies and environmental impacts by providing consumption and fuel requirements for operations as well as historical usage for year-over-year emissions calculations.
With an ongoing driver shortage that appears to have become the norm, streamlined dispatching translates to more deliveries per route, making each driver more effective and each customer more secure. In other situations, where fuel supply may be low or strained by extreme, extended cold snaps, tank monitoring enables retailers to stretch and protect their available supply by delivering to the most critical tanks and holding other deliveries off until necessary or the supply bottleneck has eased.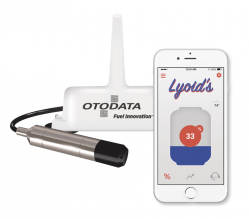 Delivery optimization via tank data may also direct a provider to deliver to a tank that is not in immediate need. André Boulay, President of Otodata, explained. "On a simple level, you print a ticket when a tank is low. But with advanced routing, it may be more profitable to deliver to a 1,000-gallon tank at the end of the line that is only down 40%, than to smaller tanks at lower fill levels. If you're delivering in the area, it makes sense to make the drop. You may not have another chance to make that fill without diverting a driver."
Tank monitors are widely available. In addition to Otodata, Bergquist, Angus Energy, OWL Products and many others offer integrated tankmonitoring. Today's monitors feature 10- or 20-year batteries, low monthly fees, and integrate with dispatching and customer portals. Most fuel retailers or wholesalers can offer remote tank monitoring as a low-cost add-on product or even a no-charge value-added service, as the cost of tank monitoring is quickly recouped through optimized deliveries.

It is analytics and insights like these that result in an average 25%-30% savings with optimized delivery logistics, and why Boulay anticipates that within 5 years, the industry will have fully embraced advanced routing software.

Smart Technologies for Savings and Safety at Truck and Pump
Tank monitors can help get more profits from every truckload, but companies can only see the benefits if the data from the truck is accurate. Integrated systems connect the onboard computer, pump and office operations with handheld controls at the hose.
Wireless controls provide to-the-drop level management of fuel delivered, start and stop levels, management of on-board systems such as the electronic register, real-time register reading displays, and on-the-fly changes of delivery type from single tanks or multiple fills at fleet or commercial drops. All data is uploaded from the onboard computer to operations, providing a complete record of the driver's route.
These systems speed each delivery, as the driver does not manually record any data, and reduce physical stress as the handheld also controls the hose reel. On and off pump controls reduce dry running and stress on the pump. BASE Engineering estimates that the time savings from using remote pump controls adds at least one delivery per route. That is in addition to the efficiencies gained by the automated upload of data to the operations systems at the office. Integrated systems thus replace manual data entry, account updates and distribution reconciliations, as well as the inevitable human error found in non-automated systems.

Data Accuracy
Back in the old days, it wasn't unheard of for delivery amounts to be entered incorrectly, routes to be mapped poorly, deliveries to be dropped from dispatch, tickets to have the wrong information, and invoices to be issued at the wrong price. For wholesalers and retailers alike, antiquated operations made tracking gallons sold, hedge positions and market rates a nightmare; and both purchasing and sales transactions required multiple phone calls, quotes and contracts, and often a third-party broker. The "old way" took too long, put companies at the mercy of a volatile marketplace, and resulted in unhappy customers.
Automating your office software removes these costly errors and delays. In terms of customer logistics, the truck data updates supply levels, days-to-empty schedules, account transactions and invoicing, among other metrics. Integrated management systems can also track vendor prices and enable virtually instantaneous purchasing, including basis, bid and forward buys; automate contract generation; structure and schedule hedges; and review business metrics to determine growth opportunities. Any one of these operational enhancements would reduce staff time and cost per delivery. Combined, they provide strategic advantages from agile, simplified and smarter logistics.
The enhanced data from your logistics and operations systems do double duty as customer retention tools. These integrated systems can connect with your online account management portals, giving your customers access to their tank levels and usage history, invoices and payments, account services and program enrollments. With tank monitors and billing histories, commercial customers can review their usage requirements and calculate the value of volume discounts and contract purchases. Will-call residential customers can place orders before they reach emergency delivery status, and be targeted for conversion to automatic delivery agreements, pricing programs and the like.
If logistics are all about "planning and executing the efficient transportation and storage of goods from the point of origin to the point of consumption" and meeting customer requirements, propane providers that have not yet integrated smart technologies throughout their operations are losing customers, losing sales, and losing profits.
Related Posts
Posted on October 6, 2023
Posted on August 11, 2023
Posted on August 11, 2023
Join Our Email List For Updates!
Enter your email to receive important news and article updates.