All
"Exploring Biodiesel" in Boston and Philadelphia
by Samuel Diamond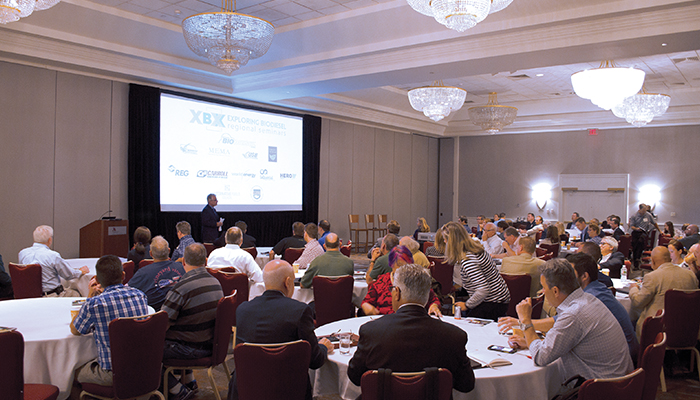 How does the biodiesel supply chain actually work? Isn't there already some biofuel in all distillate? How much higher can we expect these these blends to go? What are the pricing points downstream? What about best practices? Who are these incentives for, exactly? How can I effectively market biodiesel-blended products to my distribution partners and residential customers?
For about as long as biodiesel has been part of the discussion surrounding liquid fuel products, questions like these have existed. Various answers have been offered at various times, often giving rise to other questions and answers and so on until today.
Trade publications like Oil & Energy and associations like the New England Fuel Institute (NEFI) have, especially in recent years, attempted to separate "signal from noise on biodiesel," as one market insider once put it — that is, to establish a clear view of the current state of U.S. biodiesel blending, as well as its impact on the diesel and heating oil markets in the Northeast, and communicate these facts with clarity to those who might ask the questions above.
There are, of course, trade publications and associations dealing specifically with biodiesel. However, one thing that has always seemed to be missing is a kind of "Rosetta Stone," a platform that could single-handedly translate all of the questions coming from one segment of the industry to the other, as well as all of the answers coming back.
In recent months, the National Biodiesel Board (NBB) has launched a series of one-day seminars called "Exploring Biodiesel," or XBX for short, which aims to provide liquid fuel wholesalers and retailers across several major U.S. cities with all of the information (and connections) they might need in order to enter or go deeper into the biodiesel blending market.
Exploring Biodiesel kicked off its five-city tour in Boston on June 12 then headed to Philadelphia on July 18. Oil & Energy was in attendance at these first two events, both of which attracted large crowds of distillate wholesalers, diesel fleet operators, heating oil and gasoline retailers, biodiesel blenders, Bioheat® fuel marketers, and many others from the Northeast states' liquid fuel mix.
Following are some of the most illuminating and intriguing "sound bytes" from the Boston event, along with brief explanations and pictures from both dates.
"Policy is banging hard on our back door."
Paul Nazzaro, NBB Petroleum Liaison and Program Manager, kicked off the day's presentations with a look at how the supply chain functions. Any overview of the biodiesel supply chain, of course, has to cover the Renewable Fuel Standard (RFS), the federal policy that requires biofuels, including biodiesel and ethanol among others, to be blended into the U.S. petroleum supply stream at the refinery level.
Beyond the RFS, Nazzaro pointed to a number of state laws, which call for minimum biodiesel blends in heating oil and diesel fuel, including B5 Bioheat® fuel standards in Downstate New York and Rhode Island, and the B20 biodiesel mandate in Minnesota. All of these, he pointed out, are tied into a larger international movement to reduce carbon emissions worldwide.
"Governments are looking at advancing more miles — cleaner miles — and cleaner combustion," Nazzaro said. It's this shift, he explained, that has driven policymakers to put their support behind gasification and electrification initiatives, as well as policies like the RFS, which favor supplanting carbon-heavy petroleum with carbon-neutral renewables.
While that might frighten some in the industry, the fact is that due to the RFS and the aforementioned regional standards, there is a varying percentage of biofuel throughout each of the distillate supply chains, such that there is a degree of biofuel in virtually all heating oil products. In fact, the National Oilheat Research Alliance has for the past several years been analyzing the usage of B100 as part of a long-term strategy for the industry's future.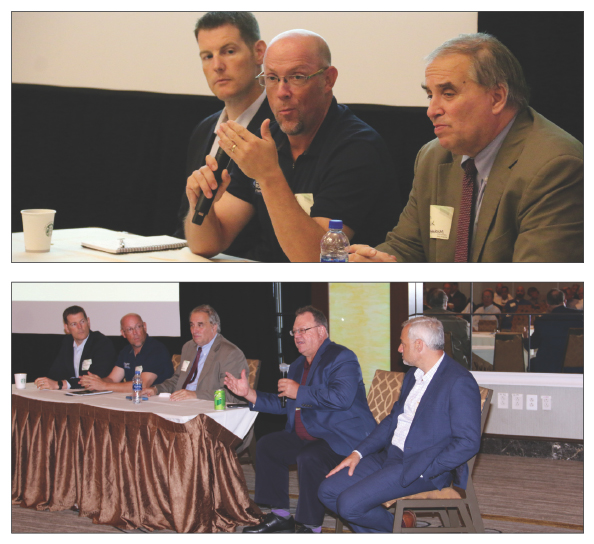 "Where we are right now with ultra-low sulfur heating oil and biodiesel, it's a winning fuel that's definitely competing head-on with natural gas," Nazzaro said, emphasizing that the majority of energy industry forecasters agree liquid fuel isn't "going away" and will remain "relevant" for the foreseeable future. Reinforcing this point, he later noted that diesel is responsible for moving 90% of all freight transportation in the U.S.
"60% of the electricity in the U.S. comes from natural gas or coal, so if you're using electricity, you're not really reducing emissions."
NBB Senior Technical Advisor Steve Howell provided attendees with an introduction to biodiesel fundamentals, specifically how it's produced and what efforts the industry undergoes to help ensure fuel quality and engine compatibility.
In the Northeast, Howell noted, most biodiesel comes from used cooking oil, also known as yellow grease. Refuting the often-debunked Indirect Land Use Change (ILUC) argument, which contends that biodiesel production negatively impacts the environment by displacing farmland, Howell said, "We don't fry more French Fries to get the cooking grease used for biodiesel."
Howell went on to discuss the BQ-9000® Quality Management Program, which requires that a fuel must meet the ASTM D6751 standard in order to be legally defined as biodiesel. A separate standard, ASTM D7476 currently approves all biodiesel and non-heavy-distillate blends up to a level of B20 for use in diesel engines, and the biodiesel industry is working to push this level even higher. This, however, doesn't happen overnight, Howell said. "One negative vote can kill a standard at ASTM," he explained. "That just goes to show you the level of technology that goes into this, and you folks don't have to worry about it — you get the benefit," namely a clean-burning fuel with greater efficiency and less emissions.
On the other hand, electric vehicles and heat pumps depend on electricity, which is produced primarily via natural gas or coal, both of which release harmful greenhouse gas emissions, be it methane or carbon dioxide.
Because biodiesel comes from waste products, including yellow grease and soybean oil, an inedible byproduct of existing soybean growth, biodiesel's production, refinement and use have less of an environmental impact than other, more widely used energy products like utility gas and electricity.
"Enrich the gallon. Give the government and the customer what they want."
After intensive discussions about feedstock variations and best practices for biodiesel blending and storage, Nazzaro turned to the gasoline retail industry's experience transitioning businesses to Top Tier™ marketing strategies as a possible marketing prototype for the diesel and heating oil industries to follow.
Nazzaro said that gasoline retailers have enjoyed seamless integration of ethanol, as well as a move toward Top Tier gasoline marketing, and that many consumers now see the renewable as synonymous with fuel quality. "Why can't we embrace biodiesel as a premium diesel and Bioheat as a premium heat?" he asked rhetorically. "That's what we need to be doing."
"We've been using B20 in all of our diesel equipment for the last 15 years."
Jim Mountford, a foreman with the Keene Public Works Department, described how his municipality has been using B20 biodiesel in all of its construction equipment and other city-owned diesel engines for over a decade. During the winters, the city switches to B5 so as to avoid some of the cold flow issues commonly associated with higher biodiesel blends.
The transition to biodiesel has gone smoother than almost anyone would have thought, becoming a true success story for the city and the industry. Still, there were some moments of concern along the way. "Some of this equipment, we've had since 1969," Mountford explained. "When we put biodiesel into those, we did run into a little bit of a hiccup." As it turned out, however, "the fuel itself would actually clean the equipment, and after one or two filter changes, there weren't any more issues."
Recognizing biodiesel's economic and environmental benefits, the New Hampshire municipality is now considering doubling down. "We just recently, through a grant process, put B100 into a diesel engine at a power generator facility," Mountford said. "The engine has been running successfully for 200 hours. The manufacturer said it couldn't be done, but we did it."
"You can step up and be part of this … if you want to."
After breaking for a networking lunch, the seminar resumed with Michael Ferrante, President of the Massachusetts Energy Marketers Association and one of the driving forces behind the inclusion of Bioheat fuel in his state's new Alternative Energy Portfolio Standard, taking the floor to discuss this new incentive program, which rewards heating oil dealers for selling blends of B10 or higher.
As participating dealers are encouraged to work directly with a consultant known as an Alternative Energy Credit aggregator, as there are limited credits available for biodiesel-blended heating oil sales, and as soybean-based biodiesel is currently ineligible, some of the big questions Ferrante answered dealt with program accessibility.
The coming heating season will be the first with the program available, so it "is truly in its infancy," Ferrante acknowledged. Thus far, "There are not a lot of retailers partaking in this program," he conceded, adding: "I wouldn't be concerned that you cannot be part of the program. You can step up and be part of this program if you want to. That's really the theme of today. You have to take control of your destiny and use all of the tools available to you, and this is one of them."
One fuel dealer who heard destiny's call in biodiesel was the next speaker, Charlie Uglietto, owner of the Cubby Oil Company and incoming NORA Chairman. Uglietto recalled that he first adopted biodiesel as a brand differentiator.
Since then, he said: "The biodiesel industry has demonstrated that they are not only a partner that lives up to its word, but that they have a product that has allowed NORA to jettison heating oil into the 21st century.
"Most importantly, as I spoke to my employees, I explained to them that the adoption of this fuel was not an option. It was the only sustainable strategy to advance this industry, our business and their careers.
"Going stealth with this fuel simply signifies that you don't really believe in the pathways that our industry leaders have laid out for us. Your employees and customers will eventually come to the conclusion that you're not prepared for the future."
Uglietto told the crowd that Cubby Oil Company began selling B20 Bioheat fuel several years ago and that after adjusting its additive treatment strategy, the company was able to eliminate any fuel-related burner problems, as well as any fuel pump and cold flow issues. "B20 works," Uglietto said plainly.
The company is now experimenting with a B30 blend, and Uglietto has even gone as far as using a B60 blend for his own home's heating/hot water system. "I learned after one cold shower that it does require a burner adjustment," but since then the unit has been working normally, he said.
Related Posts
Posted on October 10, 2023
Posted on October 10, 2023
Posted on October 6, 2023
Posted on October 6, 2023
Join Our Email List For Updates!
Enter your email to receive important news and article updates.