All
Executive Orders Streamline Natural Gas Projects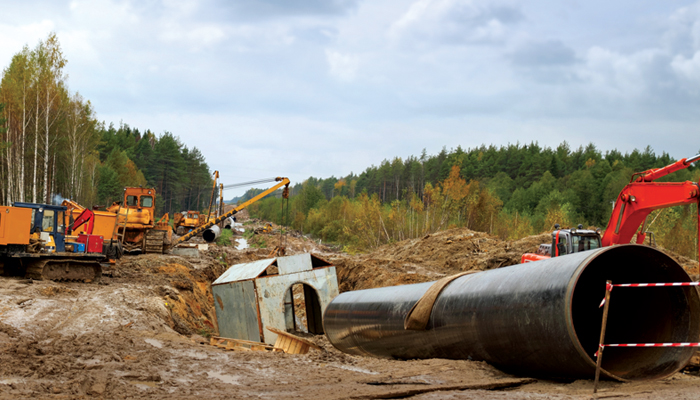 On April 10, President Trump signed two executive orders meant to help clear the way for energy infrastructure projects that have been held up by state agencies.
The first executive order (EO 13867), which follows up on Trump's commitment to resurrect the Keystone XL Pipeline extension, says that the president has final say on whether to issue or deny permits for border-crossing energy infrastructure projects. The Keystone XL Pipeline extension would transport crude oil from Canada to the U.S. However, the scope of this executive order is not limited to pipelines, and it could therefore impact other hotly contested projects, such as the CMP transmission line, which would carry hydropower from Quebec to New England.
The second executive order (EO 13868), apparently written in response to New York State's denial of a water quality permit for the Constitution natural gas pipeline, directs the Environmental Protection Agency to issue new rules and guidance for how states consider permits under the Clean Water Act. Trump has long been critical of opponents to natural gas expansion and efforts by New York and other states to block natural gas pipelines by denying permits under the Act. In addition, the order directs the Department of Transportation to propose a rule allowing liquefied natural gas (LNG) to be transported via trucks and rail tank cars.
The order also requires the Departments of Energy and Transportation to report within 180 days on "the economic and other effects caused by the inability to transport sufficient quantities of natural gas and other domestic energy resources to the States in New England." The report could be used by the Trump administration to justify future actions related to advancing natural gas pipelines and LNG in the region.
While the president looks to move forward with natural gas pipelines, many state and federal lawmakers continue heading in the opposite direction. A series of bills offered in Congress would increase scrutiny and oversight of natural gas pipelines following the fatal gas explosions that rocked the Merrimack Valley region last September.
On April 8, just a day before the president signed the aforementioned executive orders, Rep. Lori Trahan (D-MA03) and Senator Ed Markey (D-MA) introduced the Leonel Rondon Pipeline Safety Act, named after the 18-year-old who tragically lost his life in the Merrimack Valley Disaster. Co-sponsors include Reps. Kennedy (D-MA04) and Moulton (D-MA06) and Sens. Blumenthal (D-CT) and Warren (D-MA). The bill requires the creation of new federal regulations that improve pipeline risk management plans, require greater emergency response coordination with the public and first responders, institute best industry practices for holistic safety management, and mandate use of accurate and reliable maps and records. These regulations would also require professional engineers to approve significant system changes, as well as on-site monitoring of gas pressure regulator stations so that qualified employees could quickly shut off gas flow in the event of an emergency. Regulator stations would also have to implement additional safety features to avoid dangerous over-pressurizations, like the one that caused the Merrimack Valley Disaster. Finally, the bill raises civil penalty caps to reflect the costs that safety failures can have on communities, homes and businesses.
"Without strengthening safety regulations, America's natural gas pipeline infrastructure remains a ticking time bomb," Sen. Markey said at the introduction of the bill.
On April 9, the very same day as the executive orders' signing, Rep. Stephen Lynch (D-MA08) introduced the Pipeline and Compressor Safety Verification Act (H.R.2152). The bill strengthens public health and safety protections during the process by which the Federal Energy Regulatory Commission (FERC) decides whether to approve natural gas systems. The bill was offered in response to a proposed compressor station in Weymouth, MA, and lateral pipeline in West Roxbury, MA. H.R.2152 would require that the Massachusetts Secretary of the Executive Office of Public Safety & Security, State Fire Marshal, and State Director of the Pipeline Safety Division sign off on the FERC certificate, stating the project would not pose a danger to surrounding residential communities.
NEFI supports legislation designed to address the many public health and safety risks, environmental threats and other dangers posed by natural gas infrastructure. Oil & Energy will continue to monitor these stories as they develop.
Related Posts
Join Our Email List For Updates!
Enter your email to receive important news and article updates.