All
Equipping Your Truck for the Digital Age
by Aaron Cargas, Cargas Systems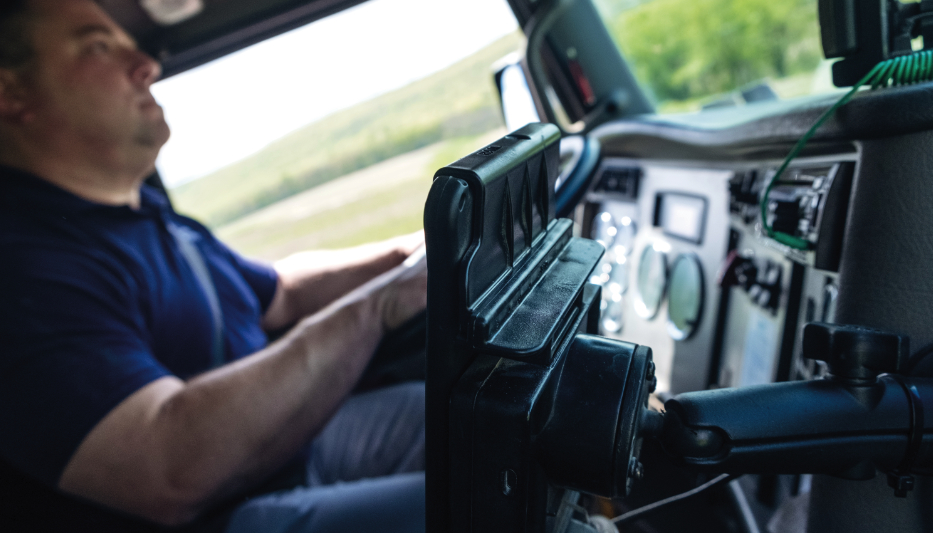 The most important hardware isn't mechanical, but it is mobile
When it comes to truck hardware, it's natural to think of mechanical equipment like pumps, tire chains, and sensors. But in a mobile-first era, the digital equipment you put in your truck plays a significant role in the efficiency of your fleet and your customer service.

Digital equipment includes the meter you use to record gallons pumped, as well as the receipt printer. But the most impactful piece of hardware by far is the mobile tablet or phone used by your driver.

Mobile technology has been an option for fuel dealers for years, but there have been barriers to adoption. Mobile solutions of the past just weren't that great. They relied on cellular networks with limited coverage and had insufficient processing and battery life with fledgling GPS capabilities. And they came with a hefty price tag.

Outfitting a fleet with rugged computers was expensive, and the efficiency gains were minimal. But mobile technology has come leaps and bounds in the past 20 years. And equipping trucks and drivers with mobile devices is more important than ever before.

Today's mobile devices are supported by vast 4G and 5G cellular networks for connectivity and satellite networks that can pinpoint your location on a street corner. They're sleeker, faster, and easier to use, with maximized processing power, smaller, longer-lasting batteries, and touch screen capabilities. And the price has dropped from thousands of dollars to less than $300.

Android devices, in particular, offer the best connectivity available for a fraction of the cost of their more rugged counterparts. Suddenly, outfitting a fleet with mobile tablets fits into the budget easily, and the benefits are significant.

Today's mobile devices help fuel dealers be more agile and flexible than ever before. They allow instant communication between the office team and a driver in the field. This means routes can be dispatched to drivers while they're still at home in the morning. Changes can be made to dispatched routes and tickets to accommodate price changes or emergency will call stops.

New information reaches the driver's mobile device instantly, and notifications can alert the driver to a change. At the same time, the office team has insight into what's happening in the field. As drivers complete tickets, the dispatcher is notified instantly.

The GPS capabilities inherent in every mobile device today also help drivers deliver more efficiently. Dispatchers can optimize routes to maximize gallons while reducing miles. Then, the mobile device guides the driver along the route with turn-by-turn directions that account for live traffic and hazmat and truck restrictions.

Today, a mobile device in the truck is the key to connecting your office team with your drivers on the road and maximizing delivery efficiency. But it doesn't end there. The mobile devices in your trucks also play a role in how you serve your customers.

The consumerization of technology has changed the way customers interact with businesses. Today's consumers are mobile first — they expect businesses to have instant access to information because they have it themselves through their personal devices. When it comes to fuel delivery, your customers are looking for text alerts, online bill pay, and easy access to their account information.

By equipping your drivers with mobile devices, you can meet customer expectations with onsite signature capture or by accepting payments in the field. If the customer has a question, the driver has easy access to their account information right at his fingertips.

Here are some other scenarios where a mobile device in a truck can make a difference for your customers.

Handling an emergency will call stop: It's the dead of winter, and a customer realizes he's almost out of fuel. He calls your office for an emergency delivery. Fortunately, your dispatcher knows where each driver is based on their geolocation. He finds the one closest to the customer and adds the ticket to the driver's route. The driver gets an alert instantly and sees the new ticket in his queue. It's now his next stop. He completes the delivery and continues with the rest of his route.

Answering a customer question: A customer calls into the office. She knows she's receiving a delivery today, but she'd like to know when to expect the driver. Your customer service rep can see that her house is the next stop, and the driver is just around the corner.

By enabling free information flow between your office and your drivers, mobile devices in the field help you meet the needs of today's consumers.

Mobile devices have become part of the essential equipment you need for your fleet. As you're outfitting your trucks this year, it may be time to consider the ways a mobile solution could benefit your business and your customers.

Aaron Cargas is Vice President of Marketing and Product Development for Cargas Systems, makers of fuel delivery software Cargas Energy. For more information, call 888-611-3138 or email info@cargasenergy.com.
Related Posts
Join Our Email List For Updates!
Enter your email to receive important news and article updates.