All
Eight Marketing Essentials for Diversification
by Richard Rutigliano, PriMedia, Inc.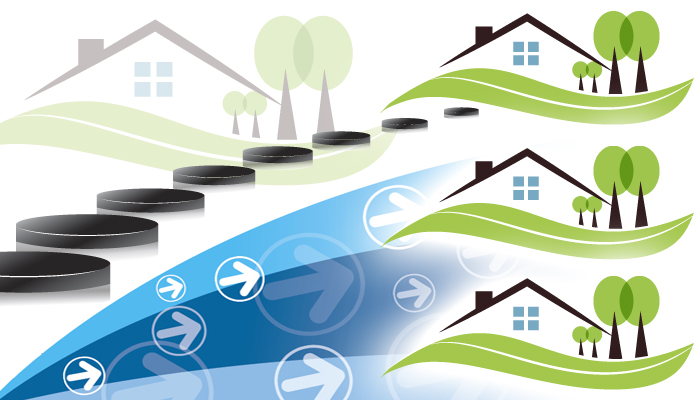 EDITOR'S NOTE: This is the conclusion of a two-part look at the Essentials of Marketing in home comfort. Part 1 looked at marketing a full-service home comfort company. Part 2 focuses on diversified companies that provide additional services beyond fuel delivery and heating service.
When a heating company adds services and products, new opportunities open up, and with them come a fresh set of challenges. New services do not sell themselves, so the company must commit to a marketing program that will attract the necessary sales volume.
Diversification is more than just a smart way to leverage the existing business lines for growth; it is one of the only ways for a solid company to realize full return on its long-term investments. The company has spent heavily through the years in numerous ways to build solid customer relationships. Expanding those relationships is the only way, short of selling the company, to avoid leaving hard-earned value on the table. To put it another way, why should someone else sell in-home services to those customers when you're the one that has spent years building the  relationship?
When taking the diversification leap, you need to throw your full support behind the initiatives. Here are eight Marketing Essentials that will help you succeed with your new products and services.
1. Vision. Use your knowledge of yourself, your employees, your resources and your market to formulate a clear sense of what you can accomplish. Know your strengths, your ambition and your tolerance for risk. Be realistic about what you know and what you don't know, and enlist professional help where needed to fill in the gaps. The value of fresh ideas from outsiders can be immense. Set specific yearly goals for any service you are launching, so you'll have benchmarks against which to measure your progress.
2. Customer Service Excellence. You need your customers, new and old, to tell their friends about you and your new services, because positive word of mouth is an essential building block for diversification. Consider all the ways in which you interact – or don't interact – with customers, and retool if necessary. You should have well planned guidelines for customer service and insist that every member of your staff be committed to creating great customers experiences.
It's also essential to give customers the convenience options they want. Many consumers want to enroll online and place orders online, and they will shun companies that don't satisfy their preference for 24-hour convenience or offer pleasing extras like electronic billing, loyalty rewards and texting. Think ahead constantly, and get on the front edge of the convenience curve.
3. Thought Leadership. The best energy marketers understand that they have the ability to influence customers, and they are committed to the process. They know that many consumers prefer companies that embrace the leadership mantle. This is particularly true in contemporary home comfort, because consumers know (a) that expertise in energy efficiency can equate to real value for them, and (b) some contractors are better than others. A home comfort company that sends the right signals has a huge advantage in today's marketplace.
The best way to set yourself apart as an energy expert is to act like one – conspicuously. Plan to infuse all your communications initiatives – website, newsletters, advertising, social media, public relations, direct mail – with bold. informative messaging about conservation and healthy, comfortable homes.
Many marketers would prefer that their good work speak for itself. Unfortunately, that is not how business works in the consumer sector in the United States. Americans are, by and large, so immersed in marketing that they expect it and respond to it – even while insisting they don't like it. Focus more on informing customers than selling products in your marketing materials, and they will respond positively.
4. Consistent, Persistent Outreach. Influencing customers is extremely difficult when you don't try. I say that tongue in cheek, but many marketers vastly underestimate the value of their own knowledge and ideas. For example, you might know that the new boiler you're offering has great potential to reduce oil consumption, but your customers will have no idea if you don't tell them – and they probably won't call and ask.
Consider indoor air quality (IAQ) sales. The 2013 EcoPulse survey indicates that roughly 50 percent of Americans are concerned about the quality of their indoor air. That means that a home comfort provider that starts selling IAQ products has a huge hill to climb, because IAQ isn't even on the radar screens of half of their customers. The solution? Start raising awareness… and watch your sales climb as customers begin thinking about the air they're breathing – and doing something about it with your help.
There is the huge risk in not having your customers know what you can do for them. How many times have you felt the sting of watching a customer buy something elsewhere that they could have bought from you – because they didn't know you sold it! You have to tell them what you can do for them, then you have to repeat it, then you have to repeat it again.
5. Whole Home Strategy. Awareness of the "home as a system" is filtering into the public consciousness, and the ramifications for heating oil providers are immense. Whereas older homeowners, by and large, grasp the concept of traditional full-service heating oil company (deliver the fuel, service the burner), many younger homeowners simply don't get it.
A "heating oil company" makes little sense to them, because they are at least vaguely aware of an interplay between the building shell and comfort systems. As such, they are likely to favor a different kind of provider: a comfort and efficiency expert who addresses the whole home, preferably with some form of science.
Don't stand by and get your lunch eaten by imposters who might have a fraction of your team's expertise and experience – but a much better marketing plan. Get to work immediately making the arrangements that will enable you to transform your own image along the same lines. Whether you find a way to provide home energy audits and building shell services yourself, or you partner with other local providers, there is opportunity in every home for companies that brand themselves effectively as whole home energy experts.
6. Frequent Website Updates. The role of the Website home page has changed. What used to be a relatively static representation of your business is now an important form of advertising, and like all advertising, it works best when it's timely. Companies need to ensure that the home page will engage visitors every day of the year. A good place to start is by keeping the home page seasonal: heating in the fall and winter, cooling in the spring and summer.
Think of your home page the same way a department store thinks of its display windows, and always emphasize the products and services that are most timely. Updating is not as expensive or time consuming as you might think, because it's only the home page that needs frequent attention.
Updating the site is not just for the human visitors; the search engines also watch for changes and give preference to sites with regular updates. Publish valuable information with regularity, and link to helpful resources elsewhere on the Web. There is cost involved, but any good information you publish becomes a permanent asset that can continue attracting visitors for years.
7. Drive Website Traffic. The most economical model for generating sales leads is to make your website an outstanding sales and marketing portal and then use outreach strategies to drive traffic there. The benefits of Website-centric marketing in customer acquisition are well understood, but your site can also be invaluable in generating additional business with current customers.
For acquisition, advertising is the essential outreach strategy. As you diversify beyond fuel-related services and become a suitable provider for any home, advertising becomes far more efficient, because you are no longer paying for wasted impressions.
To leverage your website with current customers, deploy online self-service features (credit card payments, online accounts, loyalty rewards, online price protection) that give customers reasons to visit regularly, and populate the pages that get heavy traffic with compelling, seasonal promotions and special offers. Your newsletter and e-mail promotions can also direct people customers to your site.
8. Offer Alternative Energy Solutions. Oil is a great fuel for heating, and it's only getting better with the ongoing transition to reduced sulfur and biofuels. That good news flies mostly under the radar, however, and the gap between heating oil reality and heating oil perception continues to grow.
The unfortunate reality is that Millennials widely embrace "off oil" strategies, and heating oil is hardly their fuel of choice. To be attractive to young homeowners, you have to move the marketing focus away from oil towards conservation and choice.
Alternative energy solutions such as solar and geothermal, meanwhile, are perceived as clean, ethical alternatives. By positioning yourself as a provider of multiple energy solutions, you can attract young customers who find you simpatico, because they foresee themselves using oil only until "something better" is within their reach.
I hope you have found this exploration of marketing essentials informative. PriMedia is prepared to help you connect more effectively with your market. Please call me at 800-796-3342 or e-mail me at rrutigliano@primediany.com to start the discussion.
Related Posts
Posted on February 9, 2021
Posted on December 14, 2020
Join Our Email List For Updates!
Enter your email to receive important news and article updates.