All
Dominating the Electric Vehicle Market
by Ed Burke, Dennis K. Burke Inc.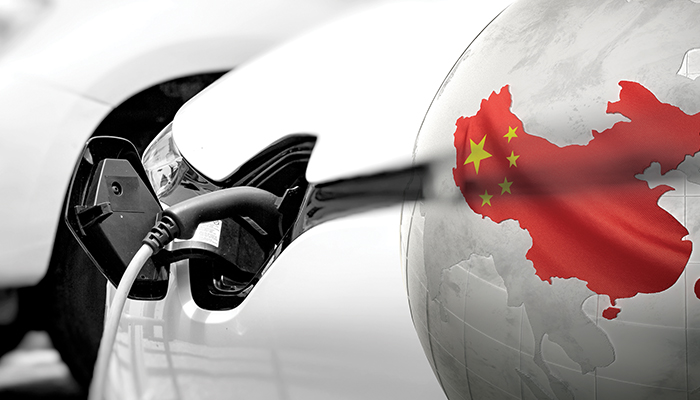 In 2018, U.S. sales of electric vehicles (EVs) grew to over 361,000, up over 80 percent from 2017. Worldwide electric vehicle sales soared to over 1.7 million, with China claiming about half of the global EV market. Still, EVs only represent about 2 percent of all vehicles sold worldwide, but that number is starting to grow at a much faster rate.
China Pushes Automakers
China wants to lead the transition from internal combustion engines to electric cars. Their EV initiative is shooting for 19 percent of all passenger cars sold in China to be EVs by 2025. China's New Energy Vehicle quota is forcing automakers into EVs faster than most of them would like. Most global automakers have been making aggressive plans to electrify their vehicles over the next 10 years.
EV sales in China are expected to grow faster than anywhere else, thanks largely to a new set of government policies and incentives borrowed from California.
In January, China transitioned from a government EV consumer incentive program to their New Energy Vehicle credit system. It looks very similar to California's Zero Emission Vehicle program. That name is misleading, as there are actually nine other states participating as well. Under the program, automakers must generate credits by selling EVs, or buy credits from competitors that do. The exact number is set for each manufacturer based on the number of cars they sell in each state. Each EV is assigned a certain number of credits based on its range and energy efficiency. Fuel cells and other alternative fuels are also included in the program.
The credit system provides government regulators the flexibility to control demand for credits to achieve a steady growth of EVs in the country.
Market Domination
China already dominates the lithium-ion battery industry. They control the majority of lithium and cobalt resources that are essential for manufacturing batteries. They control major shares in the mines, they process the chemicals, and they build the batteries. Not long after Tesla's Gigafactory in Nevada was built, the concept caught on in China, and there are now dozens of similar plants operating across the country.
Tesla's Gigafactory 3
For years, Tesla had been working on setting up a factory in China, the world's largest market for electric cars. Tesla only has about a 3 percent share of China's EV market, but the country is the second-largest source of revenue for the automaker.
What held up the deal for Tesla were the rules that require foreign carmakers to go into business with local partners to build cars in China. Last April, the Chinese government announced that it would relax the partnership rules, starting with electric vehicles, and a deal was reached with Tesla.
This was really a major accomplishment for Tesla. A facility wholly owned by a foreign automaker is pretty rare in China. Operating independently puts Tesla in a better position to protect their intellectual property, they won't need to share profits with Chinese partners, and they avoid any import tariffs.
In December, China agreed to calm trade tensions with the U.S. by temporarily removing its 25 percent tariff on U.S.-made cars.
In January, Tesla broke ground on the company's first manufacturing facility built outside of the U.S. The Shanghai Gigafactory is expected to be up and running by the end of the year, producing an affordable version of Tesla's Model 3 and Model Y for the China market.
China has a knack for creating national policies that pursue strategic industries. By leveraging its domestic markets to benefit its global business, China's EV policy ensures that their carmakers and their battery industry are major players over the coming decades. EV automakers don't have to worry about meeting emission standards or regulations in a global market. And finally, EVs may help offset some of China's pollution issues created by their coal-burning power plants.
Down the Road
Today there are over 150 different EV models available, and that number will nearly double by 2022.
In 2025, EV prices should be getting more competitive with gas-powered cars, and EV sales are expected to reach 11 million worldwide. At this point, we might start to see a decline in gas and diesel vehicle sales.
By 2030 we could see EV sales surge to 30 million worldwide as electric cars become cheaper to build than cars with internal combustion engines.
But Not So Fast
To start, the U.S. has a much lower EV target of 11 percent by 2025, and Europe's is about 14 percent. Nevertheless, there are some questions to consider. What will the consumer's appetite be without the federal tax credits as they start to expire? Will we also adopt the California program? Do we know what a much larger charging infrastructure would look like? What kind of stress will EVs add to the power grid?
So, there is an irony to the situation. Does anybody else remember the documentary Who Killed the Electric Car that pointed the finger at automakers and big oil?
Related Posts
Posted on December 10, 2021
Posted on December 10, 2021
Posted on December 10, 2021
Posted on October 12, 2021
Join Our Email List For Updates!
Enter your email to receive important news and article updates.