All
Construction Begins at Massachusetts' Utility-Scale Offshore Wind Project
by Ed Burke and Kelly Burke, Dennis K. Burke Inc.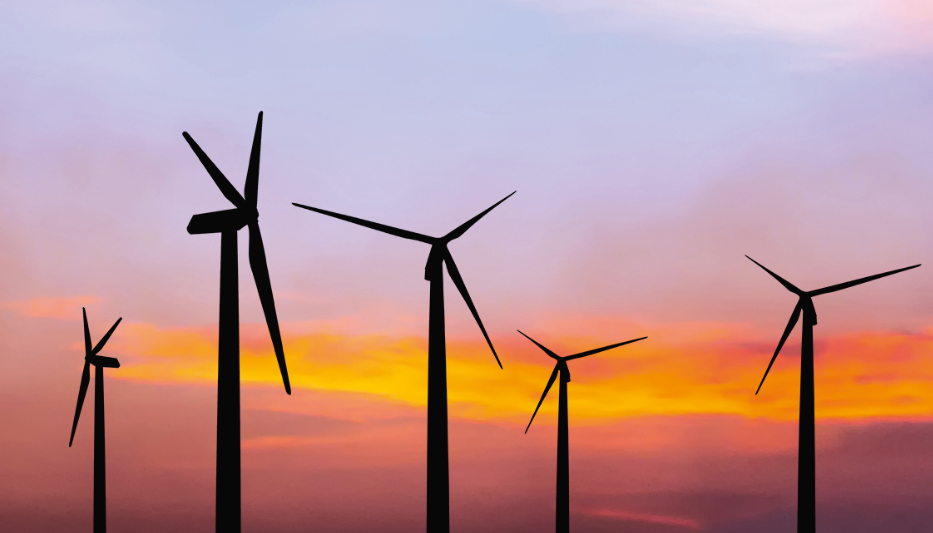 Vineyard Wind moves forward with goal of 800-megawatt output
Vineyard Wind is currently building the nation's first utility-scale offshore wind project off the coast of Massachusetts. The $4 billion project will generate clean energy for over 400,000 homes and businesses across the Commonwealth, while reducing carbon emissions by over 1.6 million tons per year.
Vineyard Wind is located about 15 miles south of Martha's Vineyard and Nantucket, and about 35 miles from mainland Massachusetts. The location was determined through a multi-year, intergovernmental task force process, which carefully considered scientific data and public input. This area boasts powerful, reliable wind speeds and ideal site conditions to support wind turbines.
Vineyard Wind will consist of an array of 62 wind turbines that are each spaced one nautical mile apart. The turbines are General Electric Haliade-X turbines, each capable of generating 13 megawatts of electricity. Electricity generated by the turbines is collected by an offshore substation prior to being transmitted to shore. Vineyard Wind will generate 800-megawatts of electricity.
Following years of long legal battles, the controversial project won a contract to sell power to Massachusetts in 2018.
Over the years, the Vineyard Wind project faced multiple slowdowns, many from a group of residents on Nantucket who sued to block the project over concerns it could imperil the dwindling population of the critically endangered North Atlantic right whale. The lawsuit was rejected just a few months ago. But the project still faces a series of ongoing lawsuits that are trying to overturn its environmental permits.

Construction Underway
Construction on the wind project began in 2021. Two 35-mile transmission cables are being installed that will bring power from the offshore substation to the landing point onshore in Barnstable, Massachusetts. The cables are buried at about six feet below the seafloor using a jetplow. The route was selected after extensive geological surveys of the area to avoid sensitive habitats.
This summer, construction began on the foundation installations of the 62 nearly 850-foot-tall turbines. There is now a line of yellow T-shaped poles that will serve as foundations for the project's first turbines. There were unexpected delays from several instances of thick fog that forced construction to be halted. The fog impeded mandated lookouts for endangered whales and raised safety issues for construction workers.
From the onshore cable landing site, the cables will be installed underground along public roads to an onshore substation in Hyannis, Massachusetts. The Vineyard Wind onshore substation will be adjacent to an existing Eversource substation.
"Construction and installation operations have been very smooth," said Sy Oytan, Avangrid's chief operating officer for offshore wind. He expressed confidence that the first turbines will start generating power later this year, while the entire project will be completed in 2024.

Economic Viability Issues
The construction comes at a time when offshore wind projects in the U.S. face soaring costs from rising interest rates and supply chain constraints.
In 2019, the assumption was that the wind industry would expand rapidly, capital costs and energy prices would decline, and financing would be plentiful.
That's no longer the case. Costs of building and operating offshore wind farms have increased well above 30 percent since 2019, in addition to the significant increase in financing costs. Higher costs have left many offshore wind projects financially underwater. There are estimates that more than half the offshore wind projects with contracts are looking to amend or cancel their power deals.
Vineyard Wind was fortunate to avoid the cost increases that have plagued other projects. Avangrid and co-developer Copenhagen Infrastructure Partners had already signed contracts and secured financing to build before the interest rates started to climb and there were few disruptions with the global supply chains.
States have been trying to work with the developers. Avangrid recently paid $48 million to cancel its power contract with Massachusetts for a different offshore wind project named Commonwealth Wind. Avangrid stood to lose $1 billion on the 1,200-megawatt project under that agreement. Massachusetts officials have said they will allow Avangrid to rebid for a new power contract despite pulling out of its initial Commonwealth Wind deal.
The company is also trying to renegotiate the terms of a power contract for Park City Wind, an 804-megawatt project with a deal to sell electricity to Connecticut.
New Jersey recently passed legislation enabling a Danish company to recoup the full value of federal clean energy tax credits for Ocean Wind, a 1,100-megawatt project.
Vineyard Wind will join two small projects that have already been built on the East Coast. One is off Block Island in Rhode Island and another is off Virginia Beach in Virginia. Another smaller project, South Fork Wind in New York, is under construction. A spokesperson for the project said the substation and more than half of South Fork's 12 turbines have been installed. New York's first offshore wind farm will generate enough energy to power 70,000 homes and offset tons of emissions each year.
"We're looking at our generation's Hoover Dam – right here off the coast of Massachusetts," said state Rep. Jeffrey Roy.
Ed and Kelly Burke are respectively Chairman of the Board and Senior Marketing Manager at fuel distributor Dennis K. Burke Inc. They can be reached at 617-884-7800 or ed.burke@burkeoil.com and kelly.burke@burkeoil.com.
Related Posts
Posted on October 10, 2023
Posted on September 14, 2023
Posted on September 13, 2023
Posted on September 12, 2023
Join Our Email List For Updates!
Enter your email to receive important news and article updates.