All
Cargas Updates Mobile Delivery Solution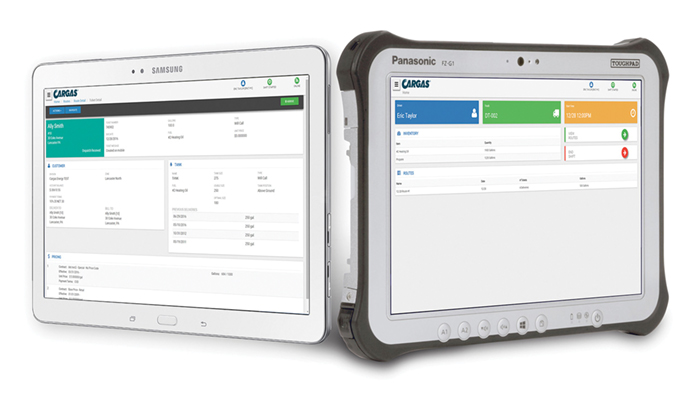 Cargas, of Lancaster, PA, a leading provider of mobile and back office software for fuel delivery and HVAC service companies, recently announced the launch of a new version of its mobile delivery software. Mobile Delivery is an application in the Cargas Energy solution that integrates back office dispatching wirelessly to an on-board computer on the trucks, giving companies the capabilities of managing delivery operations in real time.
The new version offers the choice of running the software on Android or Windows devices. This gives fuel delivery companies the option to significantly reduce the cost of their hardware investment with lower cost consumer devices or invest in a more durable device, according to Cargas.
"Hardware investments have been a challenging obstacle that many fuel delivery companies struggle with, preventing them from purchasing a modern fuel delivery system," Cargas wrote in announcing the launch. "With increased device options, it means that the cost of new hardware can be reduced significantly, making the investment more appealing. For companies with existing Windows or Android devices it may require little to no additional hardware investment."
"Our new mobile delivery builds upon our past innovations, while providing more choice to customers. We've redesigned our mobile application to provide more device options and better usability," said Aaron Cargas, VP of Marketing and Product Development. "Cargas is always investing in our software, ensuring that customers are running on the most modern technology that provides streamlined operations and maximum efficiency."
Along with the device options, the application features a redesigned user interface for a more intuitive user experience, enhanced security, and even faster real-time dispatching of deliveries.
The new mobile delivery application enables fuel delivery companies to:
Learn and use the new software through a redesigned user interface;
Achieve a faster return on investment by purchasing the devices at a lower cost;
Streamline dispatching and delivery for maximum efficiency;
Improve the customer experience and customer retention.
"Our focus on continuous innovation and improvement enables us to deliver a more comprehensive solution that provides value to our customers," said Nate Scott, President of Cargas. "With an industry that is under a lot of pressure, we understand our customers' need for technology that is simple to adopt, quick to provide a return, and enables them to work with customers in new ways."
The new mobile delivery application is now available for purchase, and existing Cargas Energy customers will be receiving this new version as part of their Cargas Care Plan.
To learn more about the new Cargas Energy mobile delivery, please visit cargasenergy.com/mobile.
Related Posts
Posted on February 13, 2023
Posted on February 13, 2023
Posted on December 15, 2022
Posted on October 17, 2022
Join Our Email List For Updates!
Enter your email to receive important news and article updates.