All
Cargas Systems Getting New Downtown Digs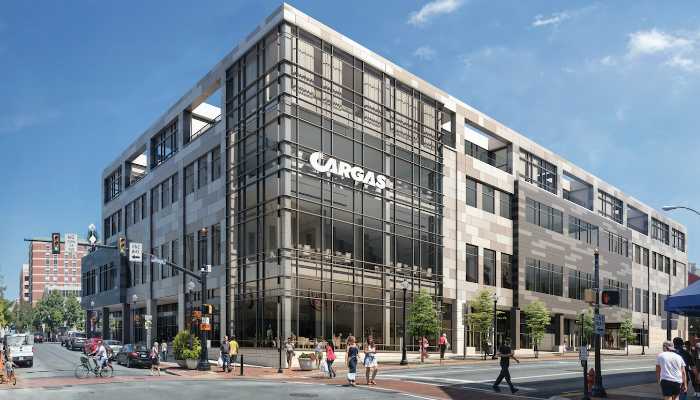 On Friday, September 15, David Martens, president and CFO of Zamagias Properties, a Pittsburgh-based commercial real estate company, named Cargas Systems as the anchor tenant for its 101 North Queen Street renovation project.
The vacant building, situated at the corner of North Queen and East Orange streets in downtown Lancaster, PA, has stood untouched for many years as improvements have been made to the city around it. Now, thanks to Cargas and other local organizations, the building will undergo its own revitalization. The renovation plan will transform the structure into retail and office space, with condominiums on the top floor.
To ensure financing, Zamagias was tasked with securing tenants and proving demand for the space. An introduction to Chip Cargas, founder and CEO of Cargas Systems, in 2016 set in motion Cargas Systems' commitment to the project and offered Zamagias the proof of viability" needed to officially kick off the renovation. Martens made the announcement at a gathering at the 101NQ building, where other key members of the project and the mayor of Lancaster, Rick Gray, also spoke.
"It became clear pretty early on that Chip is one of those people that loves the city and is committed to trying to make it better all the time," said Martens. "We both saw the opportunity to join forces. They really were a catalyst to make this happen, and I can't give [Chip] enough credit for stepping up and making the commitment, not only to his company and where his company is going, but also to the city."
Cargas Systems will be leasing about 25,000 square feet on the building's third floor. In addition to Cargas, Martens announced three other retail tenants for the space: Domaci, a home décor and furnishings store, Mayita's Boutique, a women's fashion shop, and Starbucks. There are also tentative plans for an attached parking garage.
"We are so excited to be part of this collaborative effort," said Cargas on Friday. "When I think about how great it is for our city—yes, the building is going to be gorgeous—but the vibrancy of the city comes from all the people working, shopping, eating, and living here."
With the move to the 101NQ building, Cargas Systems will be bringing more than 100 people and jobs into the heart of downtown Lancaster, but that's just the beginning.
"We're going to initially move into a space that can handle 220 people," said Cargas. "You might be getting the idea that we're planning to continue our sustainable growth."
The Cargas team, currently residing in two office buildings, one located at the former Lancaster Stockyards and one at City Crossings located at North Prince and West Lemon streets, is eager to be coming together again under one roof.
"This move is exciting for so many reasons," said Nate Scott, Cargas Systems' President. "We're thrilled to see our hard work pay off and watch our company grow. We put huge value on teamwork, and getting our employees together in one space will enhance our collaborative efforts. And we're excited to give back to our hometown by moving jobs into the heart of our city."
Renovations to the interior of 101NQ are already underway, and Martens announced that exterior construction will begin in the coming weeks. The Cargas team expects to make the move to their new office in spring of 2019.
"What we're really excited about is all of us working together, making Lancaster an ever more vibrant place," said Cargas.
Related Posts
Join Our Email List For Updates!
Enter your email to receive important news and article updates.