All
Broco Oil Goes "All Aboard" with REG Biodiesel
by Steve Klein, Senior Manager, Marketing, Renewable Energy Group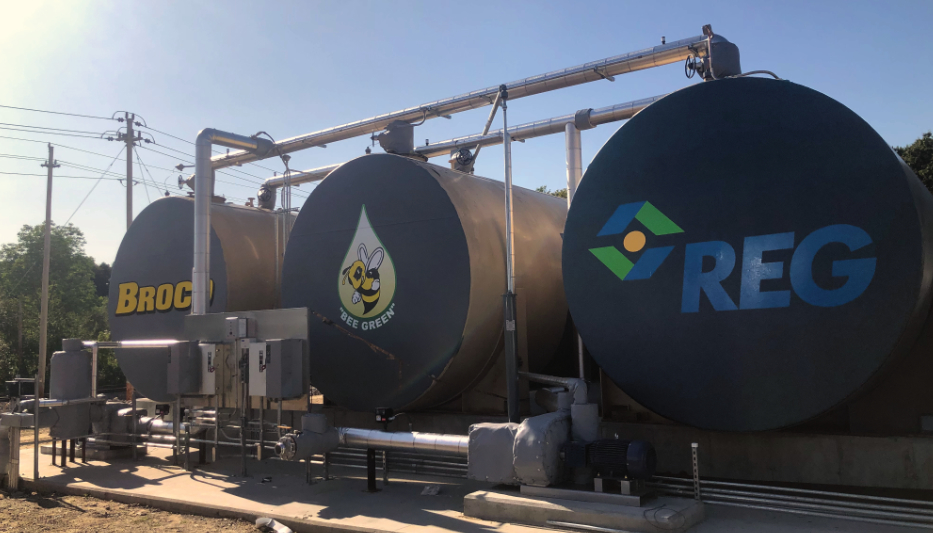 In the last issue of Oil & Energy, we addressed some of the questions heating oil dealers may have about biodiesel supply, fuel quality and clean-energy incentives. As we suggested in October, the full-service Broco Oil facility in Haverhill, Massachusetts offers answers to questions about biodiesel and blended Bioheat® fuel supply.

Over 100 people attended the Haverhill facility's ribbon-cutting event. Attendees included fuel dealers from across the Northeast, as well as Massachusetts State Senator Diane DiZoglio, State Rep. Andy Vargas, several local officials and members of the Merrimack Valley Chamber of Commerce. Broco Oil owner and founder Robert "Bobby" Brown offered a guided tour of the facility and its many new improvements.


New Infrastructure & Storage
Some of the first sights a dealer might see when pulling up to the Haverhill terminal are two tall tank towers: one branded with the Broco Oil logo, the other with REG's. The companies announced a new partnership in May 2019. Under this agreement, REG-9000® biodiesel is transported by rail to the Broco Oil site where it is then stored and sold in blends from B5 to B99.

Following recent upgrades, Broco's Haverhill terminal now has three additional storage tanks offering a combined capacity of 90,000 gallons of insulated and double-walled biodiesel storage. Each tank is also heated with its own burner to ensure safe storage throughout the winter.

As for the supply, the tanks are now directly connected to the onsite Pan Am track capable of bringing in up to 15 railcars at once. Where previously only rail-to-truck transloading was possible, product can now be moved from rail to storage — and from storage to blending rack — via heated pipes. Broco also has a portable steam system for heating the railcars themselves.

The biodiesel is transported to Haverhill directly from one of REG's Midwest facilities. Once in Haverhill, it is available to any of Broco's commercial customers, either at the rack or via bulk delivery (up to 100,000 gallons). In addition to transloading, bulk delivery and a number of other commercial services available for businesses in all six New England states, Broco Oil also delivers Bioheat fuel to residential customers in Massachusetts and New Hampshire.

To date, the company has reported no storage or service issues related to fuel quality — a testament, Brown says, to the advantages of REG's biodiesel. "People think that all biodiesel is created equal, but it's not," he says.


Automated Injection Blending
The other key advantage of the upgraded Haverhill facility is its new automated injection blending system. With this, a delivery driver can now select any desired Bioheat fuel blend from B5 to B99. Biodiesel, heating oil and diesel fuel are stored separately at the facility and blended on demand at the rack.

"It's an la carte service," Brown says of the new blending system. "At the terminal, a driver programs in any blend they want. The heating oil or diesel fuel flows accordingly, and biodiesel is injected through the stream at a steady proportioned rate. This helps ensure a precise and well-mixed blend, in which no single area of the customer's tanker contains more biodiesel than another."

As a result, Bioheat fuel dealers who fill up at the Broco Oil terminal aren't at risk of unknowingly delivering a blend containing high quantities of unblended or partially blended biodiesel. This helps protect the end user's heating and storage systems while also making compliance easier for the dealer. This is key for heating oil businesses looking to claim financial incentives on sales of B10 and higher Bioheat fuel via the Massachusetts Alternative Portfolio Standard (APS). To comply with program regulations, retailers must clearly mark the blend level on customers' delivery tickets.


A Valuable Stamp of Approval
Shortly after the ribbon-cutting event ended, Brown received some exciting news. Broco Oil had won a bid to become the official heating oil contractor for Boston's government buildings. This means all of the city's police stations, firehouses and municipal facilities will now be heated with Bioheat fuel containing REG's biodiesel.

The economic and environmental benefits of this agreement are not lost on Brown, but he also has another reason to celebrate. "I'm still an active fire captain," he says. "So, all business aside, being able to serve those sites is a special privilege."

For more information, visit regi.com and brocooil.com or call me directly at 515-239-8364.
Related Posts
Posted on October 10, 2023
Posted on October 10, 2023
Posted on October 6, 2023
Posted on October 6, 2023
Join Our Email List For Updates!
Enter your email to receive important news and article updates.